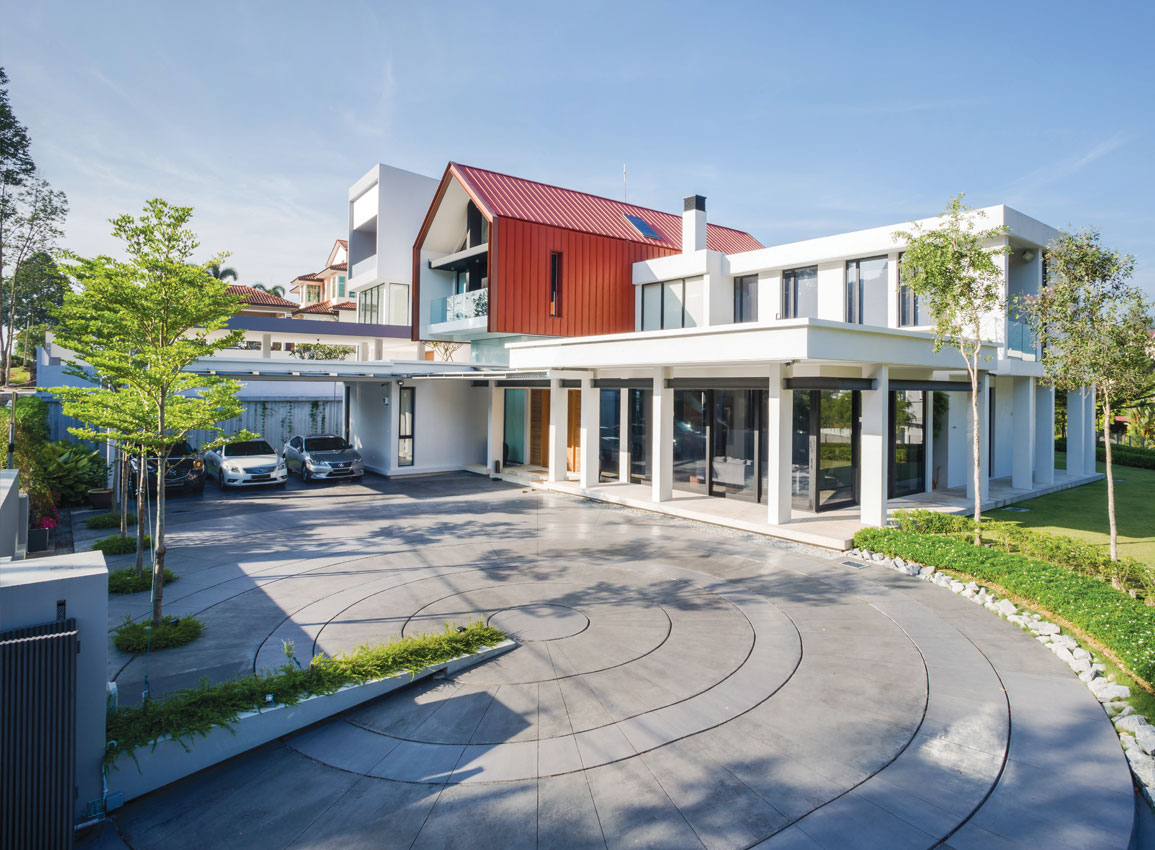 Against the forested backdrop of Ipoh's mountainous Kledang border, the private Meru Valley residential enclave resembles, as many such enclaves do in Malaysia, a collection of large detached dwellings and their lawns.
Beige-coloured walls, tinted square windows, glazed roof tiles and multi-vehicle car porches are, for the most part, the norm.
It is within this milieu that an interventionist bungalow can be found, so fresh it might as well be a Thai mango salad, or your favourite cold-pressed citrus.
There's no avoiding its impudent gable-roofed, barn-style overture, that while not native to this region clearly sets it apart from the neighbourhood's ubiquitous offerings.
The feature staircase, finished in a rich American walnut veneer, connects to the upper floors while overlooking an internal courtyard and dining hall.

Layered elements - timber console, glass, bamboo, stainless steel art piece - create a seamless, curated connection of indoor and outdoor space.

The meticulous execution of external bathroom counter, mirrors and a courtyard view bring boutique-hotel class to the master bedroom.
THE HURDLES OF HOMECOMING
"We visited some small villages in Europe. There's a certain charm to their traditional features," says Kenny Chong of A3 Projects, who, with partner Ho Choon Sin, started the design while still practicing architecture in the UK.
"A lot of European architects have adopted the nostalgic features of barns, and I think we both fell in love with that romantic idea of a house form."
After more than a decade abroad, the architects faced the daunting prospect of adapting to local construction and tropical design processes upon their return to Ipoh in 2010.
The challenging clients, who incidentally were their parents, would also prove to be a litmus test of their skills and cherished concept.
"It was a tough process, to come to a final design," Ho recollects. "The difficulty lies in cultural differences. I say this as we have trained in the UK for a long time, where often clients know what they want in a house. Whereas locally, especially among the older generation, those (requirements) are the least on their minds."
Looking at the almost half-acre plot, and what A3 Projects has accomplished there, it's obvious that test was passed, and with flying colours. Quite literally, too.
The now-realised barn structure, with its clean lines of glazing and cladding, is strikingly garbed in a lustrous orange-red patina, a terracotta-inspired shell that is almost mood-like in its tonal shifts under different light.
Its success points to the collaborative relationship between architects and tradesmen, and a testament to sound and considered detailing.
To read the full story, purchase and download a digital copy of d+a's Issue 105 (August/September 2018) from Magzter.
Photography:
Lawrence Choo