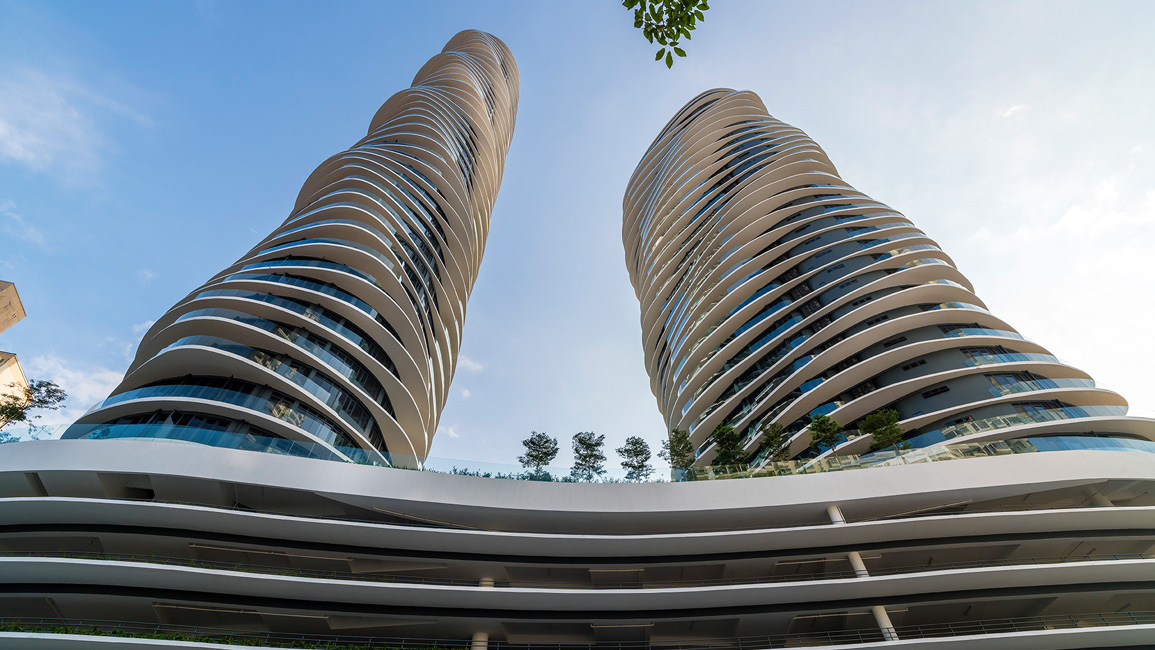 Penang conjures vivid imagery of sunny beaches, lush hills, endless stalls of local fare, street art and historical buildings.
What is seldom pictured though are the high-density developments that in recent years have emerged along the island's waterfronts and thoroughfares.
The shoebox architecture for the masses is by and large unmemorable, which makes this one project a real standout – an exclamation mark within the low-key suburbs of Bukit Gambier.
It is called the Arte S.
The silhouettes of Arte S are serpentine white against blue sky and green inclines.
Banking On Bold
Designed by award-winning practice SPARK, the project comprises of Penang's tallest twin towers rising from a two-and-a-half-acre site.
What immediately catches the eye are their silhouettes: serpentine white against the blue sky and green inclines, theirs are 50- and 32-storeys respectively of shifting layers of terraces and shading fins or brise-soleil, inspired by the hillside topography and surrounding terrain.
"The site's dynamic location (near the base of Gambir Hill) deserved an ambitious design solution," explains Stephen Pimbley, a director at SPARK.
"We wanted to maximise its value, and attract purchasers away from Penang's typical waterfront and George Town-located condos."
Client and developer Nusmetro Group inspired that vision.
"Developers throughout Asia [prefer] rectangular plans ostensibly because they are cheap to build, with a high net-to-gross ratio," Pimbley elaborates.
"Buyers, likewise, prefer rectangular plans because these are relatively simple to plan. And agents like to offload units as quickly as possible. It's a vicious circle with very little invention.
"Thomas Chan, managing director of Nusmetro, had a eureka moment. He was determined to do things a little differently from his competitors."
Twisting Inertia
The elliptical extrusions of the towers are straightforward enough. Yet when augmented by wave-like brise-soleil at every floor level, each rotated by a subtle nine degrees, they acquire a pronounced twisting effect that is exaggerated by the towers' immense height.
That torsional play, and its imbued sense of inertia, unequivocally communicate an element of high design.
The Arte S is undoubtedly premium real estate.
Behind the elliptical façades, the apartment units – some of which have been converted into a hotel within the same project – offer flexible future-proofed interiors free of columns and beams, bespoke spaces that are aligned to spectacular views of the surroundings.
To read the full story, purchase and download a digital copy of d+a's Issue 108 (February/March 2019) from Magzter.
Photography:
H.Lin Ho Photography & Nusmetro Group