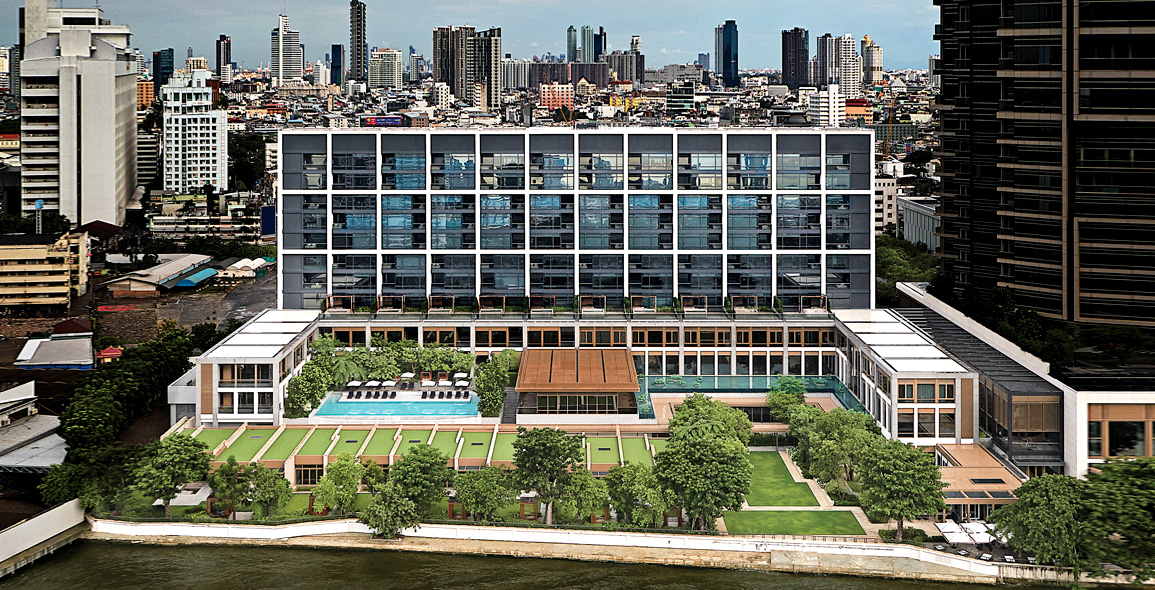 The brief from the client, Thailand-based luxury real estate developer Country Group Developments, was for a 28,500m2, 104-room hospitality property.
It was to be situated within the larger Chao Phraya Estate that would have its own individual identity, but have an architectural style that harmonises with the rest of the Estate.
To meet this brief, Hamiltons International architects Andy Miller and Richard Scott-Wilson created for Capella Bangkok three, carefully scaled and proportioned components – a hotel block, a ground and first floor with courtyard spaces and connections, and a lower ground floor with gardens.
These components were laid out in an E-shaped floorplan that includes a lobby, an exclusive reception area called the Capella Living Room, a ballroom, two F&B outlets, 97 guestrooms with balconies, a spa designed by GOCO Hospitality, and seven luxurious villas designed PIA Interiors that run along the river's edge.
To maximise the sweeping river views, the hotel block was designed as a single-loaded configuration of about 10 rooms per floor, with service stacks arranged to allow the rooms to flip in elevation between floors.
Wide room configurations allow for front-loaded bed and bathroom areas, while a back-loaded corridor buffers noise from the busy Charoenkrung Road.
Below the guestrooms, the ground and first floor include a long, horizontal aspect lobby, which opens to the river, and connects to the adjacent ballroom, first floor speciality dining, and Capella Living Room.
"The Capella Living Room, as well as being the centrepiece of the courtyard, also acts as the separator between the private and public programme on the site, with public areas to the south, and the private hotel as well as administration areas to the north," says Miller.
Below the ground floor, a podium cuts down into a linear garden that is oriented towards the waterfront to preserve sightlines to and from the spaces above, and to the river beyond.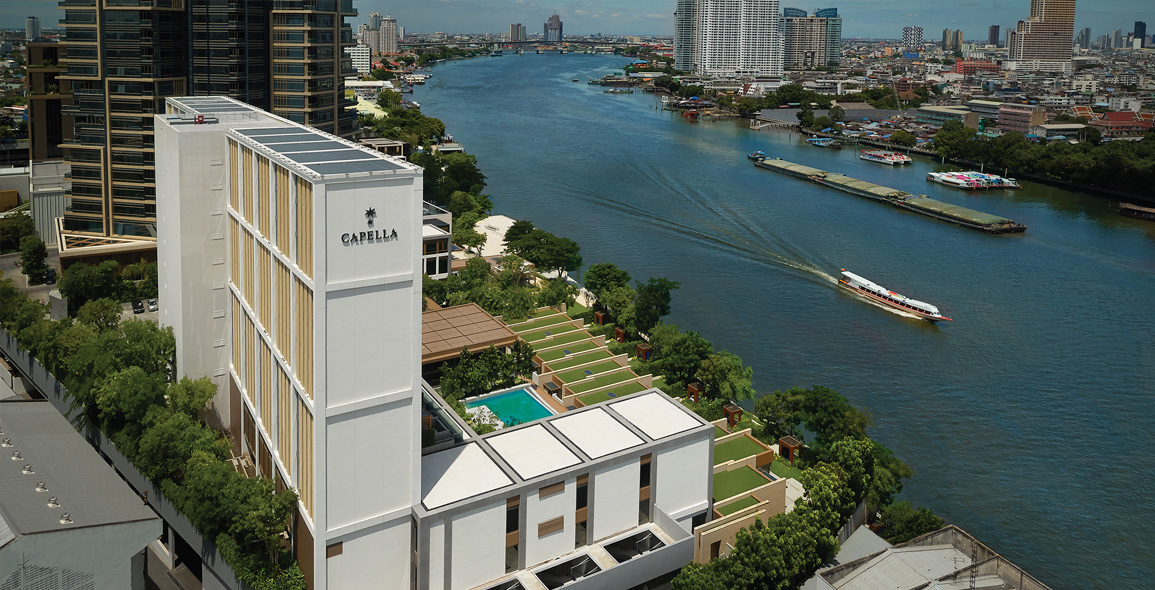 SITE INSPIRED
"Charoenkrung Road is the first part of Bangkok to be extensively built with modern building methods – from the grand, classically styled waterfront pavilion buildings, such as the Old Customs House, to the buildings lining Charoenkrung itself, which inherited the Chinese shophouse characteristics of module and framework," says Miller.
"We therefore developed patterning with motifs, detail, screens and ornaments that reflect the unique scale and rhythm of the Charoenkrung heritage buildings."
Inspired by the abstract frame marquetry work and proportions inherent in traditional Thai houses and cabinets, the architects designed the interior and exterior of the hotel as a contemporary interpretation of the classical Thai riverside pavilion.
This resulted in it being clearly and elegantly framed, but with an overlay of detail intended to place it clearly in its context.
They incorporated ornate GFRC (glass fibre reinforced concrete) screens within the simple proportioning of the building structure, and bold and clearly scaled interior spaces with detail and texture juxtaposing the clarity of the framework.
Photography:
Country Group Developments