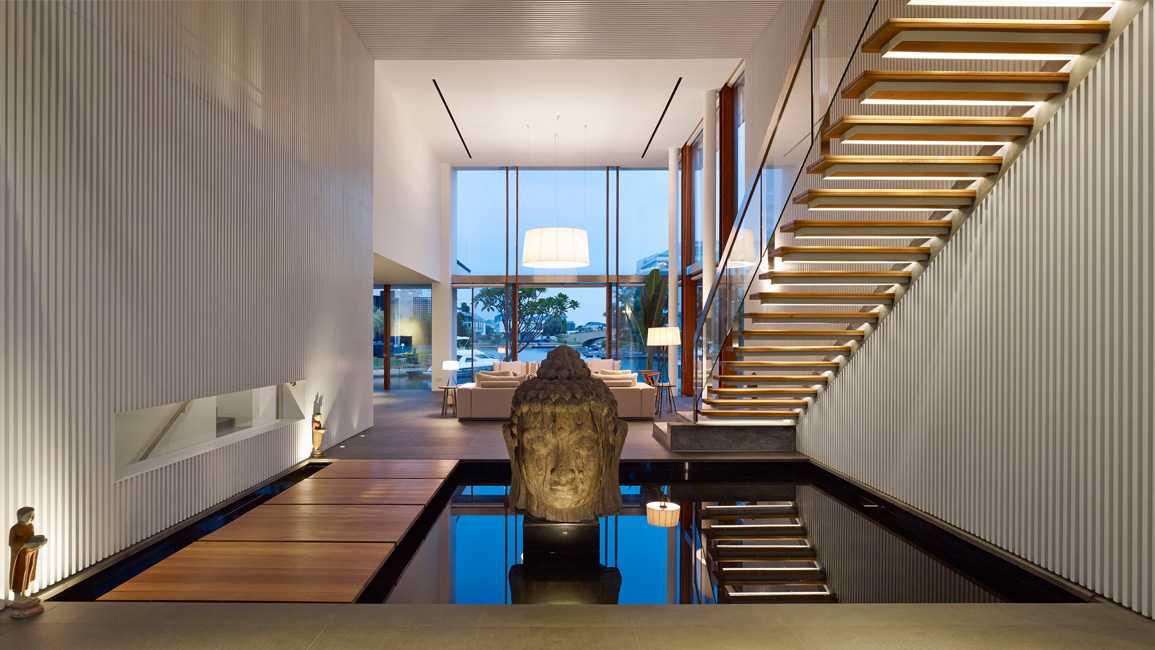 As an architect, I've spent a large part of my career studying Japanese art, architecture, and language, and developed a deep appreciation of the paintings of Toko Shinoda.
To me they exemplify elegant simplicity, yet there is a dynamic to the minimalism that makes them timeless. This is the governing philosophy in my work, and for my own design and build project, this was my design brief.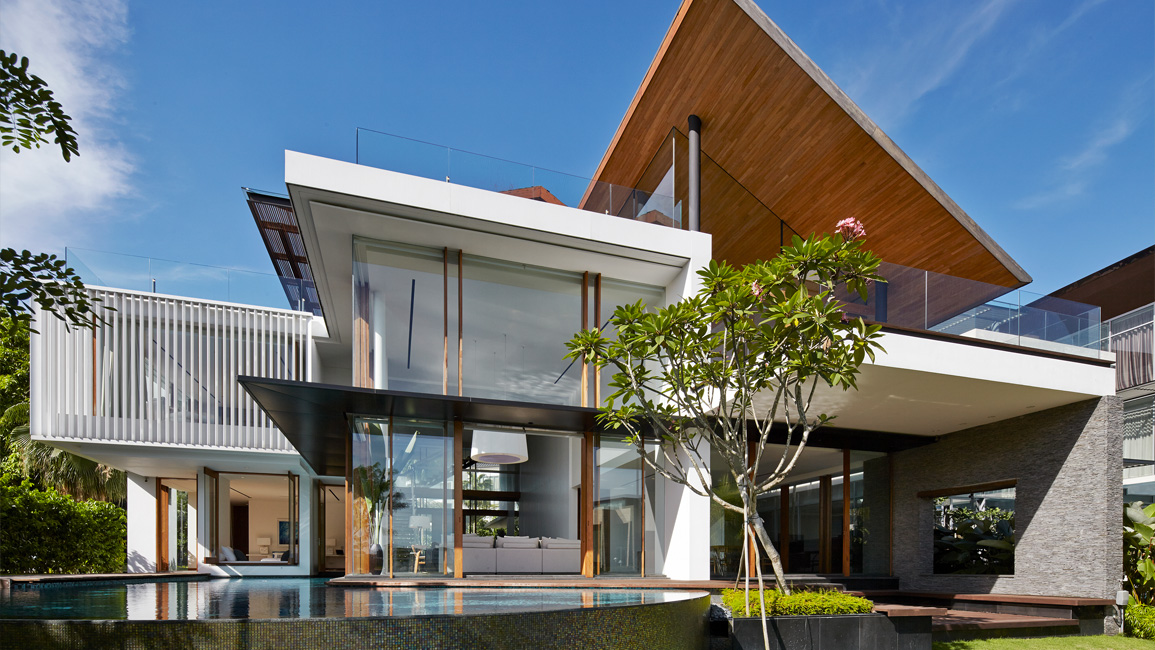 Ascend – Toko Shinoda
It has long been the dream of mine to design and build a home away from home with an ocean view. I contend that in beautiful natural settings, the architect's ego should bow to the magnificence of the surrounding nature. Rather than impose a materialistic object in a landscape, the composition and layering of spaces should create the dynamism from within by framing views, modulating light, and creating anticipation.
Having worked as an architect in Asia for over 28 years, I've had the privilege of designing over 20 homes next to the ocean in Singapore's Sentosa Cove, where I currently reside.
Whilst Singapore is a fascinating and invigorating place to live, the concept of a getaway home in an inspiring, natural setting, reminiscent of my home country New Zealand, led me on a quest to find a site.
After years of searching, the ideal location presented itself just 2.5hrs flight from Singapore; a tropical volcanic island in Indonesia with dramatic untouched hillsides and limitless ocean views.
My passion is adventure sports and there on that island are world-class surfing, paragliding, kite surfing, diving, fishing, mountain biking trails, a motorcycle Moto GP circuit, and one of the most stunning mountain hikes in the world, Mt Rinjani (3,725m).
My quest was over, this was a location for quiet repose and reflection, set in a dynamic natural landscape.
Beyond the design brief, on a pragmatic level, the challenge was to design a structure that could be built in a remote location with relatively low skilled labour. If building in a remote part of Indonesia was not hard enough, the COVID-19 travel restrictions meant that a large part of the build had to be coordinated remotely.
For decades architects have been driven to address the perceived shortcomings of existing homebuilding techniques, and I'm not the first architect to take on the challenge. In 1901, Frank Lloyd Wright designed "A small house with lots of room in it"; in 1930, Buckminster Fuller proposed the Dymaxion House, and from 1945-1966, the Case Study House program was initiated by Arts & Architecture in Los Angeles, conceived as a low-cost experimental housing prototype for contemporary living.
Case Study House No. 22: The Stahl House (1960)
The 36 Case Study Homes continue to have relevance and influence on young architects and aspirational homeowners alike. Personally and professionally, House #22 stood out as an exemplar.
Designed by architect Pierre Koenig, the Stahl House is constructed using a minimal steel frame and standardised components wrapped with large glass sliding panels, making it seemingly float above the city skyline of LA.
It is a stunning example of modern minimalist architecture in which the architectural 'Style' is the result of a pragmatic process of optimising for environmental factors, efficiency, and buildability. It is a timeless piece of architecture and one of my key influences.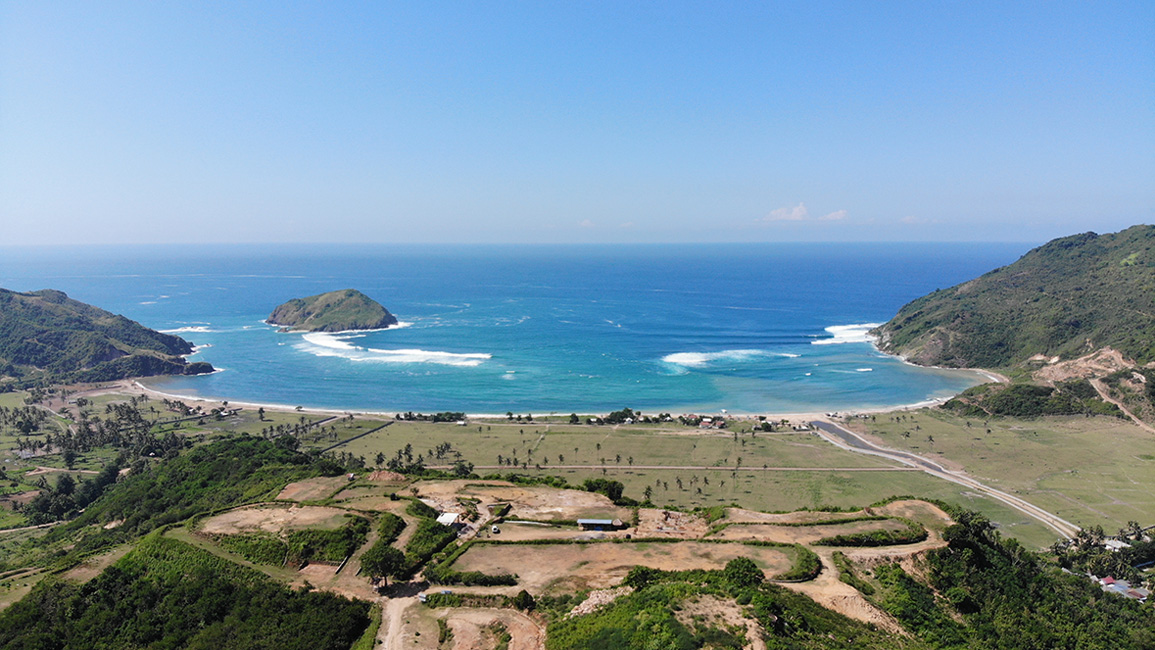 Buxminster Fuller: Dymaxion House (1930)
My other point of reference was the Dymaxion House, designed by renowned architect Buckminster Fuller. The Dymaxion House was conceived as a modular prototype, utilising factory manufactured components and designed to be off grid and fully autonomous.
It employed a rain collecting system, grey water system, and fogging showers (compressed air and water) to conserve water. The key design consideration was ease of transport and assembly.
The house had a central vertical stainless-steel strut on a single foundation resembling a spaceship. The dome shape was inspired by a grain-silo developed in the Siberian grain-silo house and had the benefit of wind resistance in cyclones. This in turn was very efficient for passive ventilation, with air being drawn in from a single vent at the top.
Ultimately, the Dymaxion House was revolutionary for its time, but failed due to its inflexibility and high production cost (employing energy-intensive materials such as aluminium and stainless steel that required extensive factory tooling). Only two prototypes were ever built, and these were never lived in; it was never mass produced or replicated. The Dymaxion house was also criticised for its total disregard of local site context and architectural style.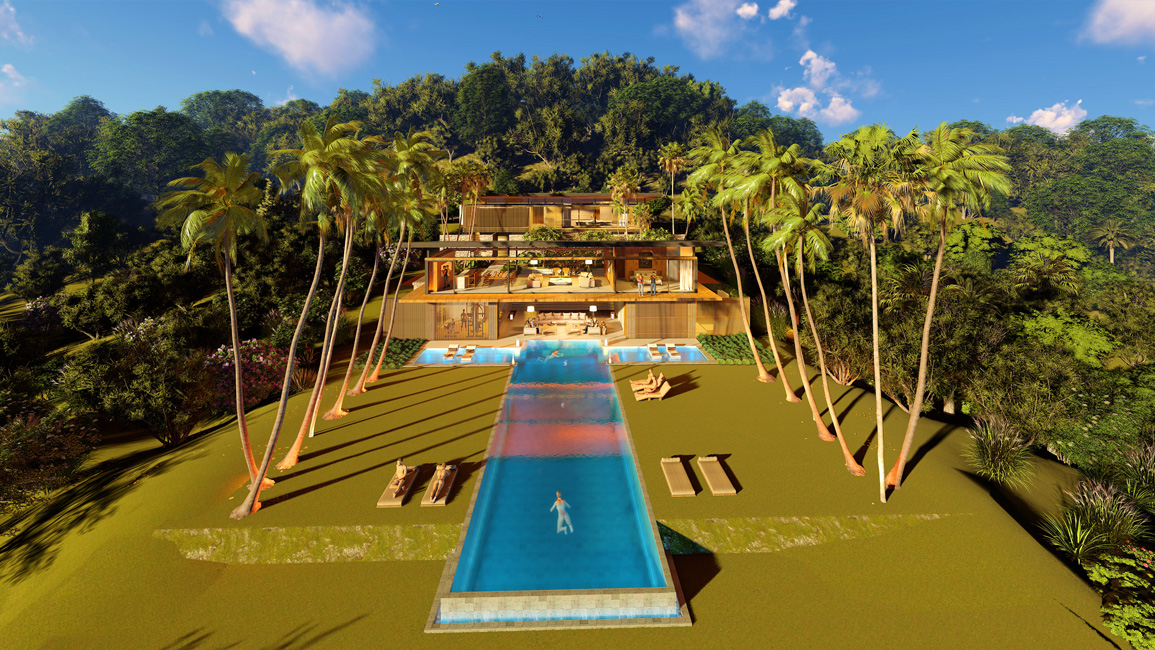 My Case Study House No. 1
Unlike the Dymaxion house, I wanted a system that could take on multiple personalities if replicated and be clad in different materials depending on location and context. As such I opted for the Stahl House model of a bolt-together, factory-fabricated, hotdipped galvanised steel frame structure that could be erected quickly with no site welding (to avoid corrosion). The steel frame guarantees accuracy so other components can be ordered concurrently to speed up the build process and is durable in earthquakes and high winds.
In pursuit of a sustainable home, the environmental characteristics of the site and the construction process defined the compositional parameters of the design and the aesthetic architectural form.
In the Pinterest generation, there is a proliferation of Boxy prototype homes popping up on social media. These have no place in a tropical climate with excessive heat gain and poor rain protection. One only needs to look at indigenous buildings in the tropics to see the dominant architectural element is a large protective roof.
Relating this maxim to my design, the roof is a key element on the path to net-zero. Highly insulated, and providing ample shading, the roof captures rainwater that is stored in holding tanks, and the plane of the roof is angled north at an 8-degree slope to optimise the performance of solar photovoltaic panels that are clipped onto the roof. Control of horizontal solar radiation from east and west is via operable vertical fins. Local materials were used where possible and predominantly local labour. Utilising a third computer model, we were able to quantify performance prior to building, predicting cost, energy performance, and carbon footprint.
In the past, the architect assumed the role of master builder/craftsman to oversee every part of the design and construction process. Rolling up my sleeves to go on site with the building team for this project has afforded me a deep understanding of the process.
It is an extremely hard work in the tropical heat, so simplicity and speed of erection is a win for everyone. I couldn't be prouder of what the team of local craftsmen and I have accomplished: to build an international quality home in a remote island of Indonesia. It has been a hard yet rewarding experience.
Over the past 17 years, our company has created luxury homes in Singapore with a value in excess of $800m. Typically, only a select few can afford the full services of an architect to design and oversee the entire construction process.
Our objective in the first case study villa was to develop a system to make an architecturally designed home accessible to a wider audience. However, one size does not fit all, and the build system must be flexible to respond to location, climate, client brief and budget.
We are continuing the evolution of this first case study into our current projects to further refine the system to be more efficient, flexible, and cost effective, and we are well advanced in our objective.
In a post-COVID world, the concept of remote work in a stunning natural setting, surrounded with one's own home comforts is an aspirational desire for most people, and with this bespoke partially prefabricated build system we have made it reachable for a lot more people.
Images:
Greg Shand Architects