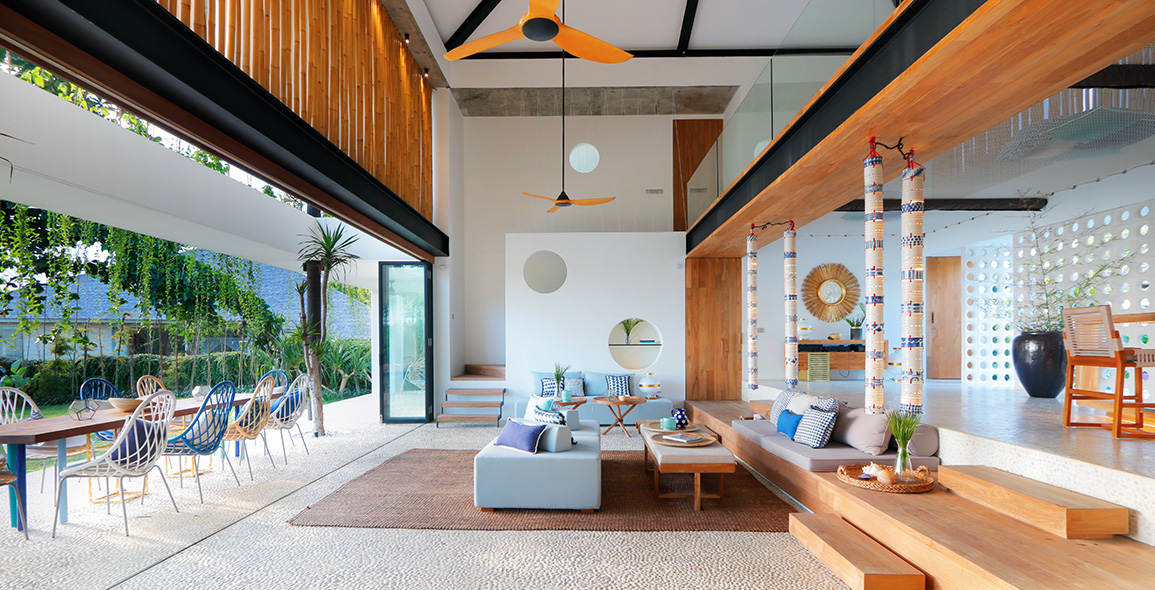 On the Indonesian island of Nusa Lembongan, Bali-based architecture and design studio Word of Mouth has recently completed Seascape Villa – a bright, white, breezy and two-storey holiday home inspired by the island villas in the Mediterranean.
Elements from Cycladic architecture, such as shelves and storage cubbies carved out of smooth plastered walls, a colour scheme of white, blues, and aquamarines, and a strong connection between the indoors and outdoors, are expressed in a cheerful, contemporary style that suits the villa's tropical setting.
The property, which is located on a peaceful, ocean-front plot on Nusa Lembongan – an island just off the southeastern coast of Bali – is owned by a group of friends from Malaysia and Hong Kong, who pooled their resources together to create this extraordinary, shared holiday oasis.
They wanted the villa to accommodate five bedrooms, two kitchens, a pool bar, a media room, and a separate guesthouse. Their request was for a leisure retreat with "Mediterranean feel" that would complement the property's sunny, beachside location.
They also asked the architects to avoid using the colour black, and instead use white and blues – colours commonly seen in the cliffside homes of Santorini in Greece – as much as possible.
Sited on a 1,400m2 plot on Lembongan Island's Sandy Bay Beach, the 684m2 villa, which includes a swimming pool, was designed by Word of Mouth's co-founder and lead architect Valentina Audrito.
To meet the brief for Mediterranean aesthetics, Audrito conceived of a structure comprised mainly of clean, soft, white volumes with concrete surfaces, round-edged white plastered walls and pebble floors.
Local building regulations meant that the Word of Mouth team had to work within a tight footprint. To overcome this constraint, Audrito developed a compact two-storey floorplan to contain most of the bedrooms and communal spaces.
To read the full story, purchase and download a digital copy of d+a's Issue 107 (December/January 2018/9) from Magzter.
Photography:
Moch Sulthonn