You would never guess this by looking at the front façade but have the opportunity to be invited inside Lightfall House and a wonderful surprise awaits.
Tan Cher Ming, Founder of Ming Architects, optimised the use of natural light and space to create a series of staggered voids along the central axis of the house for a family of five.
First, a large skylight was carved out in the middle to let daylight in.
With the help of the voids, it filters all the way down three floors and is further complemented by glass windows and sliding doors on level one.
Due to the intricate relationship demanded of the various spaces in this relatively small site, 3D modelling was integral to the conceptualisation of the design and spatial visualisation.
"The tight footprint and space carved out for the voids on the upper stories meant that we had to be very efficient to utilise all the available space for the habitable rooms," reveals Tan.
"This concept was only possible because the owner required three bedrooms on the second storey instead of four, and agreed to our proposal not to max out the rooms on the upper stories.
"They supported our vision for the house and allowed us to express full creativity in the design."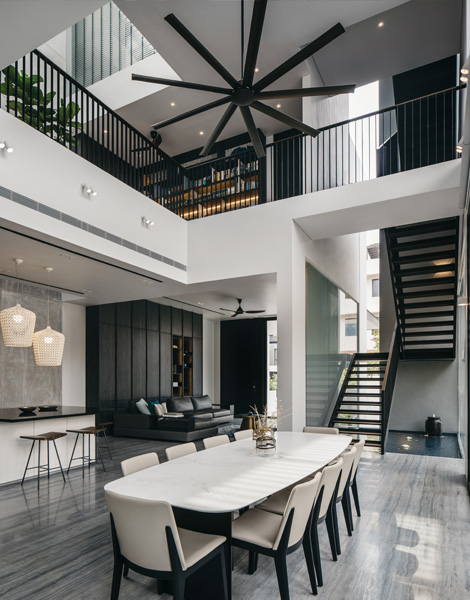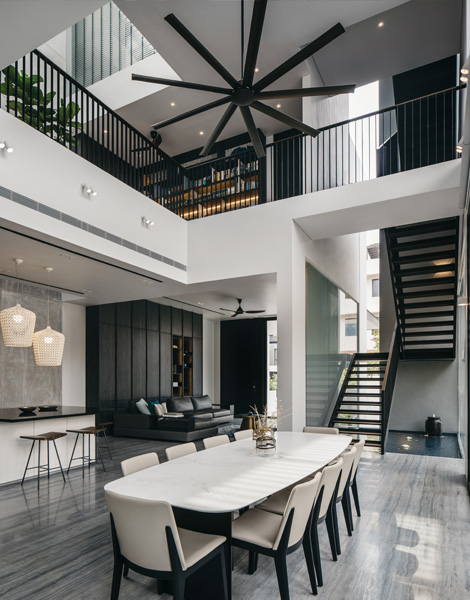 In an unusual move, the open riser staircase is located on the front corner of the semi-detached house.
Had it been positioned on the party wall — which is typical of most houses — Tan would not have been able to make space for the staggered voids on the upper storeys.
As the owner had requested for a water feature too, Tan introduced a reflection pool with a water feature underneath it.
This approach brings in the element of water both visually and audibly into the living areas.
From Challenge To Opportunity
The ceiling height on the first storey was originally designed to be consistent throughout.
However, due to the aircon fan coil unit's large size and concealed ducted design, the ceiling above the dry kitchen had to be dropped.
Instead of seeing this as a drawback, Tan turned it into a design feature by introducing a light cove where the change in ceiling occurs, enhancing the illumination in the living room.
He says, "The layout has a double volume space above the dining area.
"We knew that this was important to the open plan design as the living and dry kitchen spaces need to be defined clearly from the dining.
"From there, this created an opportunity for a connecting bridge above the dry kitchen between the front and rear of the house.
"To introduce greenery, this was landscaped with dry river pebbles and a single ficus tree, visible from the dining space below."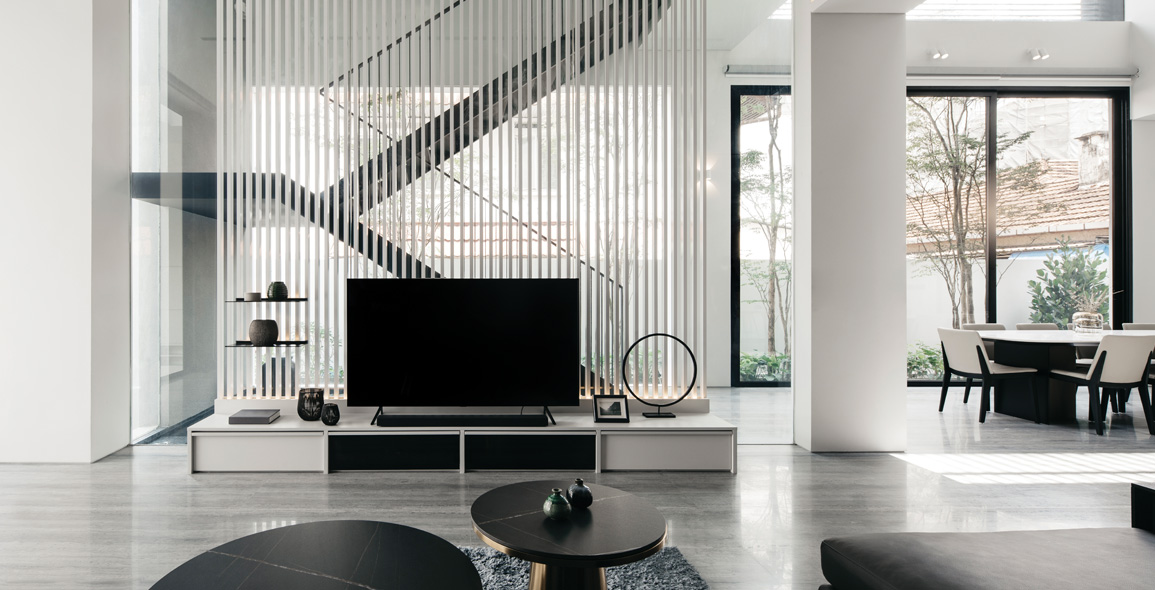 Photography:
Studio Periphery