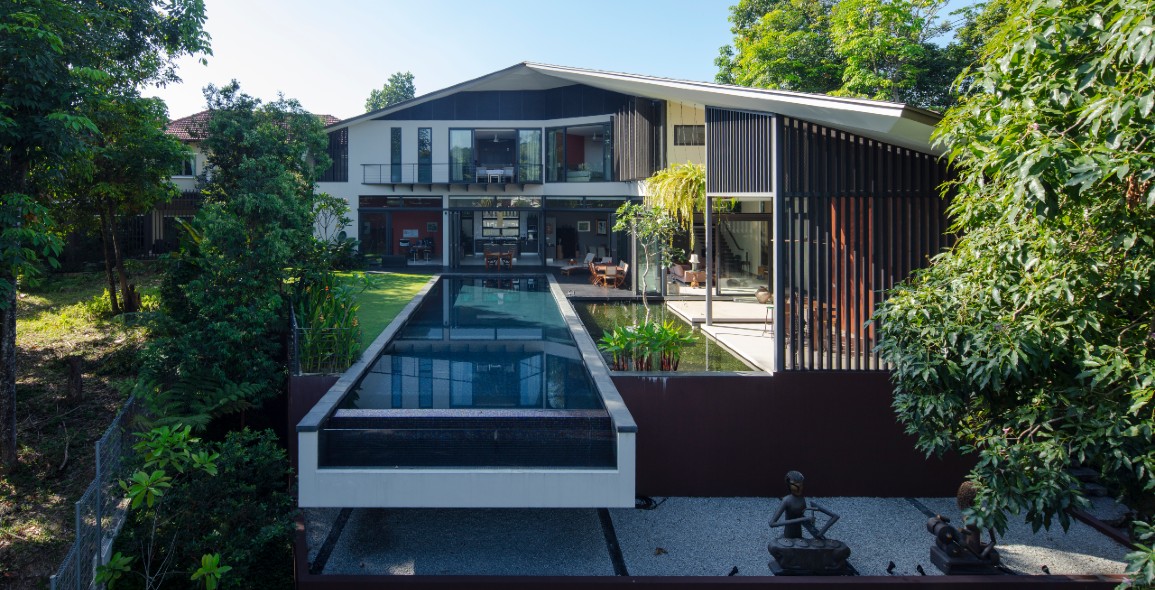 "Whilst I lay in my house, I dreamt of my garden,
Whilst I lay in my garden, I dreamt of my house,
When I awoke, where am I…..I wondered,
Then I realised it never really mattered"
This poem by an unknown author perfectly describes Boomerang House, designed by MJ Kanny Architect and set in Malaysia.
Located in Bukit Gita Bayu in Kajang, Selangor, the home is named for its shape, which resembles the Australian throw tool when viewed aerially.
Beneath the brown safari-style, standing seam metal roof stands a house that smoothly flows from indoors to out, while still protected from the harsh tropical weather.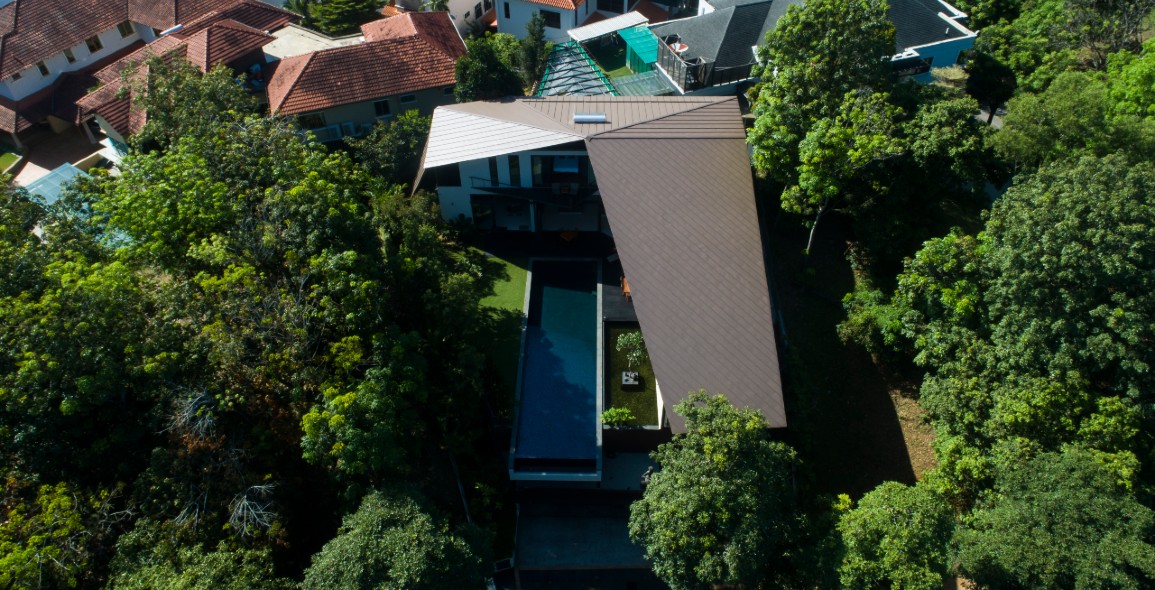 These were the wishes of the client, according to lead architect Melvyn Kanny, who is also the owner of the practice.
Working in his favour is the neighbourhood with its tall shady trees that create a tropical forest-like setting.
"We decided to explore the proposition that the house itself become part of the neighbourhood street and its green tropical surroundings," says Kanny.
Although the site is on a slope with a plateau rising about 6m above the street, he turned it to his advantage by setting the two-storey house on the level part.
The garden cascades down the flanks and extending out from the house is an infinity-edged lap pool cantilevered out towards the street.
To further lend credence to the tropical garden living style, a flight of stairs out in the open leads from the gate to the main door on the first floor.
On rainy days, the owners have the option of riding an elevator from the basement garage directly into the house.
Come through the main door and instead of a foyer or living room, you are greeted by open terraces shaded by generously sized eaves, a koi pond and beyond, the swimming pool.
It is hard to tell when the outside becomes the inside, the only hint being the collapsible glass doors neatly folded to the side.
"The pool was designed to be part of the interior furniture and also disappears into the horizon," explains Kanny.
Within the house, the standard layout applies of communal areas on the first floor and bedrooms on the upper floor.
The latter are carefully planned so that the beds face the glass doors that look out into the garden.
All the bathrooms are open to the elements and although windowless, are lushly landscaped for modesty.
"Careful study of the neighbours' windows were considered and openings and apertures were adjusted on site accordingly," points out Kanny.
Just beneath the roof, perforated steel screens were integrated to filter out the heat from the afternoon sun, just as a trees does.
While it does let in some rain during a heavy downpour, Kanny says the client was happy to accept the design anyway.
"This is all part and parcel of living in the tropics," he emphasises, and as the poem at the start of this story concludes, "it never really mattered".
Photography:
Pixelaw Photography