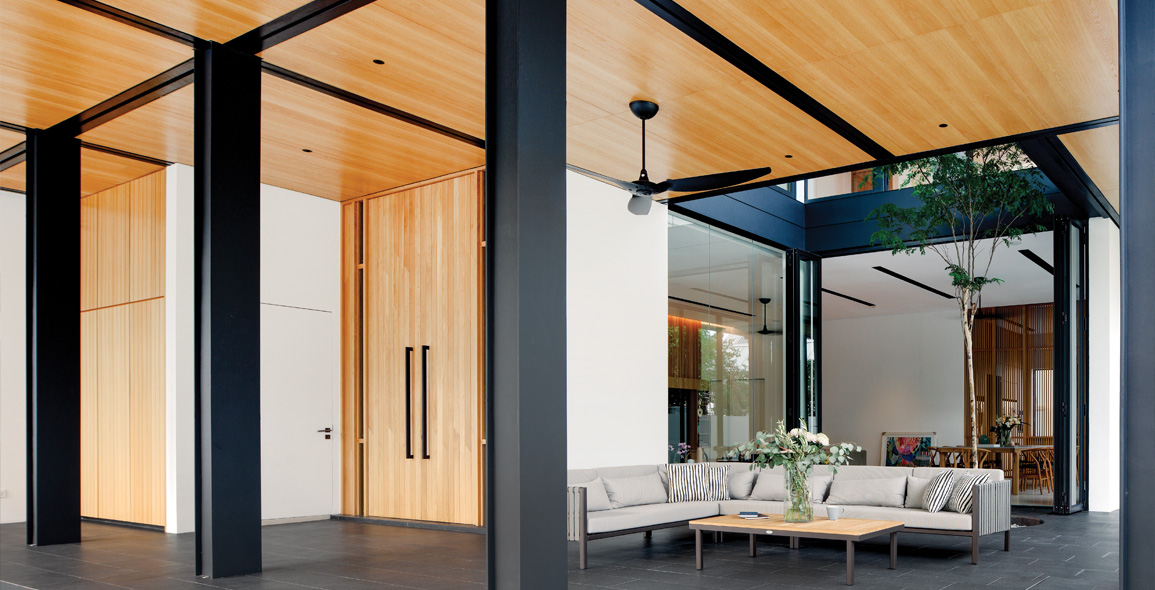 House 25, designed by Park + Associates, represents how if a homeowner has a leap of faith in a reputed architect, he can have a hugely positive outcome.
Located in a residential estate in Bukit Timah in Singapore, the semi-detached house faces a park and children's playground, affording views out to nature's tropical bounty.
"We wanted to take advantage of this, and developed a narrative where the house is also an extension of the park," says Christina Thean, the Director at the Singapore-based architectural practice.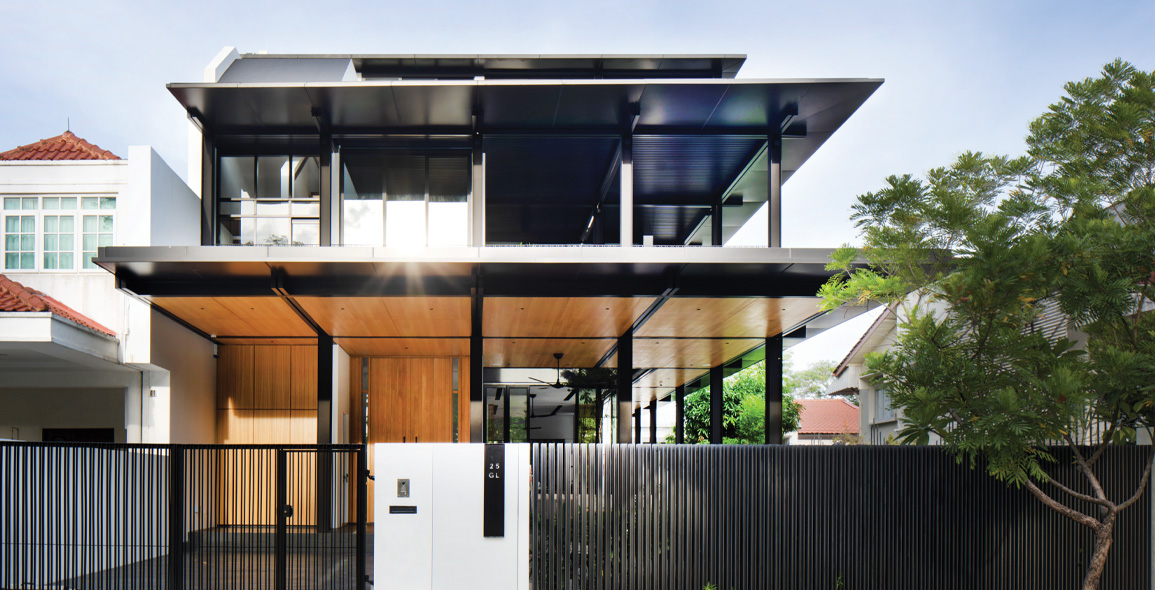 The semi-detached House 25 has a strong, linear design language.
Seamless Connection
The result is a two-storey-with-attic abode that has something unique: an almost pavilion-like structure as its veranda out front.
This is delineated from the driveway through a split level covered with granite flooring upon which an outdoor sofa set is placed.
Behind the furniture rises a two-storey void capped with a trellis that is on the same plane as the second floor's roof, allowing natural light in at an angle to nourish the Leopard Tree growing through it.
This has become the anchor point of the home, offering an added dimension of visual layering and connectivity.
It was also devised to continue the thread of nature's tropical bounty into the heart of the home.
Another defining feature of the front of the house is the sizable cantilever overhang that acts as a shelter for the car porch and veranda.
At its deepest, it measures 9m and also stretches beyond the width of the house itself.
Its soffit adopts a grid-like configuration, where swathes of oak are separated by pairs of horizontal and vertical strips of dark grey aluminium that have a gap between them for a sleeker look.
This same linear motif repeats itself throughout the house, such as on the second-floor balcony.
"The owner was very unsure about the veranda at the start, but we assured him it will be an ideal space for him to entertain and also hang out with his family," explains Thean.
"When the house was completed and he moved in, he realised it has become an indispensable part of his family's daily routine. We've even seen his kids doing their homework there after school."
A Leopard Tree grows in the veranda upwards into the two-storey void.

A sliding screen made from solid timber strips wrapped in a brushed oak veneer separates the dining room from the kitchen.

Directly above the veranda on the second floor is a balcony.
Click here to read the rest of the story in the complimentary online edition of Issue 115: April/May 2020.
Photography:
Khoo Guo Jie