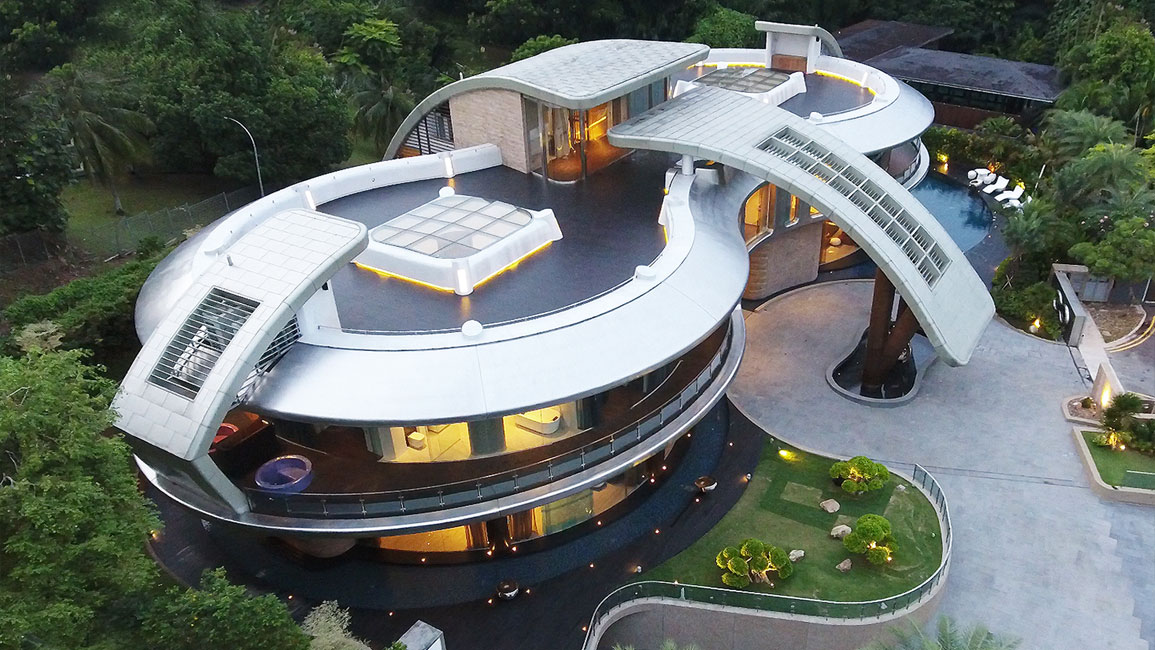 Ascend Jervois Hill on a blistering day in Singapore and you might believe that the amazing structure that meets your eyes is a fabulous mirage emerging out of a shimmering heat haze.
Villa Otto, with its bold design and sculptured curves accented by gleaming steel, creates the illusion of a spacecraft hovering above water than a tropical bungalow set amidst a pool.
Massimo Mercurio, creative director of the Italian-headquartered Mercurio Design Lab, worked closely with A.M. Architects to come up with the look of the house. He says that the hyper-modern silhouette was chosen deliberately.
"We felt a strong affinity with the Futurist movement that shook Italy at the beginning of last century," he explains. "We believe that dismantling mainstream design philosophies to replace them with something more dynamic and futuristic is the way to find new expressions and inspiration."
Clearly, with Villa Otto, he has done that and more.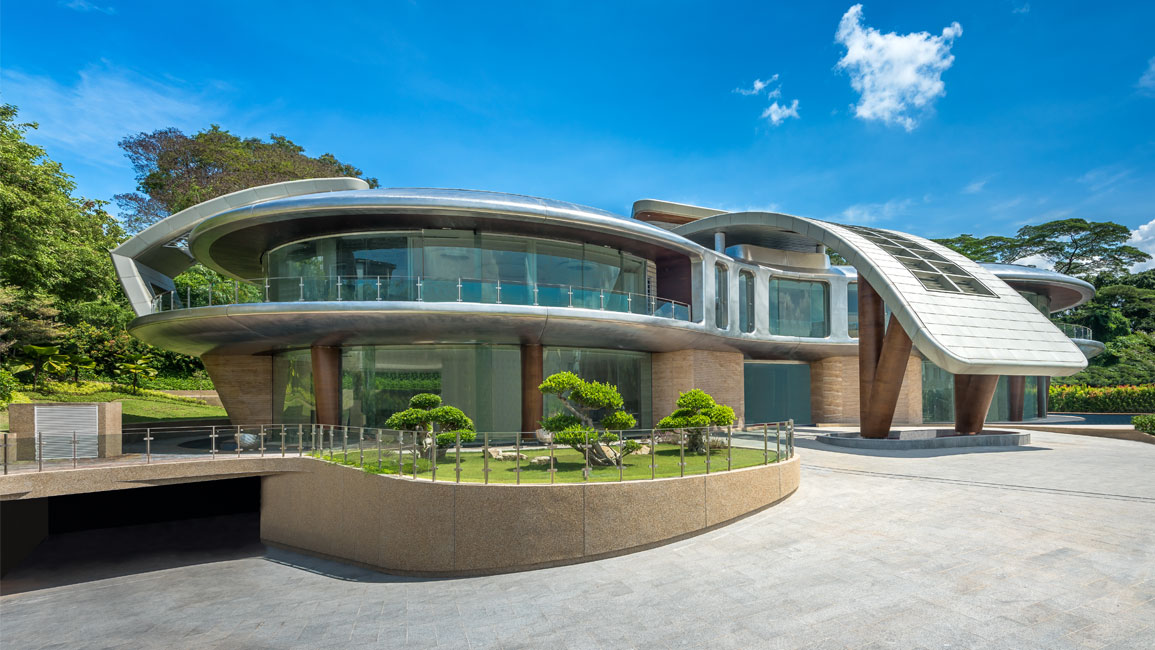 The house is in the shape of two interlocking circular pavilions
Seen from the top, the house is in the shape of two interlocking circular pavilions. It clearly describes a figure of eight, hence its name "otto", which is the Italian translation.
The owner had emphasised that feng shui was important, although he had not initiated the idea of using that number.
In fact, the original design of the house had been based on the number 11, which was the homeowner's lucky number.
"But we felt that it was just not outstanding enough," Mercurio recalls. "So we completely redesigned the house."
"The owner was interested in following feng shui, which is why we tried to include some of the guiding ideas of this old philosophy into the design. In the end, we decided to make the entire house a symbol of prosperity.
"The number eight is auspicious, but it also celebrates the beauty of fundamental geometries, where ellipses and circles merge with mystical meaning."
Indeed, the form of the number was found to be so aesthetically pleasing that it recurs throughout the two-storey house – complete with basement and roof-top terrace – as a design motif.
It appears on door handles, on the travertine walls, in the steel feature-ceiling insets and even prominently on the steel portal, which marks the entrance to the house.
The perfect geometry of the circle also lends the house its fluidity – there are no harsh angles, sharp abutments or jutting corners.
Everything swirls, flows and curves: the swooping arches of the outward thrusting canopies; the smoothly rounded conical shapes of the travertine noce stone buttresses of the first floor; and most significantly of all, the stainless-steel cladding that wraps all the way around the second floor. The way the latter appears to mould itself to the shape of the house in one single sinuous piece is breath-taking.
To read the full story, purchase and download a digital copy of d+a's Issue 104 (June/July 2018) from Magzter.
Photography:
CI&A, Aaron Pocock