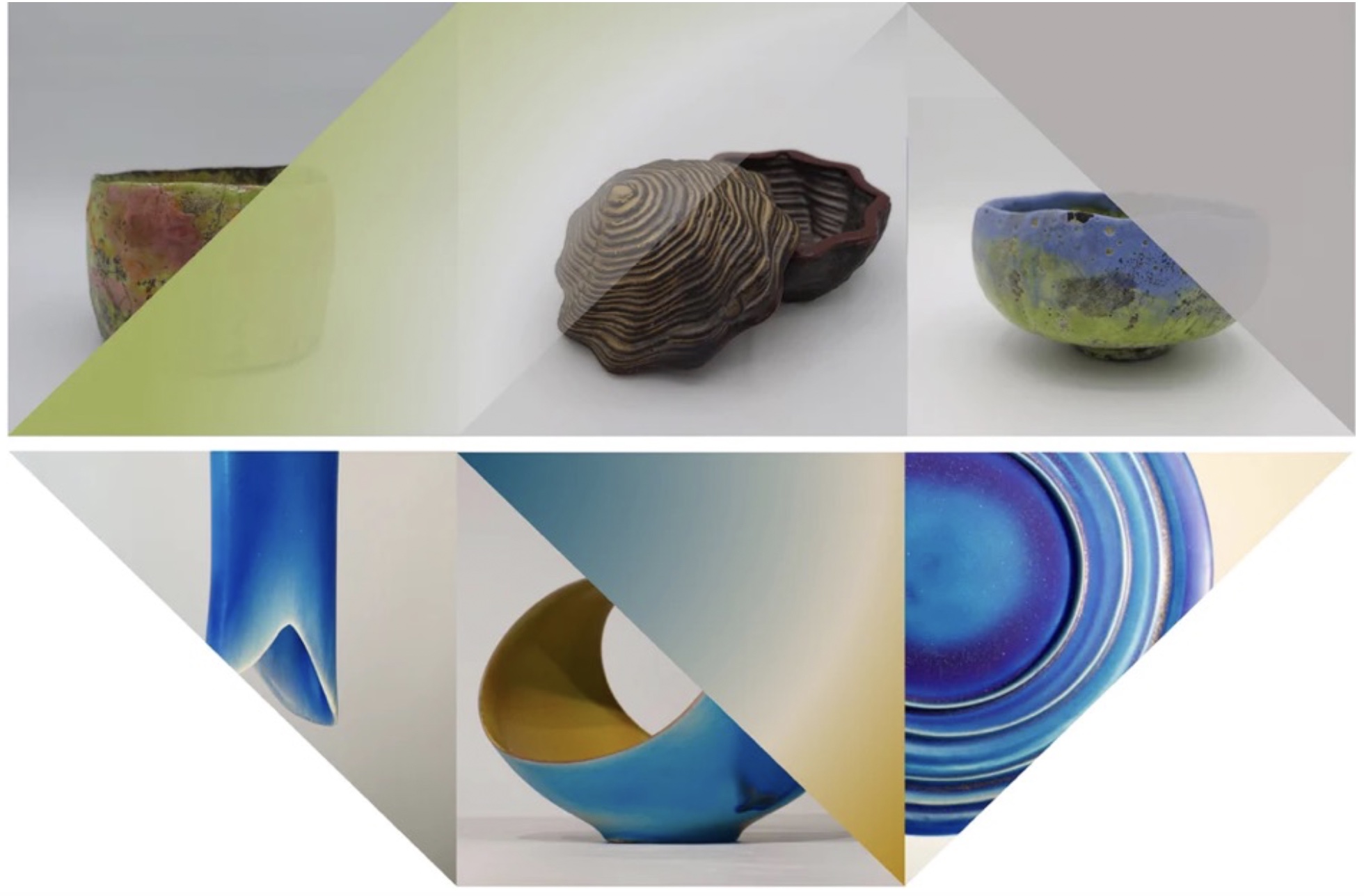 At this POST-WABI ceramic exhibition, Japanese artists Yukiharu Furuno and Takanao Todo challenge the idea of simplicity by playing with technology, as well as vibrant and contrasting colours. They introduce the use of new colours and explore new horizons in the realm of Japanese tea ceremony aesthetics.
Furuno has developed a series of profound yet sophisticated ceramics in his signature blue glaze, while Todo's display is a series of raku-fired ceramics with wild, hand-pinched tea bowls and digital fabrication tea items.
The guiding concept
Wabi is the core concept that guides the aesthetics of the traditional Japanese tea ceremony, established by Sen no Rikyu. He discovered a beauty within the concept of Wabi, and used it to organise the aesthetics of Japanese tea ceremonies. It applies to all aspects of the ceremony from movement, to the tea house, tea garden, and all of the utensils.
His disciples established varying aesthetics: "Hacho no bi (beauty of disharmony)" by Huruta Oribe, "Kirei-sabi (beauty in incomplete perfection)" by Kohori Enshu, "Hime-Souwa (decorative feminine beauty)" by Souwa Kanamori, and so on.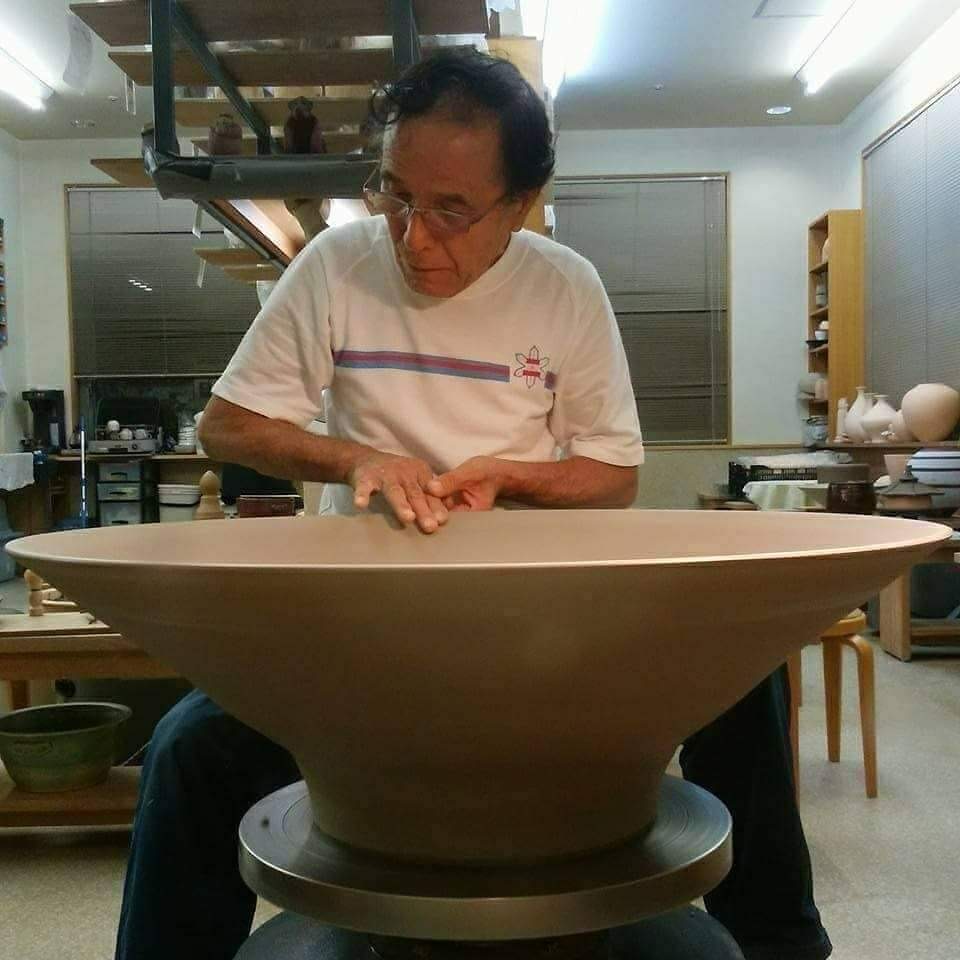 Yukiharu Furuno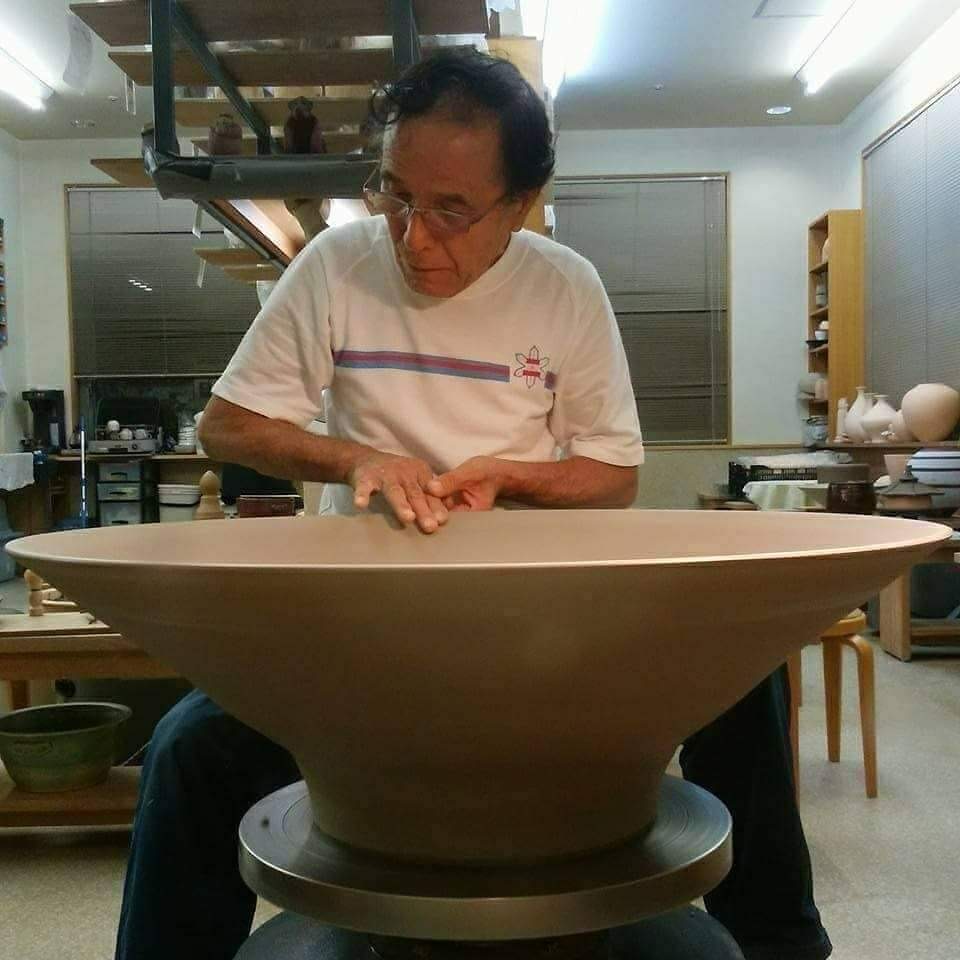 The ceramists
Yukiharu Furuno is a multi-award-winning ceramicist, whose signature colour is various shades of blue. Although he studied business administration at university, Furuno decided to become a ceramicist as soon as he graduated. He then spent the first 40 years of his career experimenting with various kinds of ash glazing. That however changed 20 years ago when his wife suddenly passed away. Since then, Furuno developed his signature style of blue to resonate with heaven – where his wife now resides – as well as the abyss, the endless sky, and the galaxy. His "ceramic glaze" collection represents the calmness and beauty of the sky, ocean and depths of the earth.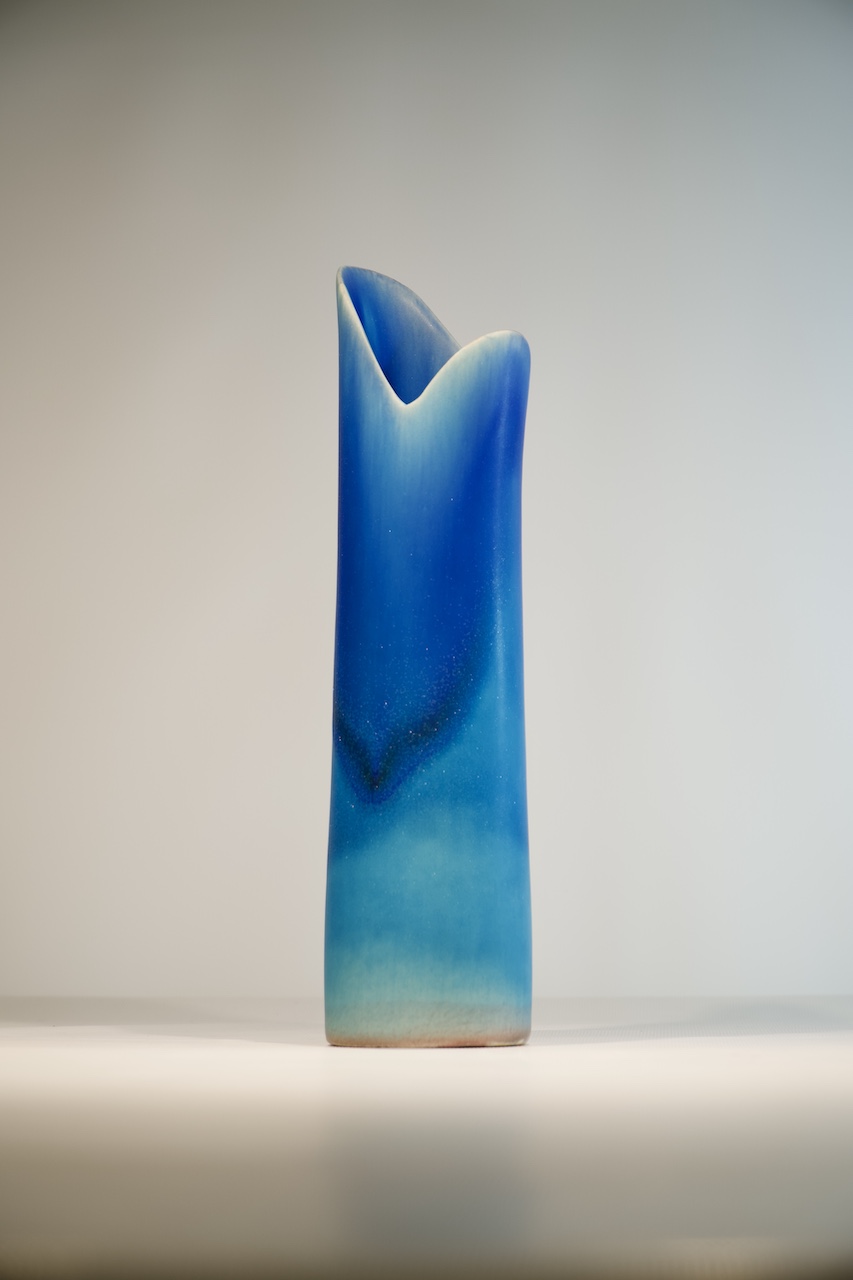 Blue Glaze Tulip-shaped vase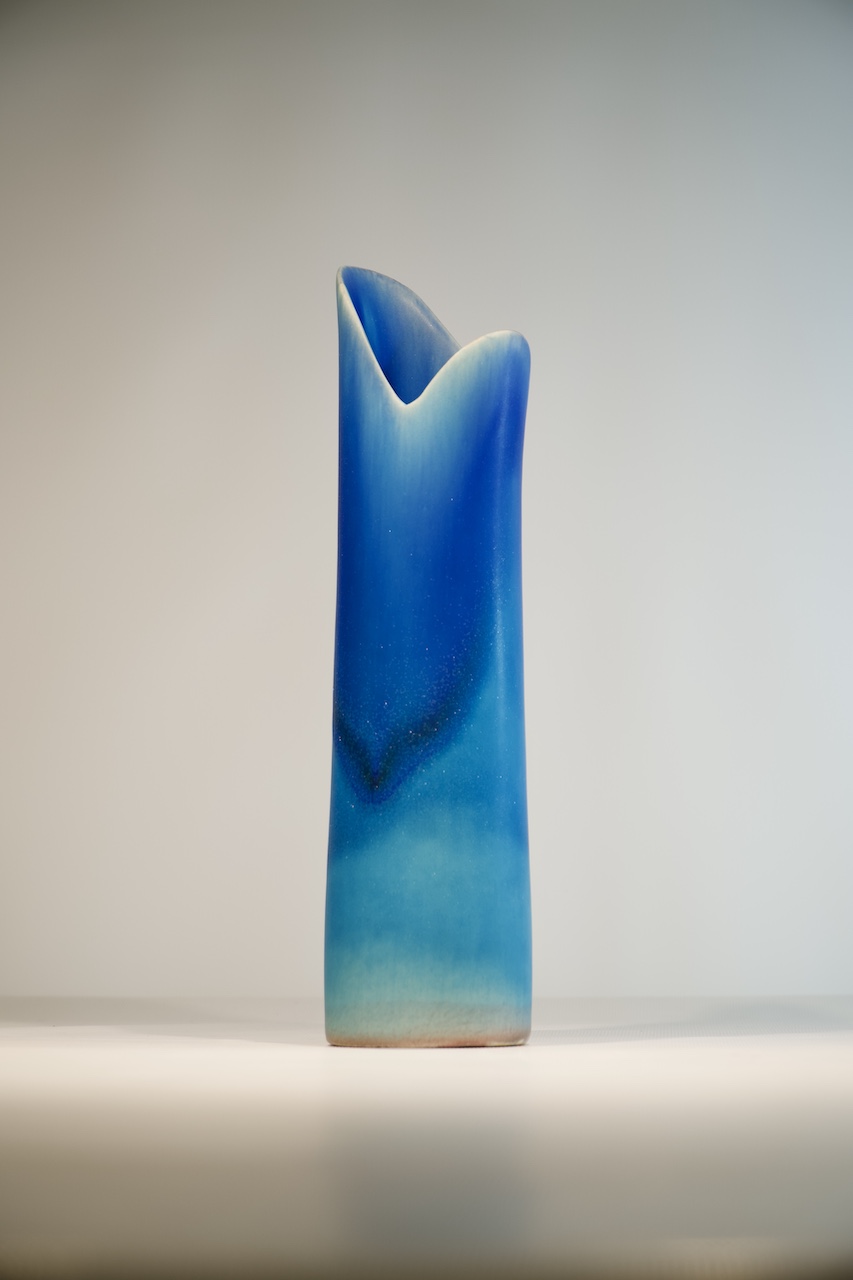 Blue and Yellow Glaze (Ikebana) Kaki container
Furuno's work was chosen and presented as a gift from the Emperor and Empress of Japan to the President and First Lady of the United States, the first state guests of the new Reiwa era. Currently, Furuno runs a school of ceramic art in a number of cities in the Kansai area. He is the Vice President of the Osaka Art Crafts Association and owns several ateliers and a kiln.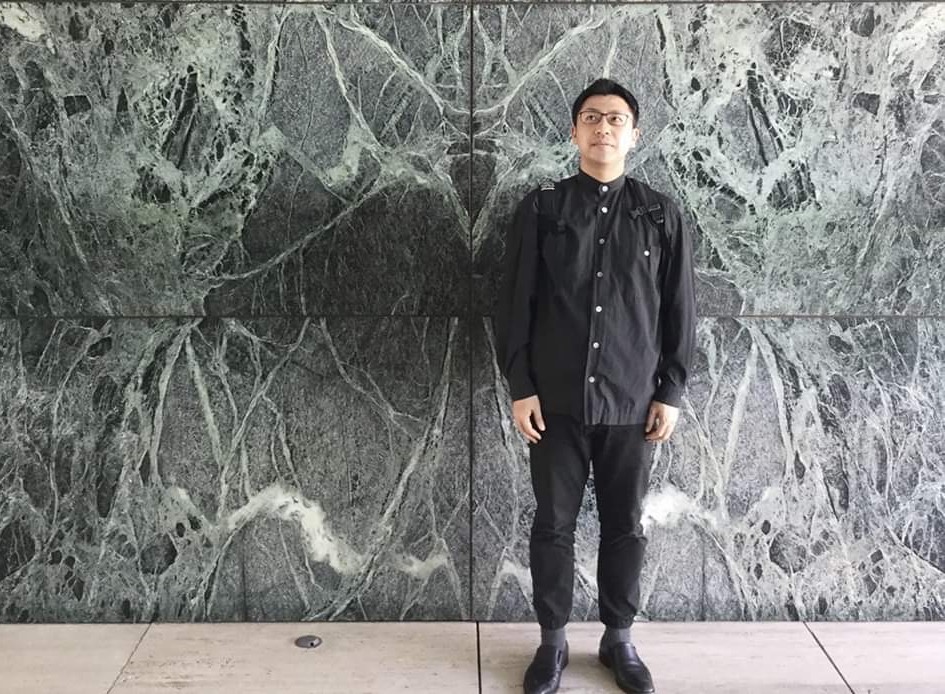 Takanao Todo
Takanao Todo is a multi-award-winning architectural designer, ceramicist, and director of a non-profit organisation supporting dyslexia in Japan. He currently holds a teaching position at Chulalongkorn University in Thailand, and specialises in making Japanese tea items and sake items by experimenting with various material and techniques. Todo's ceramic career started in Singapore where he crafted sake cups. After joining the Omotesenke tea group, he focused more on tea bowls.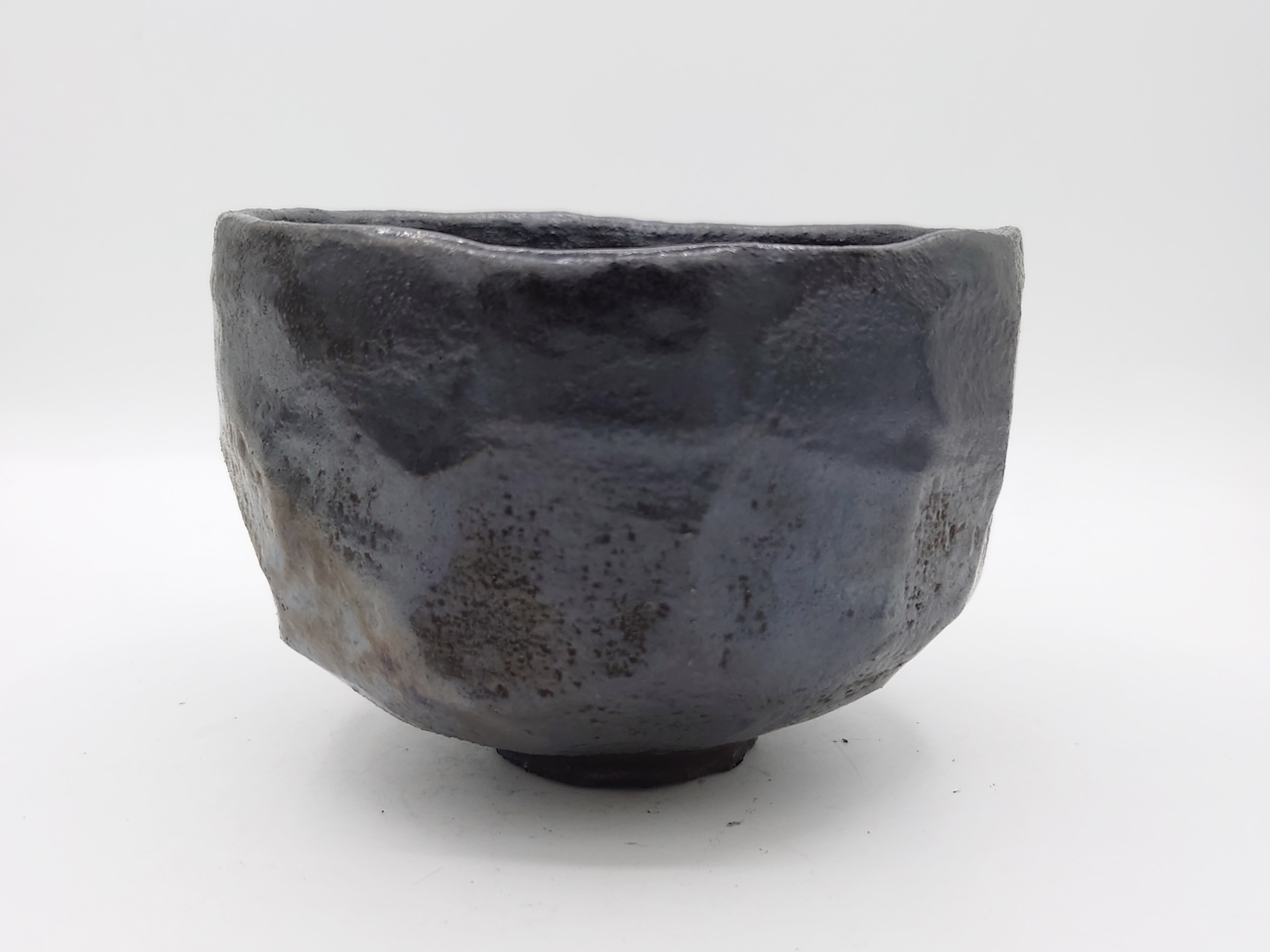 Black Raku Chawan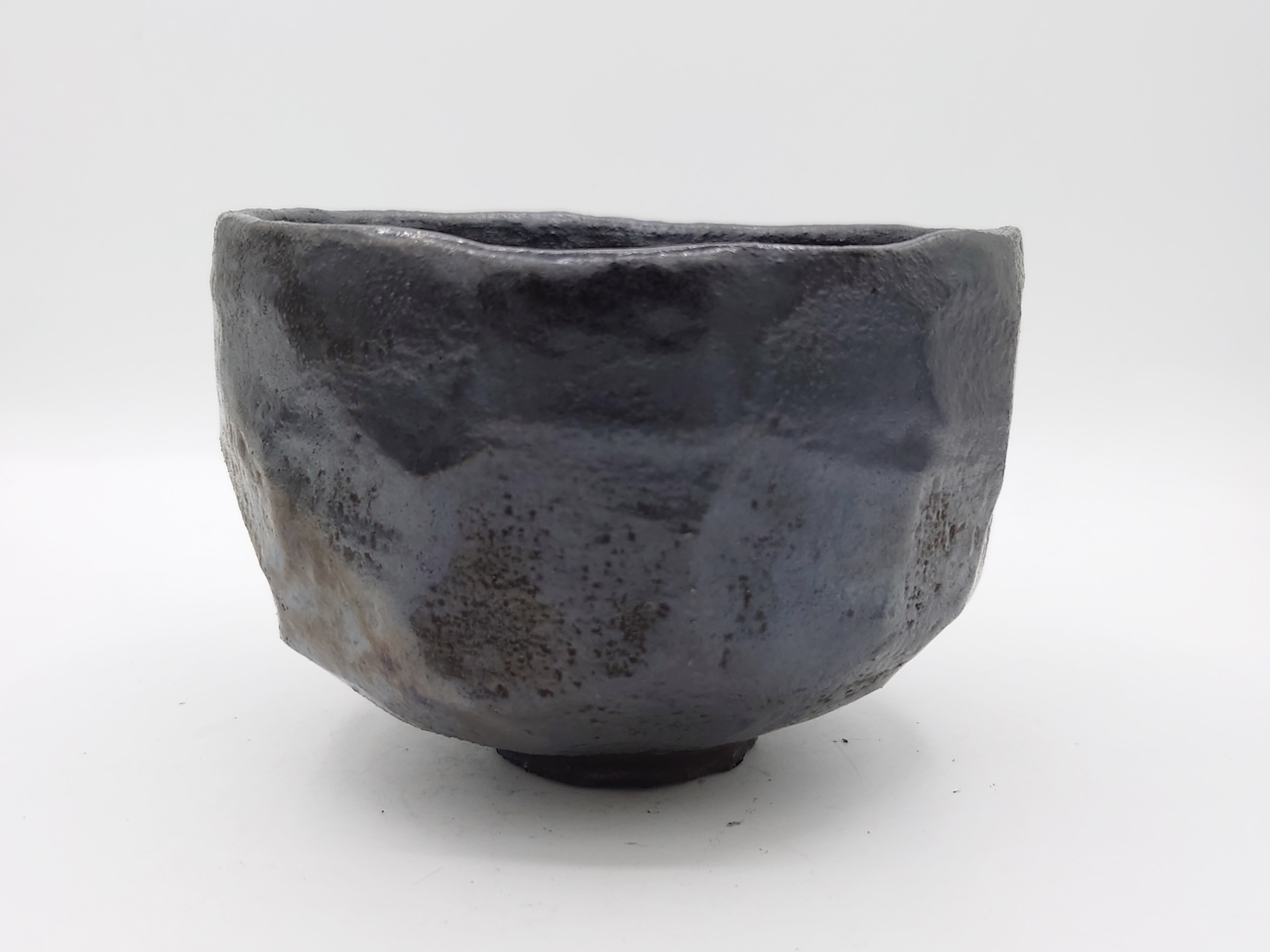 Print pressed hexagonal plate
For this exhibition, he produced raku-fired ceramics with his avant-garde interpretation of the technique. Raku firing was established 450 years ago by Chojiro, under the supervision of Rikyu, who established the aesthetics of Wabi. In recent years, the potential of raku has been tested across the globe, departing from the original aesthetics of Raku firing. Todo further explores its potential to challenge a new expression of beauty as the Post-Wabi aesthetics.
Exhibition details
POST-WABI – A Ceramic Exhibition by Yukiharu Furuno and Takanao Todo is presented by Michi & Co. and the Japan Creative Centre (JCC), and Embassy of Japan in Singapore.
The exhibition runs from 31 January to 4 February 2023 at the Japan Creative Centre (JCC), Embassy of Japan in Singapore, 4 Nassim Road.
Opening Hours: 10am to 6pm (Except on 4 Feb, the opening hours are 10am-5pm). Admission is free.
*Yukiharu Furuno will be at JCC on 1 Feb from 12pm-2pm, and 3 Feb from 4pm-6pm
Exclusive artist talk
Furuno will share his career and life experiences, while Todo will explain more about wabi and post-wabi, as well as share his concept and approach to making his works.
Date: 4 Feb 2023
Time: 2pm - 3:30pm (Registration at 1:30pm)
Admission: Free but registration is required