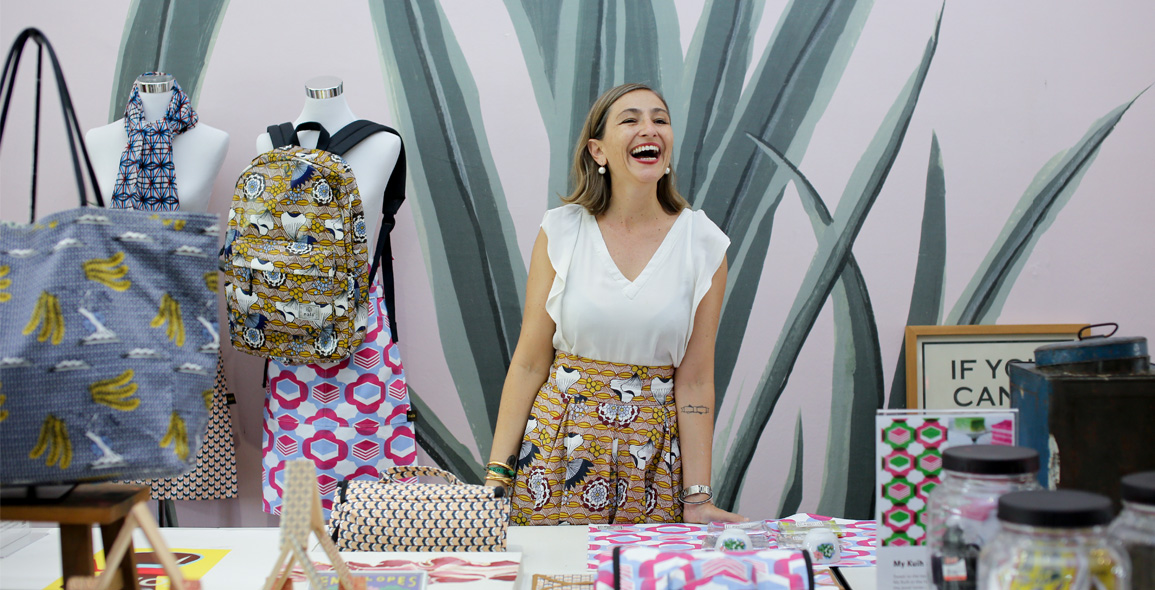 Tell us a little bit about yourself
In 1992, I graduated in Antwerp with a double degree in illustration and graphic design. But I ended up in advertising, working with BBDO Network. I was working in the advertising industry in Brussels and Amsterdam and in between, I've lived in Hong Kong and Holland for a couple of years. After 17 years away, I came back to Malaysia and that was before we even had computers.
How did growing up in Malaysia have an influence in your artistry and practice today?
I was born in Singapore but I grew up in Ampang, Kuala Lumpur. That's before Kuala Lumpur Convention Centre (KLCC) and the twin towers were built. I am pure Dutch with some far off Indonesian Chinese blood, somewhere. (chuckles) I come from a family of designers. My father also distributed printing machines and we would have a huge supply of paper at home, and that explains a lot about my work today.
My parents made sure that we mingled with local friends. And up to this day, most of my friends are local and not expats.
In my teenage years, I had an amazing teacher in the International School of Kuala Lumpur (ISKL) Mrs Beryl Lau who taught me everything. She would bring banana leaves and even roosters to the school. Once, we went to Kuantan to batik factories and we painted for a week. She also brought in a Chinese calligrapher to teach me calligraphy painting. All these techniques are 100% from her. I'm very lucky.
Tell us something that we don't know about you.
The whole world would probably know my whole life and everything about me. Well, I'm a single mother and I recently opened a store in Paris. I also set up the Graphic Design Department in Raffles College 14 years ago when I came back.
I love gardening, giving parties and Malaysian food. I was even a guest chef in Europe, cooking traditional dishes like nasi lemak, laksa and rendang. I have a deep passion for everything Melayu (Malay).
I can never sit still. My friends probably know this me. I have 20 ideas running in my head every second.
Oh! And I love durians. You can wake me up in the middle of the night just to have durians!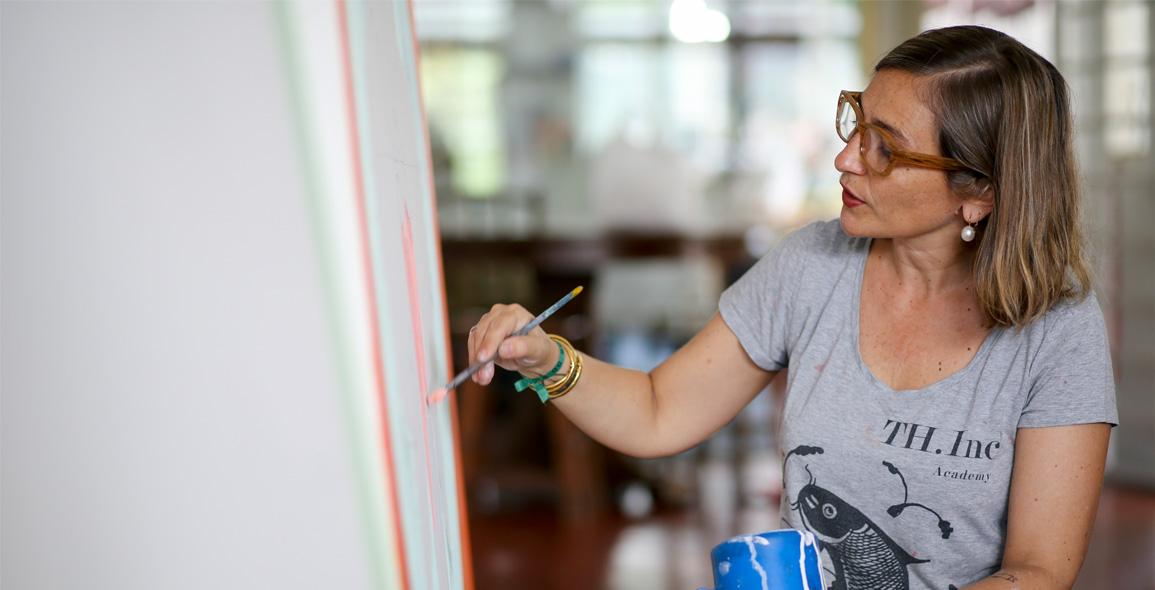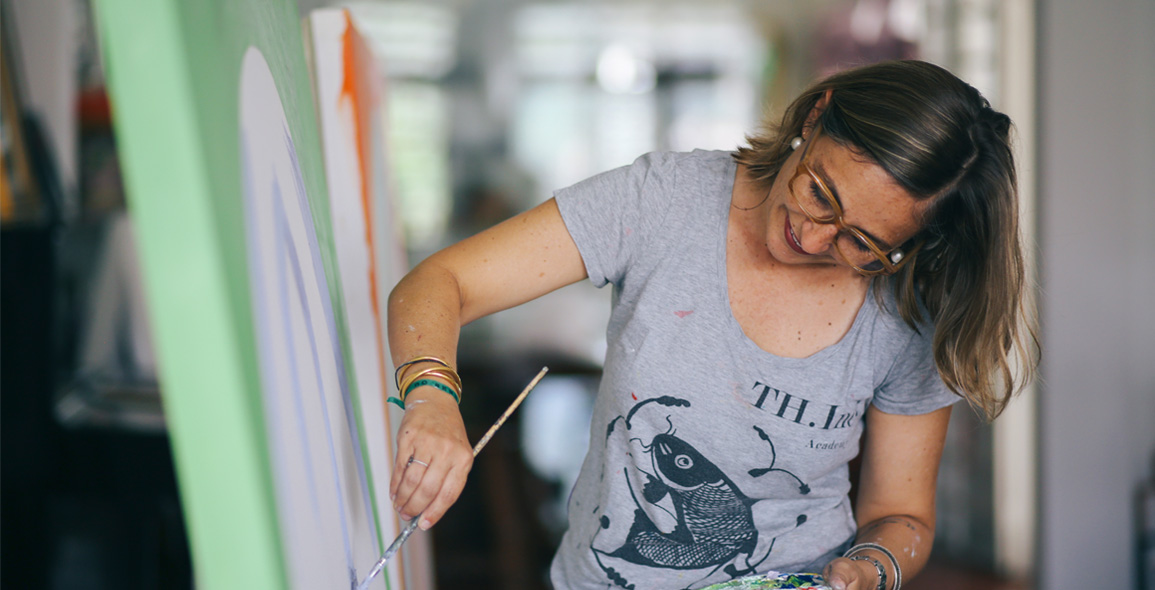 How do you make yourself stand out from the rest?
I know I am the only agency that can give you everything from A to Z. As the creative director, I can design your fabrics, your tiles, your lamps, advertisements, communication arts, or websites. Everything. I know I'm the only one here who can do everything.
We notice that you've drawn and painted almost everything here in your studio and home. Tell us more.
When I paint, it comes from here (points to her head). I only buy four colours (of paint), always. They're usually white, yellow, red and blue. It's really important to mix (my own) colours; otherwise, it'd be too easy. I'm really old school. I went to a very traditional school where I learnt how to paint by hand. Everything I did for Nala was hand-painted. I designed everything by hand. They're all hand-drawn. A lot of work and processes are involved. It's a double-edge sword. It's my biggest asset and my biggest downfall.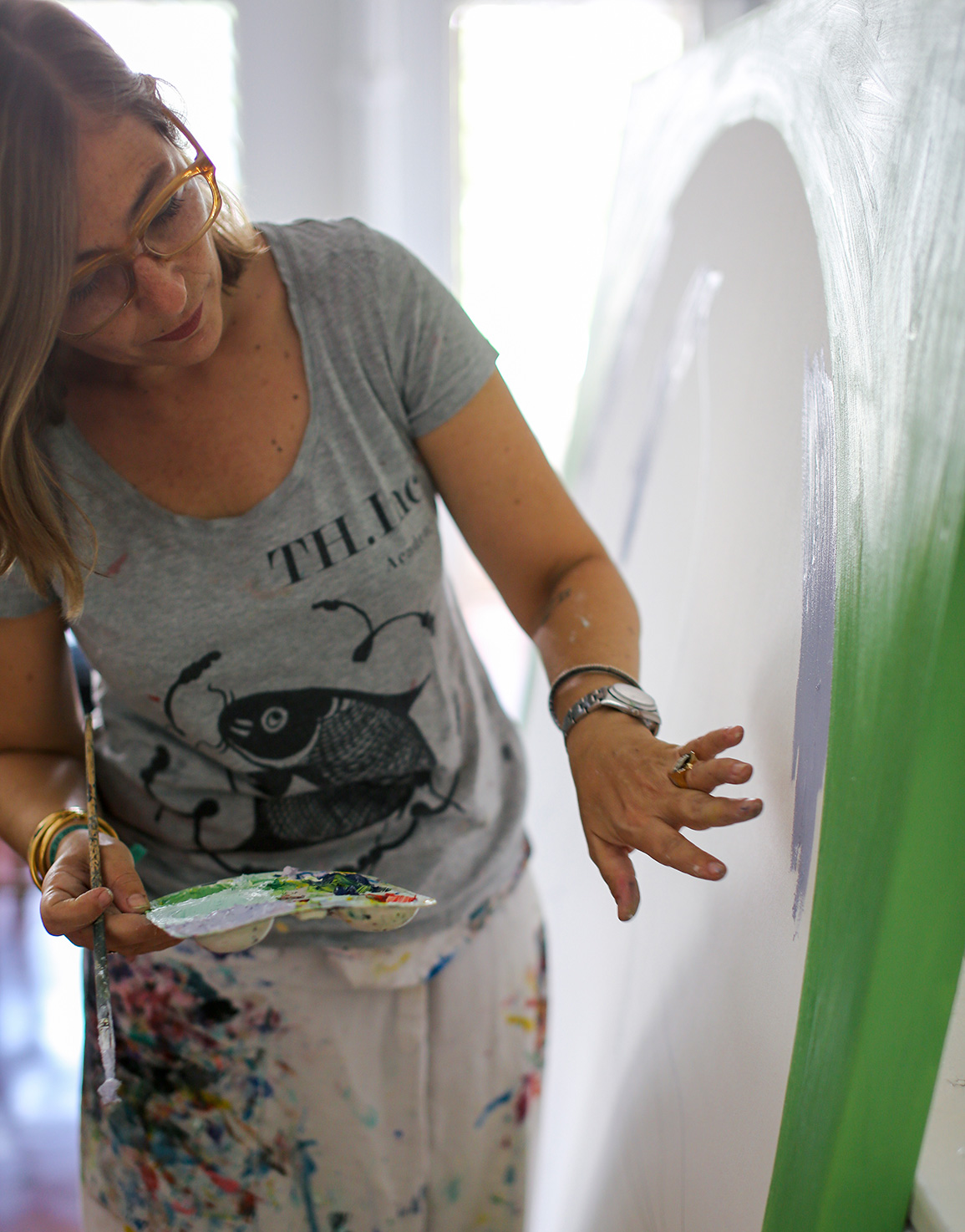 Who do you look up to in different phases of your life: as a child, a young student and now, an experienced creative person?
As a child, I looked up to my Aunt Lisette who was a designer. She did textile and carpet designs. She even designed the way they were woven; it was very technical. In my advertising days, my favourite advertising agency was Kessels & Kramer. I really liked their work. I even wished and prayed that someday, they would call me and ask me to work with them. Of course, it never happened. Now, I love the works of a fashion designer, Dries van Noten. I also love the interior works by Studio Job.
How important is it to be passionate and fascinated with what you do?
You have to be super passionated and emotional. Nowadays, the young people have no emotions or opinions in the things they do. The key elements to a good design are passions, emotions and opinions.
Your works are unique and the aesthetics that you offer to the market here and the market in Europe are commendable. What is your unique selling point?
My colours are my strength. I'm very good at choosing colours, even at a young age. Everything I do also must have a story. No matter how big or small the project, it has to come with a story.
In your field of work, can you describe your design process and how you actually use your signature style to express your points of view?
I have time slots. I have had a lot of bad luck in life. Maybe it's because I had done a lot, and a lot of these things had gone wrong. No matter how miserable my life is, the ideas keep on coming and I take refuge in them. My best design moments are early in the morning or with this book (palms on her sketchbook), and I'll force them out of me. In a very high-stress situation, I'll squeeze the ideas out of me.
You mentioned that you've made mistakes in life. How did you bounce back from them?
Don't compromise. If you want to do something, do it well or there is absolutely no point in doing it. It's a waste of life. And my friends know it. I'm allergic to ugliness. Ugly designs drive me up the wall.
If you're colour blind, what would you do differently?
I would do more patterns, to create rhythms. I design with my gut; it tells me how I feel. If i don't feel good about it, I keep on going and going. I believe everyone can draw. It's trainable. I never compromise when it comes to concepts.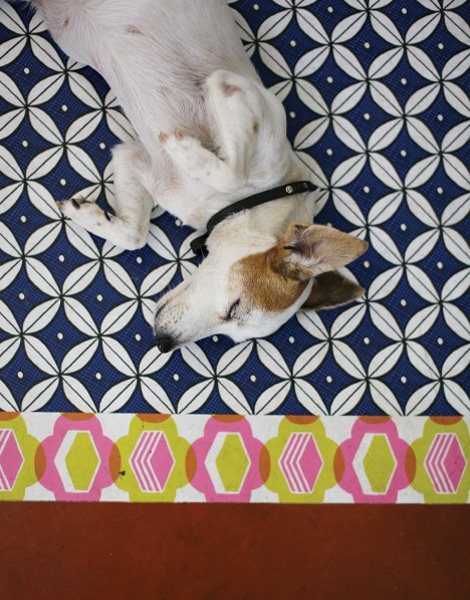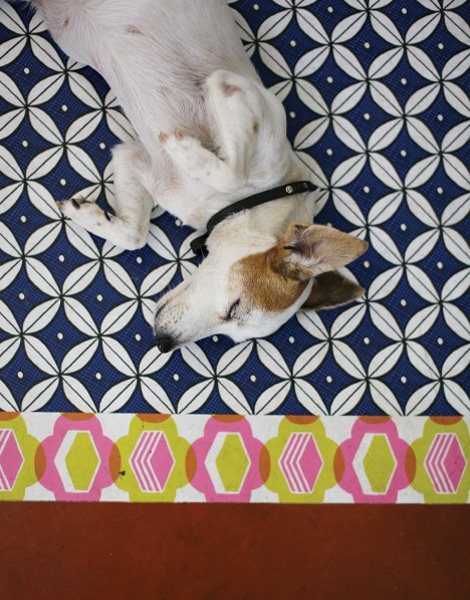 What colours can you not live without?
I think they are green and dark blue. I don't know why but I love these colours. Green and dark blue are such beautiful colours that you can match them with almost everything.
What are the biggest challenges in your field of work?
For the first time in my life, I find it tough to be a woman. I find it almost impossible to find an investor. I'm just a single 'white' mother. You couldn't imagine the prejudice and the automatic stereotyping that I am burdened with just because I am 'white'. It's difficult for me to move to the next level.
How important is it to be multidisciplinary?
If you're multidisciplinary, you can stand out. You're not reliant on sourcing or looking for manpower. To be original in this world, you need to know how to do it. You need to use your own hands; something most of the younger generation will not do as much anymore.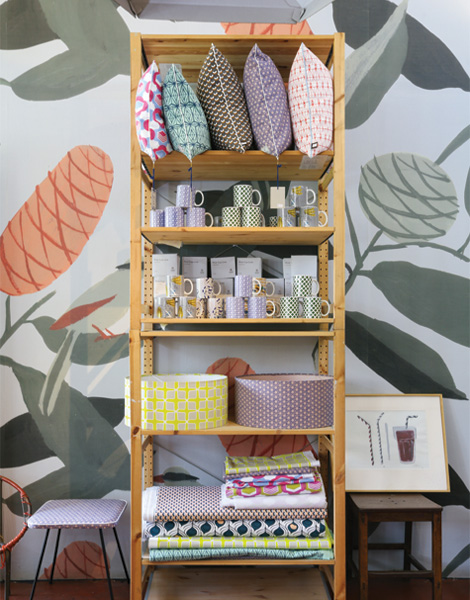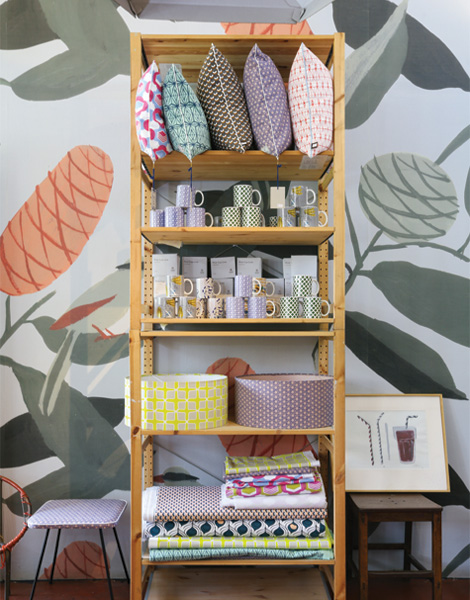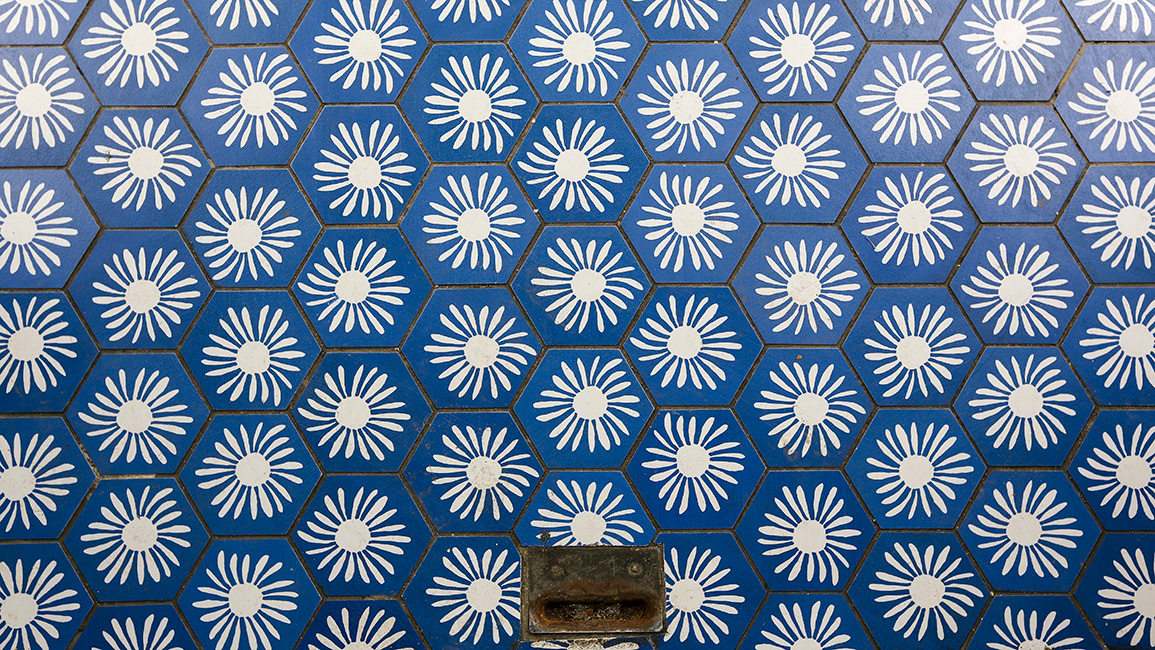 What is one word that you use excessively? Why?
SUPER! Apparently I say super-cool nonstop. It's also on my business card.
How important is social media in the design field in today's context?
It's extremely crucial. No instagram, no Nala. I run solely on Instagram. That's the reason why, to appeal to the local and international market, I hire a full-time 'Instagrammer' based in Paris.
We invest in social media now because it is something very crucial. But I cannot tell what's next with how fast the world is moving. Photography is also super-crucial. You need good photos to appeal to a wider audience.
What do you intend to do in the next two years?
Collaborate with bigger names, wallpaper brands or bed coverings, etc. I will deliver the patterns and they can take it from there. I want to work on my second book. There is so much to do. I am also trying to find a balance to spend more time with my daughter. I want to look for a husband too, hopefully within the next two years. No, I'm joking. I don't have time for that.
If you can collaborate with someone, who would it be and why?
I would love to work with people like Miu Miu Prada. I love the way she has hands-on with everything that the brand designs. I would love to give them some of my patterns. Locally, I would love to work with Royal Selangor. Malaysia has so much potential and I think it's time we realise that something has to be done.
A print version of this article was originally published in d+a issue 98.