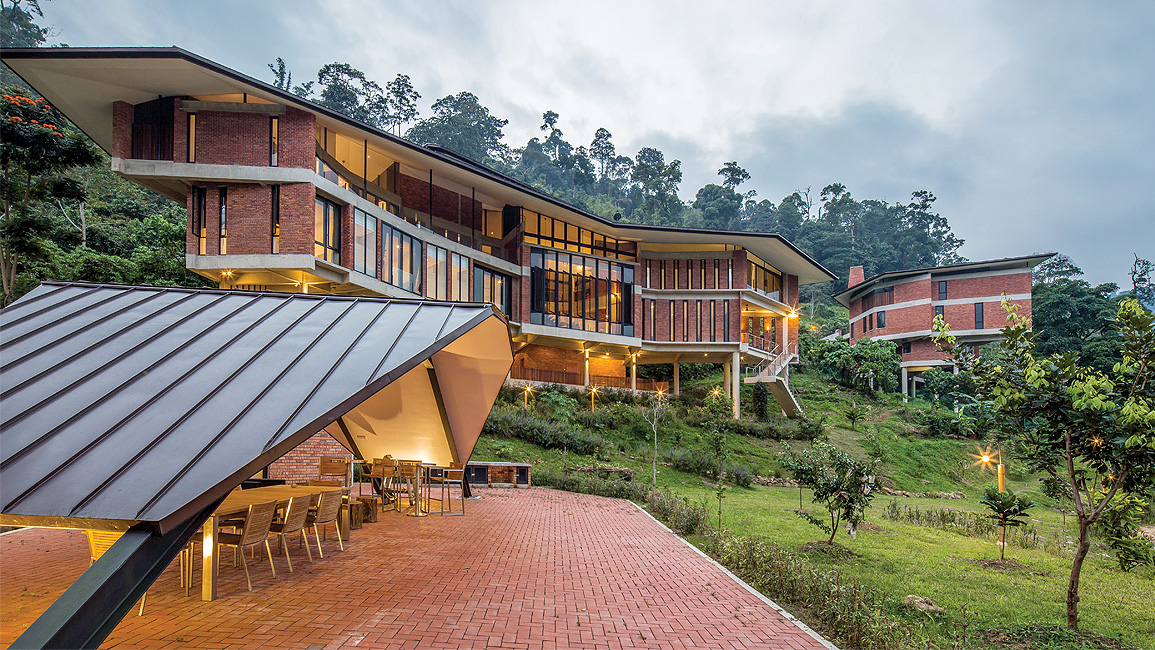 The after-five rush hour of a regular Kuala Lumpur day has an enervating atmosphere that, in anticipation of the weekend – or long weekend, so prevalent in this country – reaches a mind-numbing climax every Friday afternoon.
Reaching your doorstep, after all that traffic, can only be described as emancipating.
That sense of liberation, for those willing to push towards the north-eastern climes of Jandabaik, Pahang, takes on a whole new level of meaning when you arrive at the right place – the kind of place exemplified by the award-winning abode known simply as Lot 518.
OF VALLEYS AND VISTAS
Set in Tanarimba, a picturesque 7,300-acre low-density estate of 80 percent forest reserve, this three-storey weekend residence is one of two homes built on vegetated foothill.
Against this rich green backdrop, the vibrant planes of the pilotis-supported house are a contrast; projecting angles of clay brickwork, glass and a flying mauve-grey roof are insertions that offer no visual concession to the native surrounds.
It is a bold move that shirks conservative norms in favour of a more poetic, role-reversed solution.
"What if the building becomes the observer of its surroundings, much in the same way as nature is observed from different vistas and layers of space?" proposes Melvyn J Kanny of MJKanny Architect.
"By creating spaces that do not seem constant, views captured form different spaces from differing angles, enhance the idea of movement through the natural surroundings."
This experiential concept predicates the house's irregular layout, rooms and spaces collectively moulded as if an extension of terrain.
The culminating three-dimensional form reflects that experience, echoing the change of landscape as if making passage through Jandabaik's undulating hills and valleys.
PLANES OF INTERSECTION
There is a visible change of outboard stance, from projective to nondescript, when approaching the main entrance.
Opposite steep hillslope, the house appears an understated modern hacienda: an overhung, seemingly mono-pitched roof complete with chimney (albeit one several times oversized) covering a single-storey home in brick.
That pronounced vertical feature is in fact a wind chimney, drawing cool air into the house through a shaft that, at the owners' discretion, may house in future a discreet elevator.
The illusion of the low-lying hacienda is dispelled, however, upon entering the ground floor.
The architect's angular designs step proudly from the Tanarimba hillside yet subtlely borrows their form from the undulating terrain.

The interplay of planes within the centrepiece living area retains style without sacrificing functionality by harnessing natural daylight and ventilation.
To read the full story, purchase and download a digital copy of d+a's Issue 106 (October/November 2018) from Magzter.