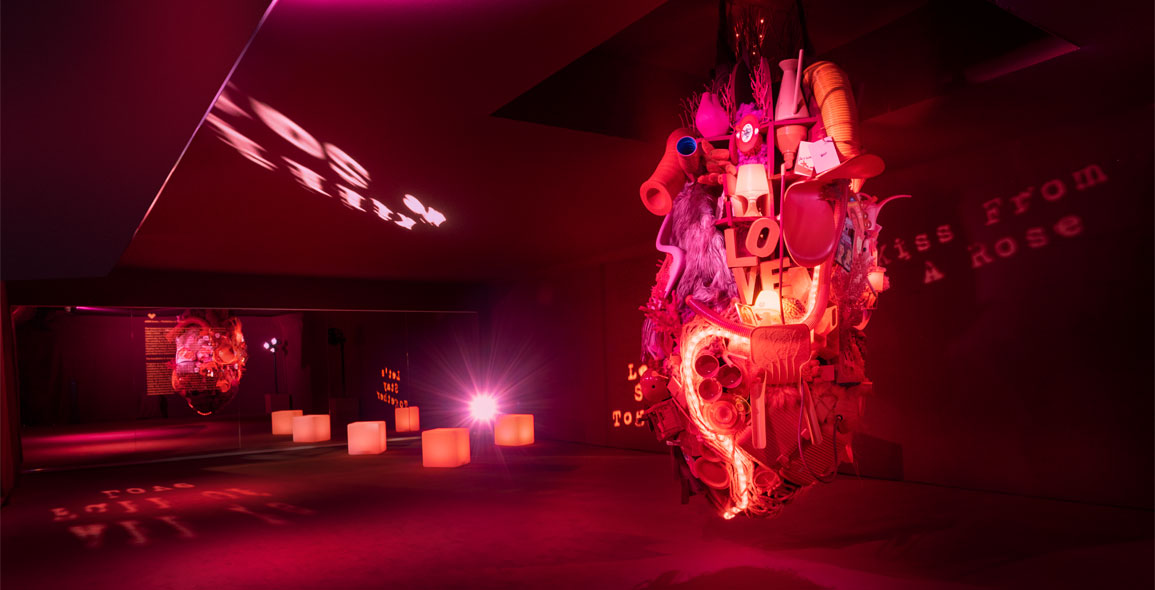 Passion. Fire. Love.
These were some of the things that came to mind when guests entered the room of a ballet school that housed an installation commissioned by JUNG and conceptualised by transdisciplinary design firm raumkontor.
Titled "JUNG LOVES...Exhibition of Things", it was staged at the Fuorisalone 2021 in Milan's Brera Design District.
The most striking part was how the room was bathed in sensual hues of red and black.
Suspended from the ceiling was a tightly knit collage of everyday "things", where the sum of the parts made up the whole that was the silhouette of the human heart.
We spotted books, a mug, the Vitra Eames Elephant, a traditional telephone and of course, the German brand's iconic LS 990 switch.
After an absence of one-and-a-half years, JUNG's return to the Milan Fair was a reaffirmation of its beating heart.
But it also symbolised a reawakening, growth and the creation of a new "we", brought about by the pandemic.
These were some of the messages behind the installation, which also wanted to provide JUNG's design and technology aspirations with a stage.
"Fortunately, our heart beats for many things, longs for the far away, dances full of desire and is at the same time fragile," said raumkontor.
"The installation found atmospherically dense images for this inexpressible feeling."
On a more literal level, the design was guided by the desire to convey the uniqueness of the LS Series, especially the breadth of tones that are suited for architecture projects, as seen from the original Les Couleurs® Le Corbusier 63 colours.
Versatile, timeless and functional, the collection is also able to stylishly complement interiors of every style.
For instance, it can be used as a modern touch sensor or room controller for a smart-home setup.
The possibilities, quite simply, are endless, complemented by the hope to give space to find the optimal solution.
We just love it and we are sure the visitors to Fuorisalone 2021 did too.
This story is brought to you by JUNG. It first appeared in Issue 122: Dec 2021.