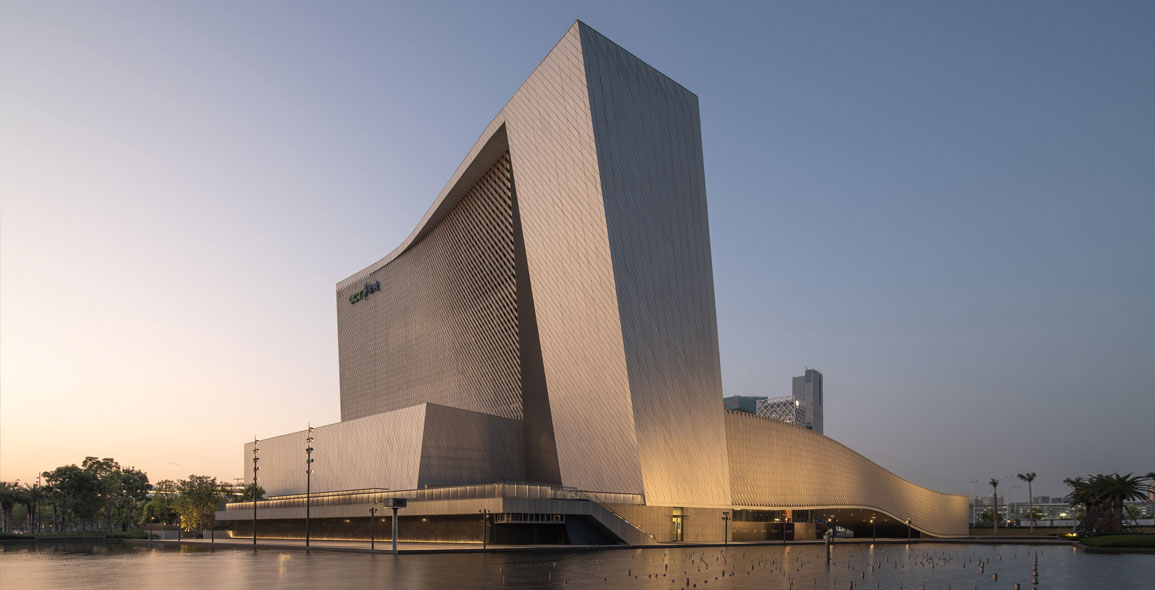 The gleaming metropolis of Shenzhen, China has added another architectural gem to its collection.
Known as the Performing Arts Centre at the Bao'An Cultural District, it is one of three buildings that complete the site by anchoring it on the southern end, fronting Quanhai Bay.
Functionally, it is home to the city's first concert hall that has been equipped to stage opera, music and dance concerts, as well as a 600-seat venue and rehearsal facilities.
The master plan and architecture of the entire District were conceived by Rocco Design Architects Associates (RDA).
Despite the long and narrow frontage, RDA's Principal Rocco Yim used it to his advantage and took inspiration from it.
The Performing Arts Centre's form is made up of a base that is low-slung and with a wave-like volume that flows along the main axial line of the District.
Rising up at a 15-degree angle off the vertical and perpendicular to it is a fly tower that grandly commands this building as the focal point of the District.
A skybridge links it to main volume and walking along it offers an aerial view of Quanhai Bay.
Much of the façade is covered in a delicately perforated envelope, rooted in traditional Chinese building screens and shadow walls.
On its own, it resembles light shimmering on water but also modulates the transparency of the spaces it wraps, such as the lobbies and performance spaces.
Yim provides more insights on this striking project.
How does the architecture of the Performing Arts Centre complement that of the Bao'An Cultural District?
Starting from the Library and Children Centre in the north, the Performing Arts Centre serves as the visual and programmatic climax, physically and metaphorically soaring at the southern end to meet Qianhai Bay. The architecture of the Bao'An Cultural District was conceived as a coherent ensemble of pieces in the overall masterplan concept, tying back to the rich coastal history and metaphorical play between water and rock. The form of the Centre evolves from the architectural language of the other two buildings in the district, manifesting the fluidity and erosion of rock through the curvilinear façade.
To read the rest of the story, purchase and download a digital copy of Issue 123: March 2022.
Photography:
Zhang Chao Studio