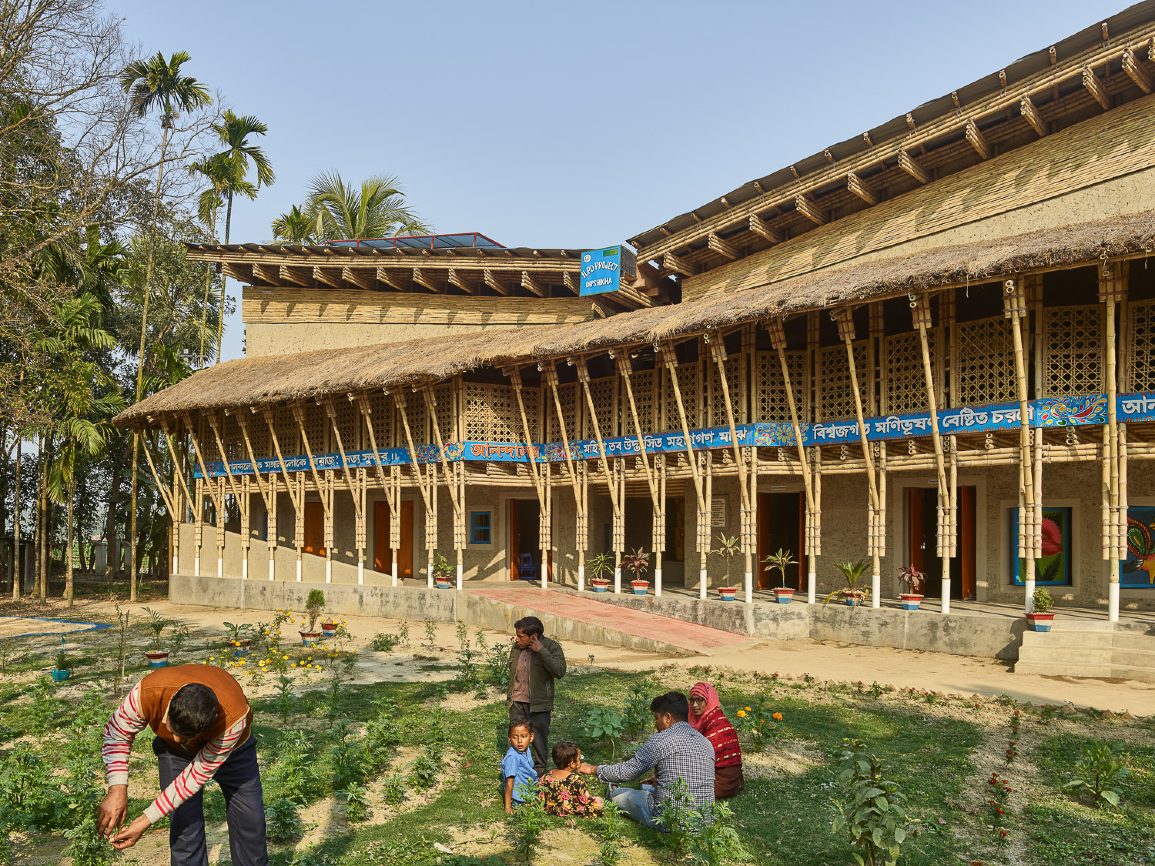 Designed by German architecture practice Studio Anna Heringer, the Anandaloy building in the village of Rudrapur in northern Bangladesh is a therapy centre for people with disabilities, and also a textile workshop.
In rural Bangladesh, such individuals are regarded as cursed and because of this, they are often isolated from their communities. Places that offer therapy and a sense of community are rare.
Determined to change this, Anna Heringer, the founder of her eponymous studio, designed the Anandaloy building.
She and her German team supervised the project, but assigned a local contractor named Monto Ram Shaw to the site.
Ram Shaw worked with a team of mud and bamboo workers from the village, including two individuals with disabilities to construct the building.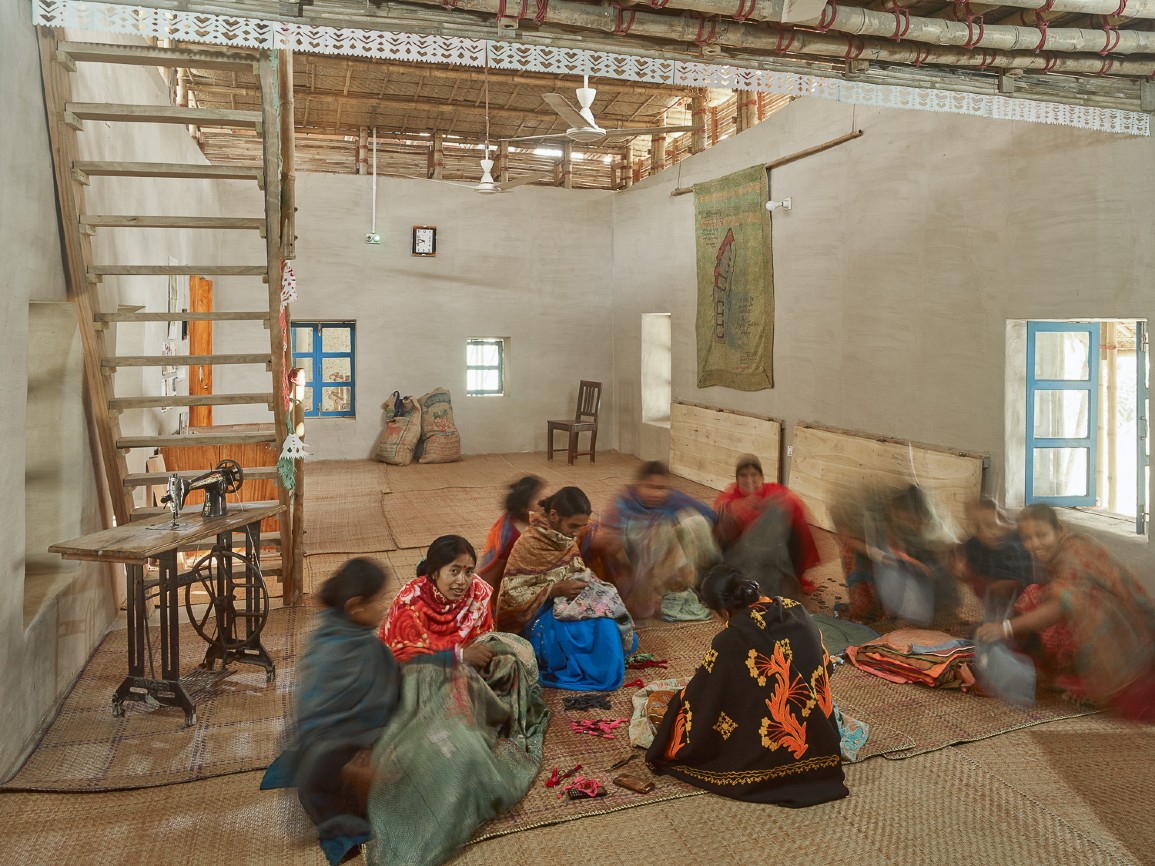 The initial brief was for the Anandaloy building to serve just a therapy centre, but Heringer decided to add another level to the building to house Dipdii Textiles – a studio for seamstresses living in the village.
This textile workshop was co-initiated and run by Studio Anna Heringer to enable the women there to work closer to home.
"Such local textile studios help mitigate the trend of rural-urban migration. The idea is to not only to provide therapeutic treatment for people with disabilities, but also to provide them with an opportunity to learn and work in the building and be more engage in their local community," says Heringer.
A large ramp winds up through the building to enable ease of movement for individuals who have difficulty using stairs.
Heringer says, "During the construction, the ramp was a topic of discussion among the many local visitors that came to see the site.
"They asked, 'What is the reason for that ramp? Why is it important to guarantee access to everyone, no matter if they are healthy or not? How can the lives of people with disabilities be improved? How can we practice inclusion?'"
Cob mud was used to construct the walls and bamboo was used for the roof frame, pillars and ceilings of the building.
Straw was used to build the lower roof and metal sheets were used to build the upper roof.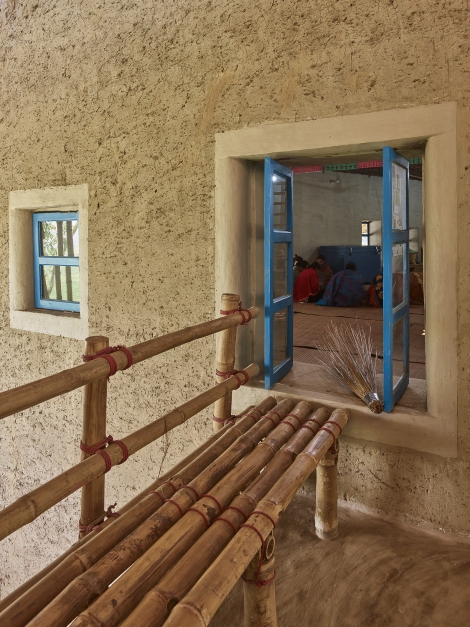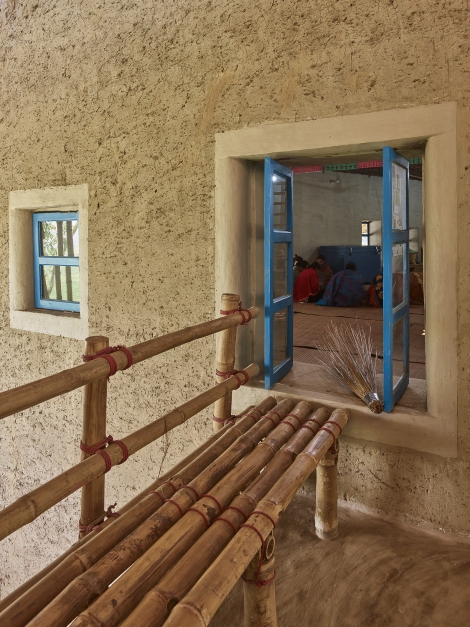 In many parts of the world, mud is regarded as inferior to brick as a construction material, but with this project, Heringer wanted to explore the potential inherent in this simple but amazing and abundant material.
"To us it doesn't matter how old-fashioned the material is; we got creative and explored how to use mud in a contemporary way.
"Rather than treating mud as a cheaper alternative to brick, we tried to showcase the beauty, flexibility and capabilities of this unique material," Heringer says.
"We used a mud construction technique called cob, where no formwork is needed and curving forms can be as easily created as straight walls.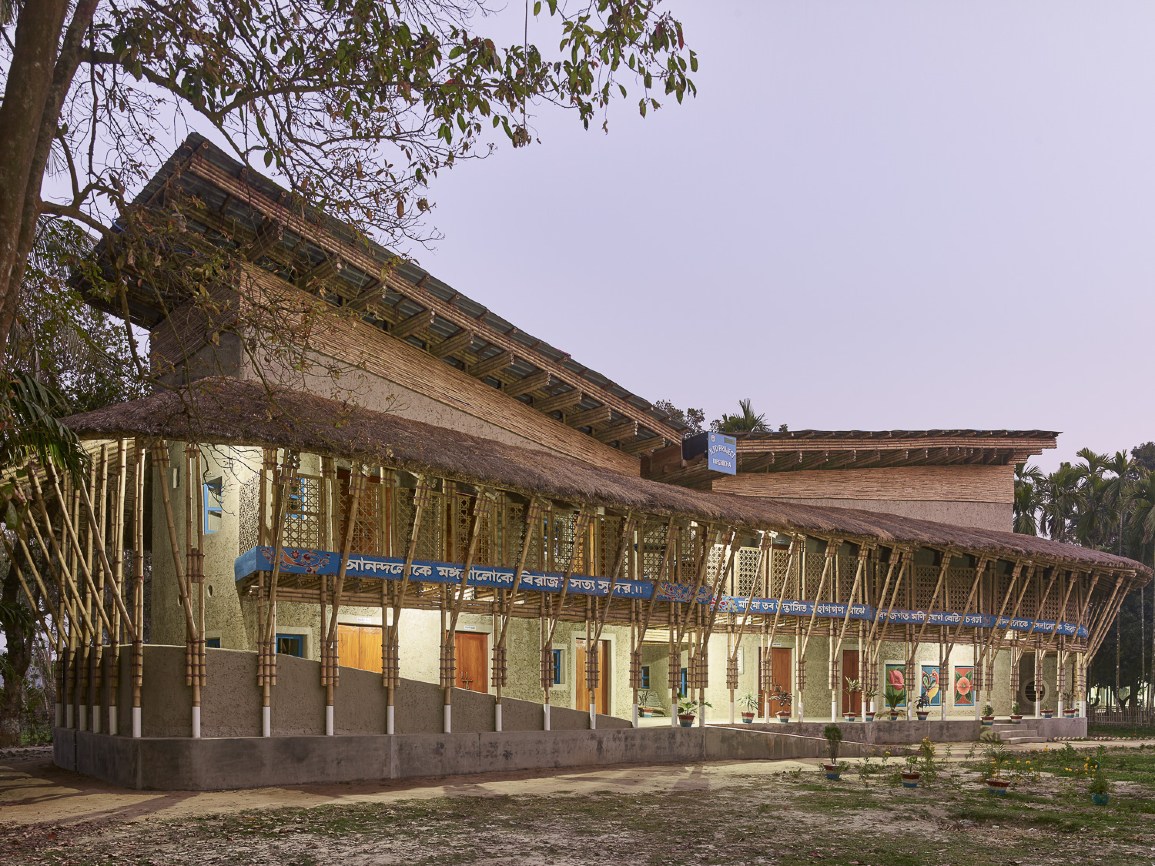 She adds, "Unlike the other buildings in the area that follow a rectangular layout, the Anandaloy building breaks the mold. It dances in curves, the ramp meanders playfully around its inner structure.
"On a symbolic level the building says, 'It is great that we human beings are all different.' With its joyful curves, it radiates the message, 'Diversity is wonderful!'"
Photography:
Kurt Hoerbst