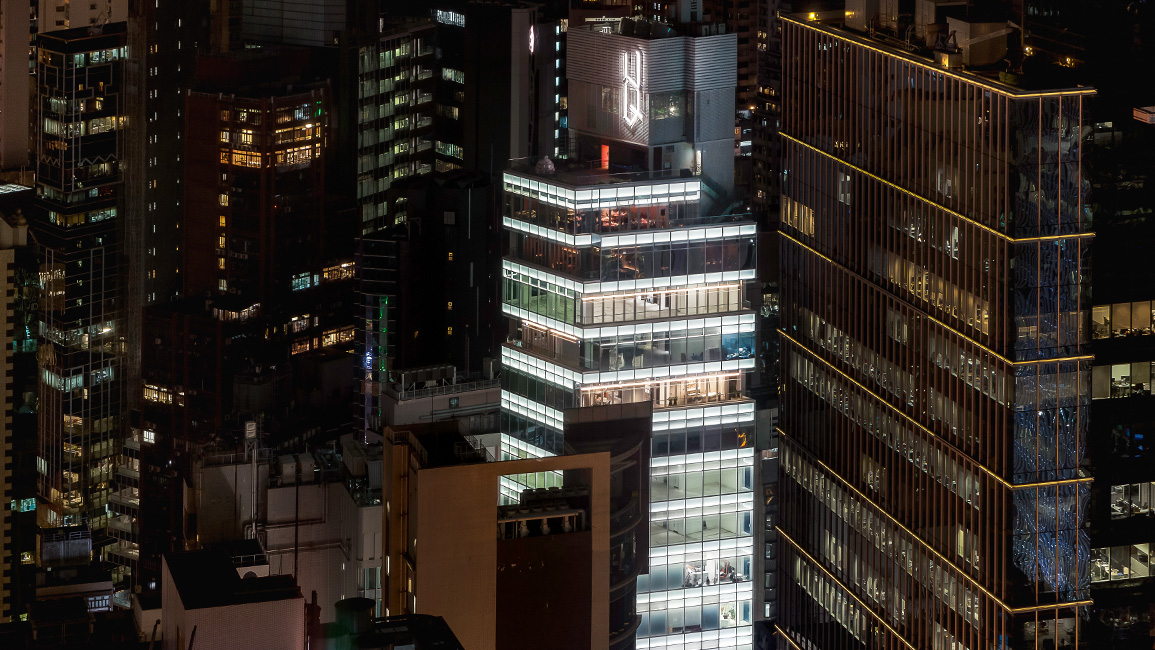 When property developer Henderson Land Development approached architect William Lim of CL3 Architects to design a new commercial building in a prime location in Central in downtown Hong Kong, he proposed something that was never done before – a vertical art gallery and F&B complex that would be the first of its kind in the world. They eventually christened it H Queen's.
An advocate of the adage "form follows function", Lim believes it is difficult to design a commercial space if the architect doesn't know who will be moving into it.
"I like to look at the project from inside out, and imagine how it's being used," says Lim. "I also knew that there were many international art galleries which were contemplating opening in Hong Kong, but were having a hard time finding the right type of space.
"This was in 2012, and the first Art Basel in Hong Kong was taking place the following year, so I proposed the idea of a vertical gallery building that would be a new art venue in the middle of the city."
An avid art collector himself, Lim had previously worked with Henderson Land Development on a residential project where he helped them select pieces for the interiors. He knew his client appreciated art, and might be open to his unconventional proposal.
While stacking art galleries isn't exactly a new concept – there is the seven-story New Museum in Manhattan, and galleries in Japan that are housed in adapted industrial buildings – this is the first time that a 125m-tall, 24-floor building has been built solely for the purpose of celebrating contemporary art.
H Queen's contains commercial pop-up gallery spaces on the ground floor, 16 levels of galleries (home to major global brands such as David Zwirner, Hauser & Wirth, Pace and Whitestone Gallery), F&B establishments on the lowest and top three storeys, and a rooftop bar.
Perfect Complement
Because it sits right next to the historic stone steps of Pottinger Street – one of Hong Kong's oldest – Lim decided on glass for its modernity and lightness, which would reflect the stone steps and its downtown surroundings, rather than overwhelm the streetscape with a large, heavy mass.
The bottom and top three floors where the F&B outlets are located have staggered terraces for al fresco dining, which creates a unique, interlocking sculptural form.
"Alongside the historic Pottinger Street, and the two-lane wide Stanley Street, a series of terrace setbacks was created to open up the restaurant space, and draw in daylight through Stanley Street," says Lim.
Designed with art in mind, the 6,921m2 building was clad in triple-glazed, low-e glass that cuts out all UV light to protect the valuable artworks within.
"Logistics are crucial for exhibition spaces, so the art, sculptures and installations can be moved around without getting damaged," says Lim.
H Queen's rises 24 floors and is composed of glass for its modernity and lightness.

The bottom three floors house F&B outlets with staggered terraces for al fresco dining, that gives the building its interesting, interlocking form.

The challenge of loading large artworks into the building is solved by mounting a crane on the roof that can hoist them directly onto each floor.
To read the full story, purchase and download a digital copy of d+a's Issue 108 (February/March 2019) from Magzter.
Photography:
Nirut Benjabanpot / Henderson Real Estate Agency Limited