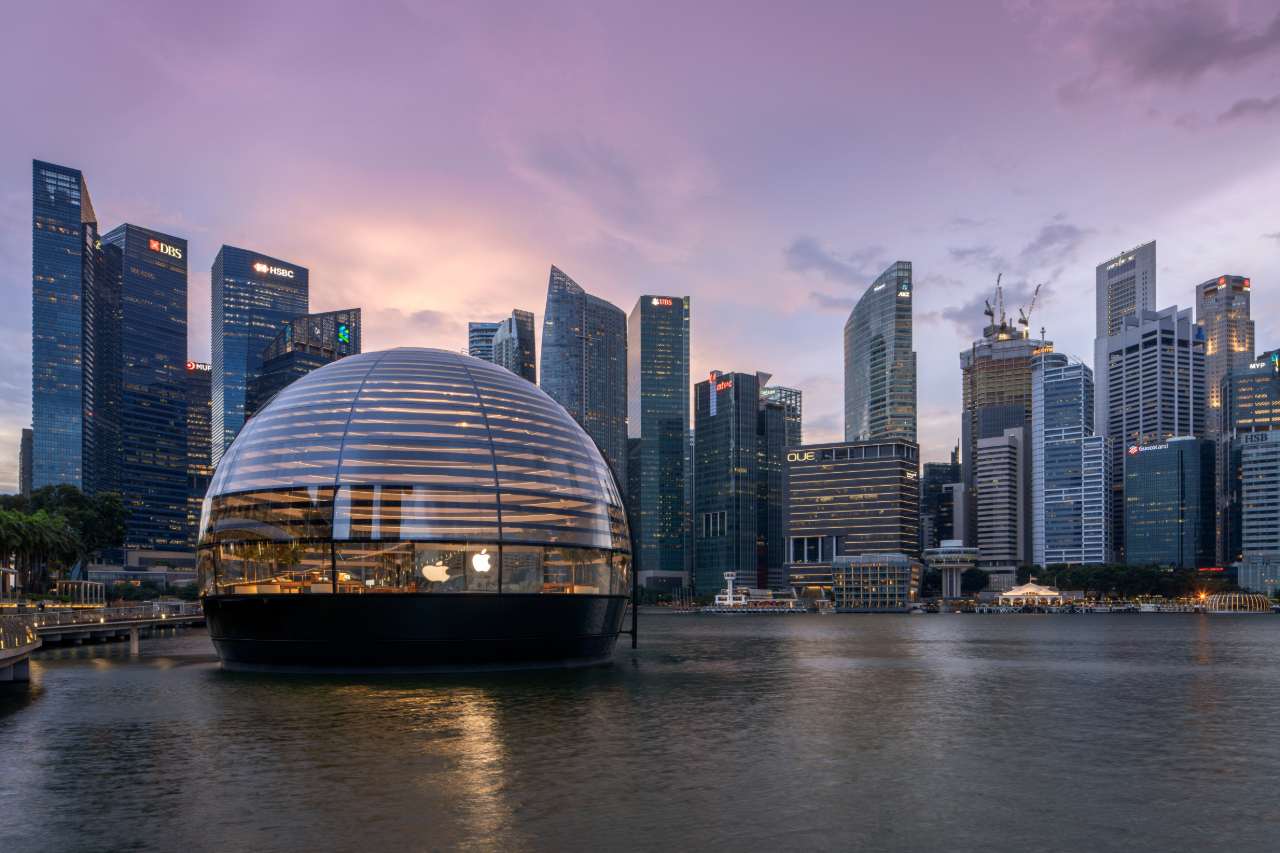 The future of retail lies in brands curating memorable experiences for its customers – and no one is more savvy at this than Apple.
Its tenets of architecture and design culminate in Singapore's third store at Marina Bay Sands, embodying an experience unlike any other.
Conceptualised by Foster + Partners, which designed the first two stores in the country (and many others around the world), this one is more than just another drop in the Apple ocean.
For starters, it is shaped as a sphere – reminiscent of a bubble – its smooth curves a counterpoint to the sharp angles of the surrounding skyscrapers in Marina Bay, where it is located.
Composed fully of glass allowing its interiors to be flooded with daylight, the dome-like structure is entirely self-supported and surrounded on all sides by water – a first for the brand – giving the illusion that it is floating in the Bay.
The concept is split into three sections over as many floors.
The entrance is via Basement 2 of Marina Bay Sands, marked by a curved wall clad with Italian Serpeggiante Castagna stone.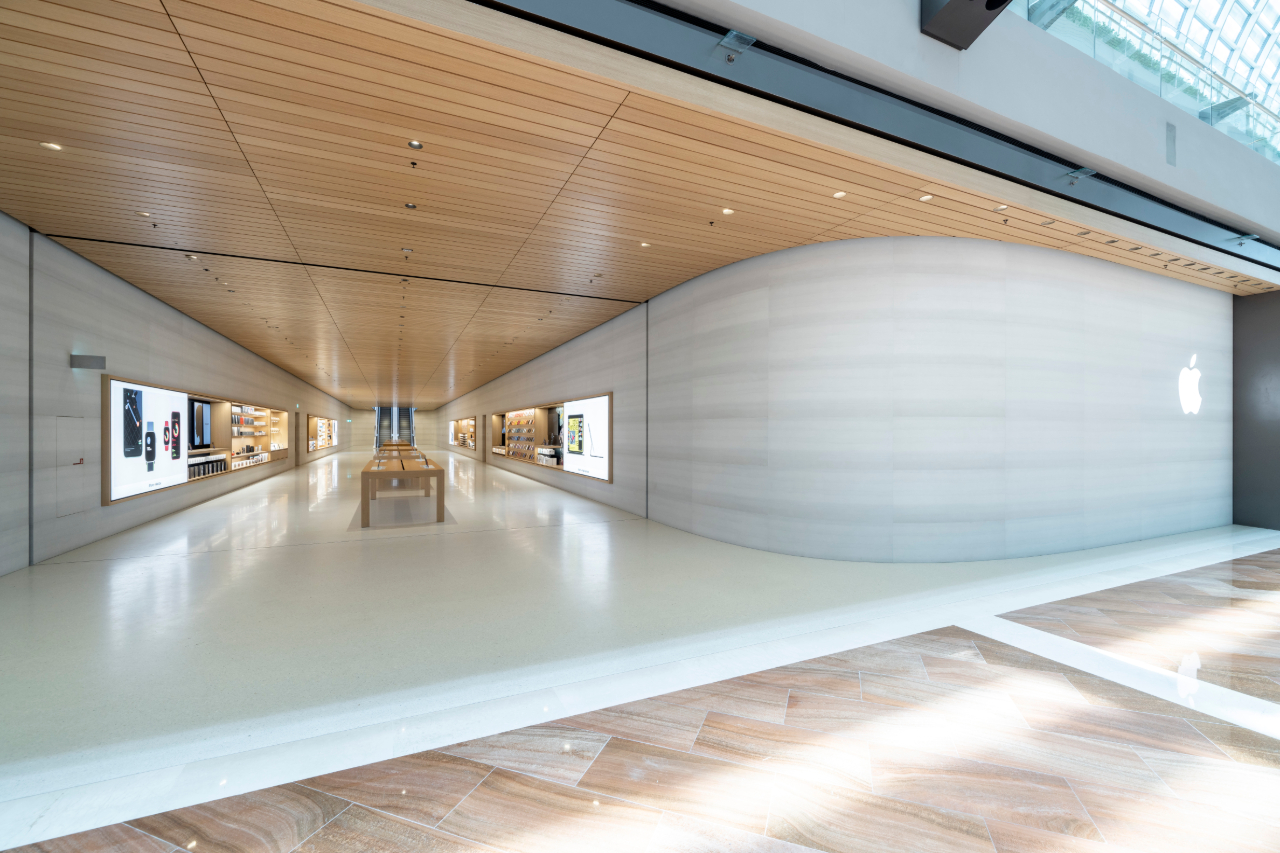 The first section is the Avenue, totalling 43m in length, where curated products and accessories are displayed and available for sale.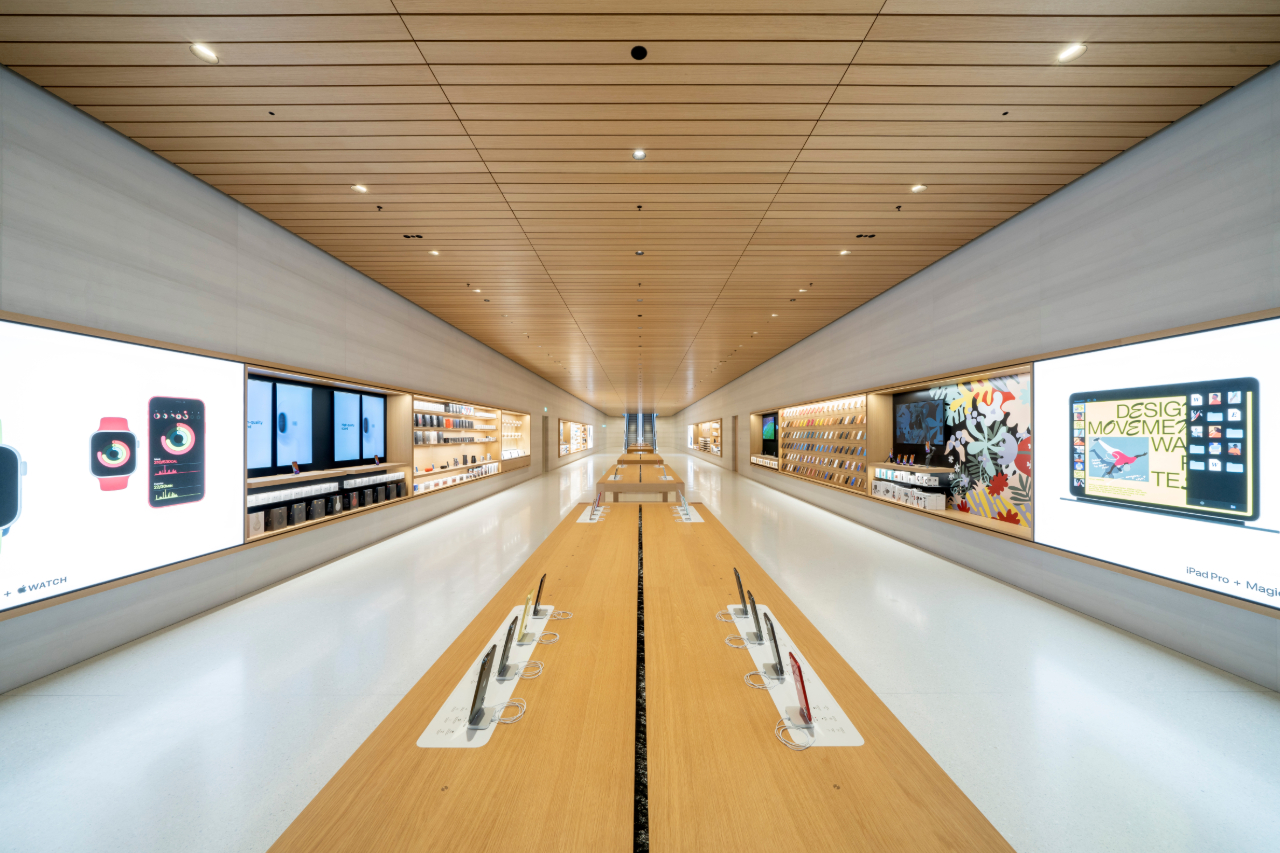 At the opposite end is a pair of in-store escalators, a first for Apple, that ascends two levels and is clad in mirror-polished stainless steel.
Be prepared for a dramatic reveal, whether day or night, as the interior of the Dome starts to come into view.
Composed of 114 pieces of glass, it is supported by 10 slim, vertical mullions and offers uninterrupted, 360-degree views of the Marina Bay skyline.
Bisecting the mullions at right angles are layers of sunshade rings or baffles, each piece customised with a unique shape to shade against the heat and glare in the day, and provide a lighting effect in the night.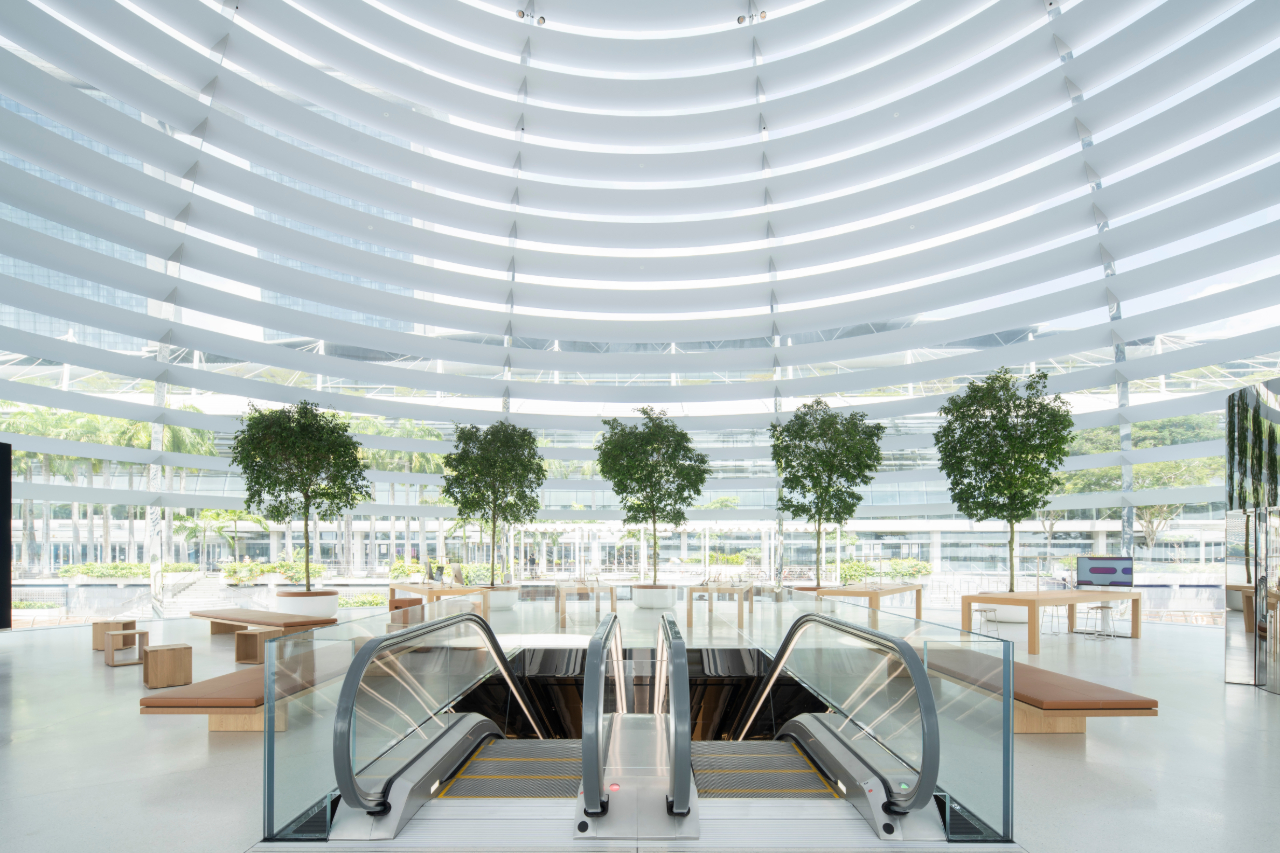 The Dome is 30m in diameter and, at its apex, 17m tall, tipped with a covered oculus inspired by the Pantheon in Rome that lets in a focused shaft of light into its middle.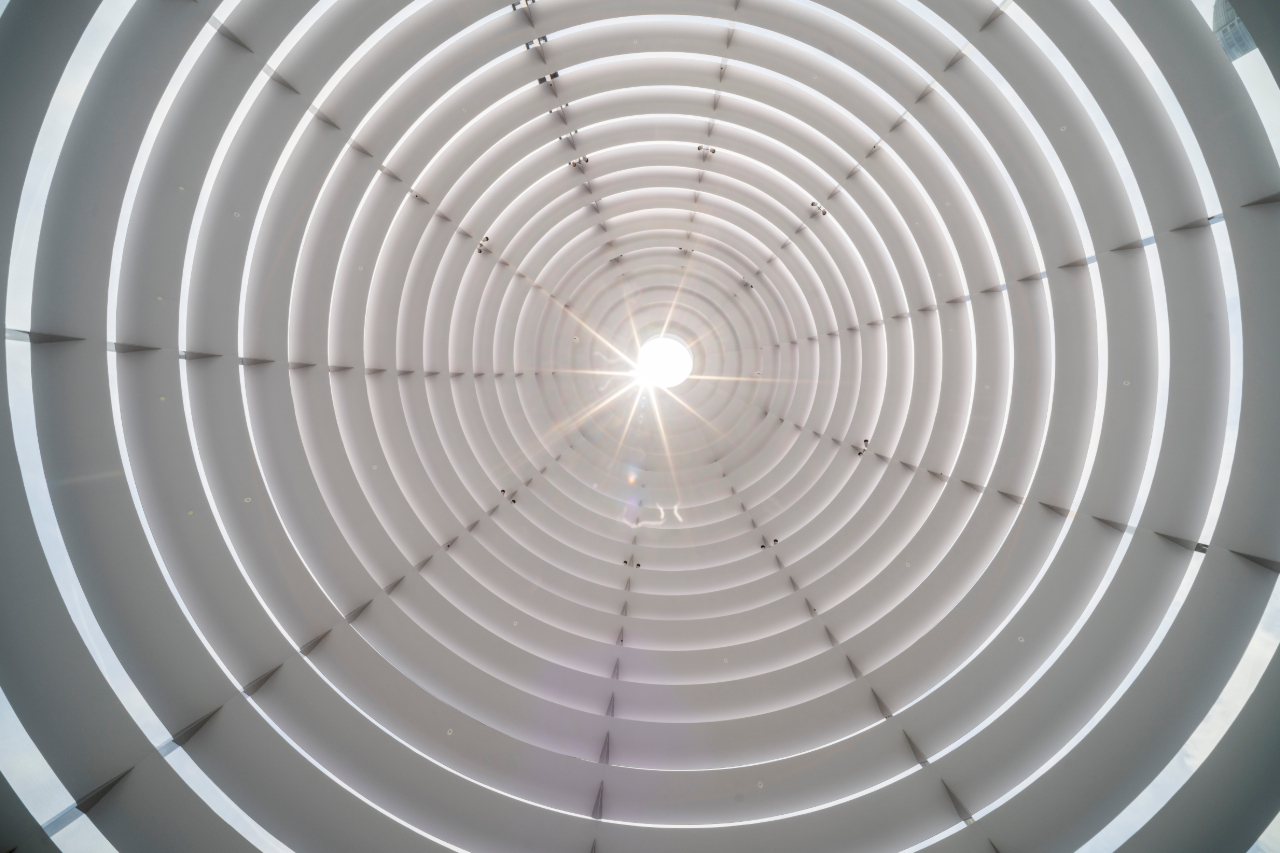 Explore Apple's full range of products within the Dome, interspersed by 10 Ficus Ali trees that are a nod to the country's Garden City reputation.
There is also the Forum, another Roman reference, which is the heart of the store, anchored by a video wall and serving as the stage for Today at Apple sessions.
On the opposite side is an elevator, its cylindrical shape clad in the same mirror-polished stainless steel as that in the escalators for continuity.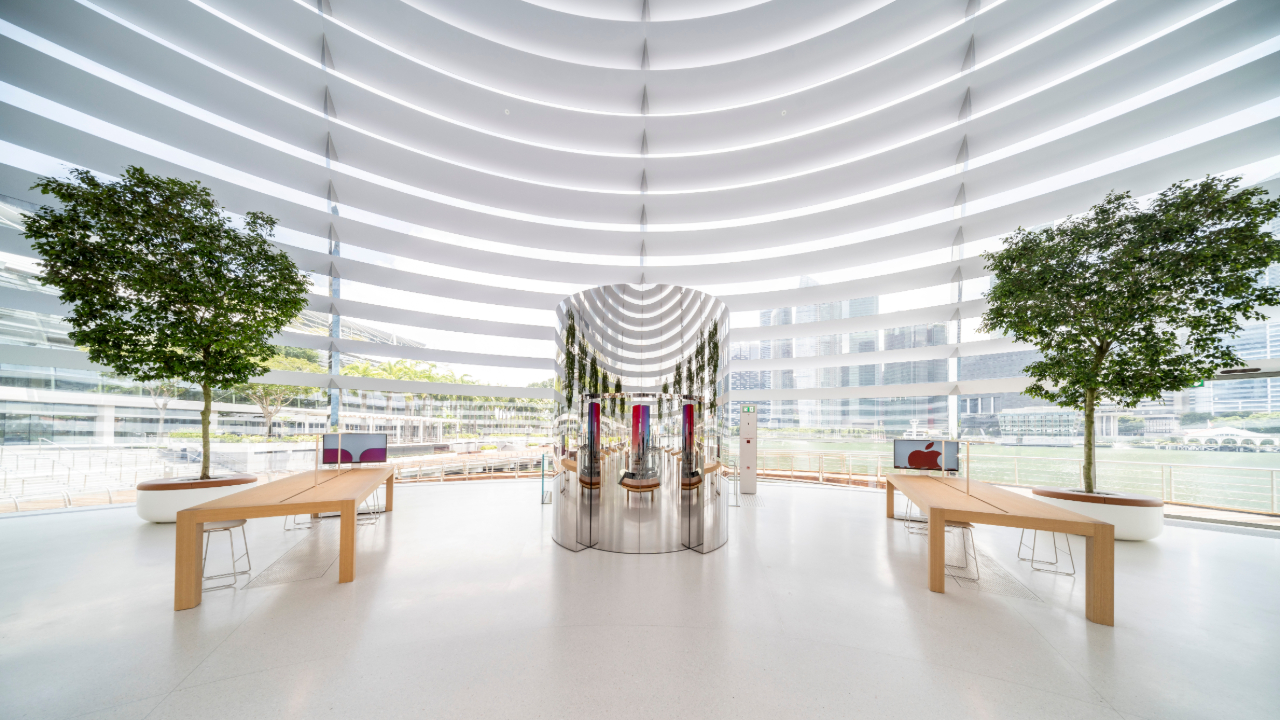 Ride it to Basement 1, where Apple's first underwater Boardroom is located. The cosy space, with its warm wood tones, is where those interested in receiving training and advice can meet with Apple team members.
Indeed, there are many firsts in this store, and under the deft hand of Foster + Partners, it has all come together beautifully.
In fact, Apple Marina Bay Sands will probably join the list of must-visit attractions in Singapore and, more importantly, a destination for retailers from near and far to come and experience and see the future.
A sociologist by training, Darren Soh is an architectural and landscape photographer. His personal works are an extension of his curiosity about how we live and the spaces we create as well as leave behind. Darren has worked with both local and international architects alike, including with firms such as Safdie Architects, UNStudio, Wilkinson Eyre and WOHA. He is a long-time collaborator of Apple.
d+a is pleased to be the first media outlet to feature the photographs of Apple Marina Bay Sands shot by Darren Soh.