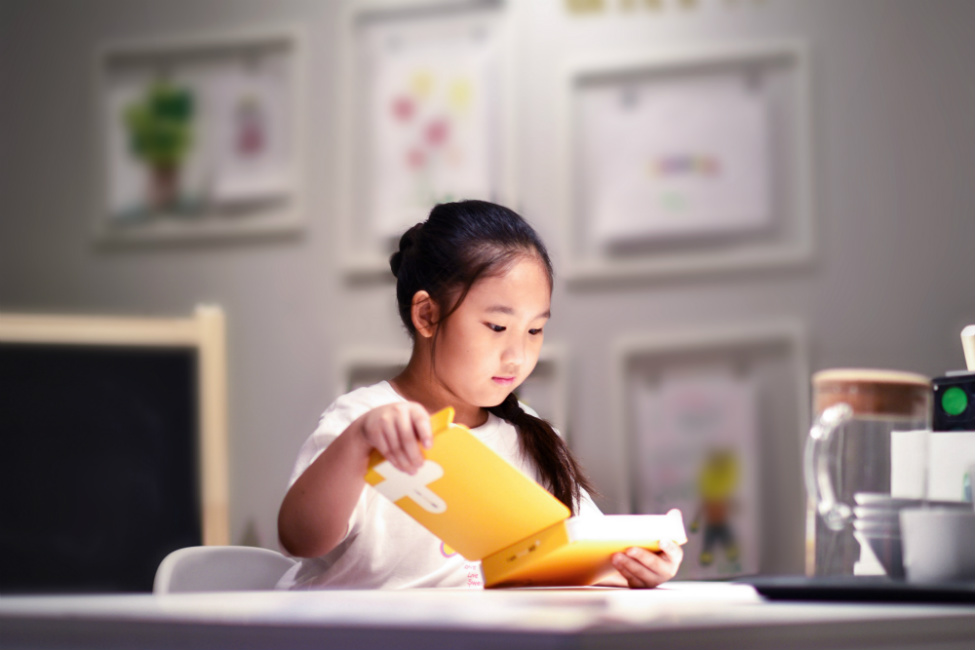 How can design make our lives easier? This was the common thread that ran through the projects presented by graduating students from the Division of Industrial Design (DID) at the National University of Singapore (NUS) School of Design and Environment.
Held earlier this month at the National Design Centre, the NUS DID Graduation Show featured over 45 unique design works organised around four main themes of Healthcare, Social, Lifestyle and Experimental.
"Designers are currently confronted with new obstacles, new domains of expertise and new technology," said Associate Professor Christian Gilles Boucharenc, Head of the DID, at the launch of the show.
"Our strategy to challenge our students with a variety of projects through our various domains of expertise offered have birthed these projects covering a large spectrum of design fields."
We spotlight three interesting projects that offer original solutions to present-day challenges in our society.
UnafrAID by Fiona Tan
Category: Healthcare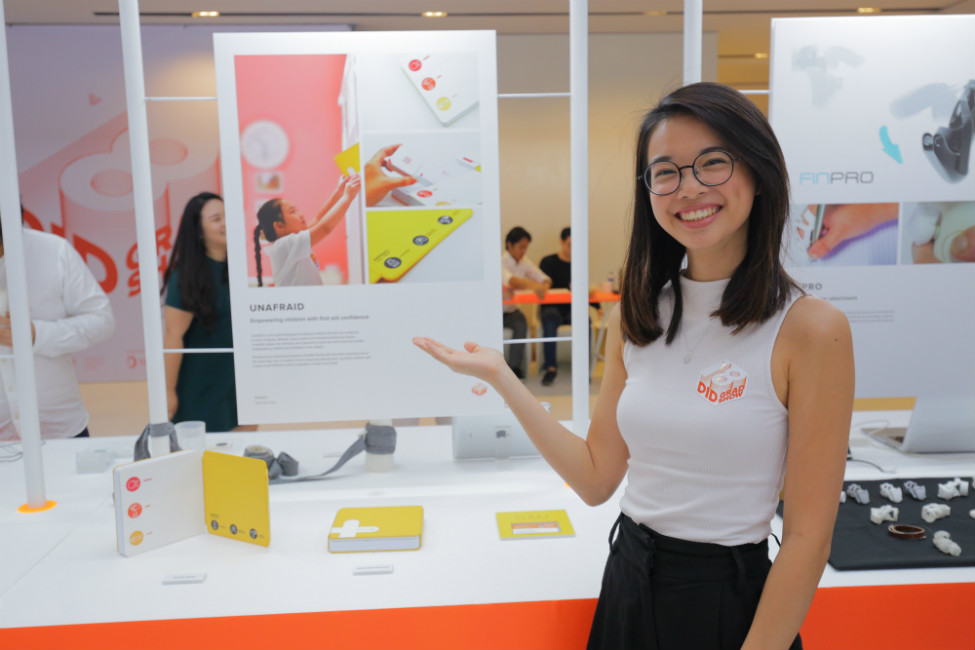 What is it: This is a first aid kit designed for children to empower them with the confidence of dealing with injuries. Modular, colour-coded and compartmentalised by injuries, it reduces the learning curve required to master the skill and helps to pique their interest in the subject. The bright hues make it unmistakable and easy-to-find in times of an accident.
Motivation: "In comparison to adults, children are predisposed to injuries due to their developing cognitive abilities as well as their small physical stature. This puts them at a significantly higher risk of sustaining injuries. Despite their vulnerabilities, Singaporean children are not provided the opportunity to learn as the law mandates that children below 16 are not allowed to be first-aid certified.
In addition, I have observed that Singaporean children tend to be dependent on adults for help even when it comes to minor injuries. Hence, the idea of UnafrAID is introduced to bridge the gaps between first aid and children."
U+U by Jolyn Kang
Category: Lifestyle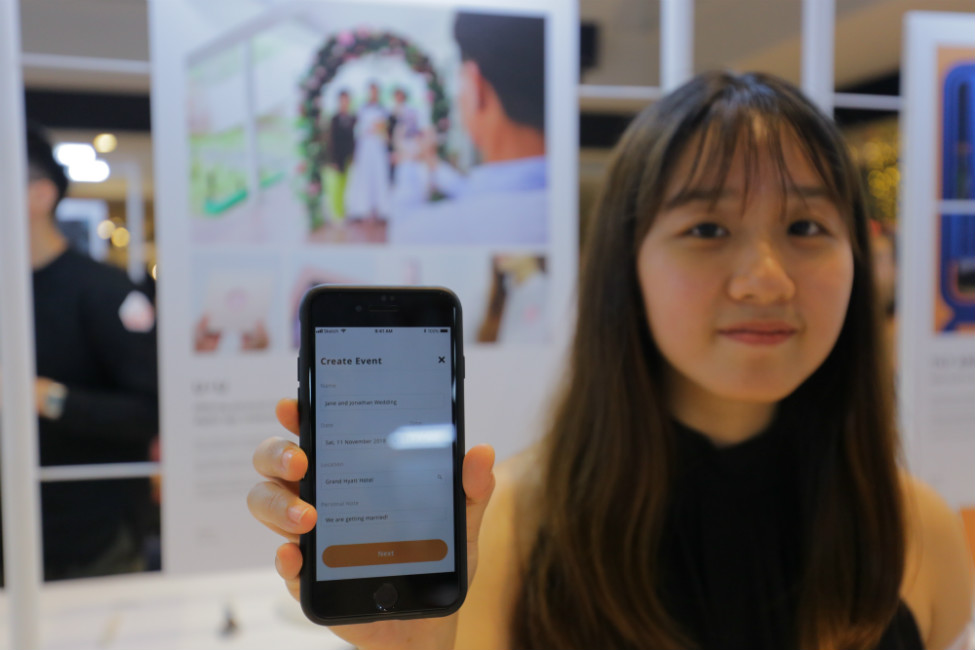 What it is: This is a mobile platform that combines all wedding media and communication into one. Some components include an augmented reality code that allows quick access to the celebration online, a collaborative and coherent album that syncs photos taken by every guest in real time, as well as a custom pre-set filter that processes the photos taken during the celebration. The intention is to make celebrating online easy, and offer a personal touch in the digital age.
Motivation: "Celebration is a big part of our lives and traditional rituals are constantly evolving to meet our needs. With advancements in digital technology, new rituals in celebration arise. I wanted to see how we might be able to blend digital technology with a more personal touch."
Rewind by Poh Yun Ru
Category: Social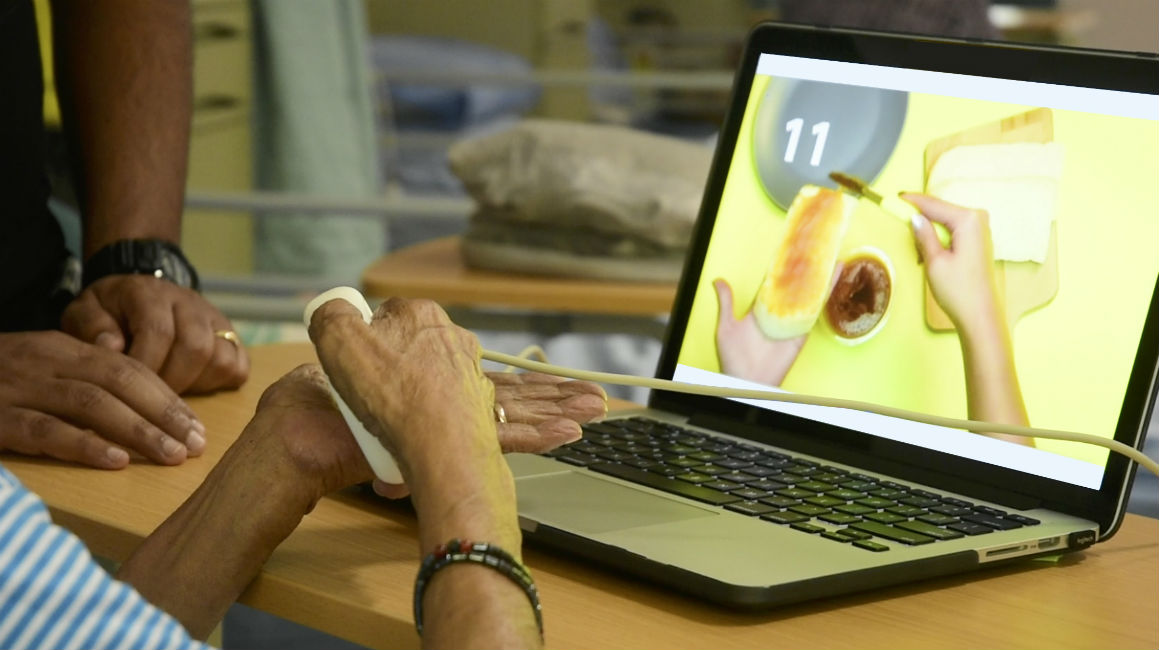 What it is: Designed to evoke memories, Rewind is a reinterpretation of current bedside therapy that aims to build meaningful engagement between elderly with dementia. This platform adopts visual and audio cues, coupled with prompt cards, to re-enact familiar gestures. It hopes to encourage the elderly to recall, share and create new memories with one another. The set consists of a motion-tracking tool that produces visual and audio feedback on a paired device, and a set of question cards that encourages and prompts the elderly to relate their personal memories to the activities set in therapy.
Motivation: "From my observations and interviews in THK Nursing Home in Hougang, I realised that the majority of dementia patients are bed-bound and do not have therapy catered specifically to them. Those available are mostly group-based and more suited for patients who can move around, leaving those bed-bound with physical exercises by their bedside. However, these do not tap on any mental stimulation.
I wanted to create something that could stimulate the mind through combining current AROM (Active Range of Motion) bedside therapy motions with relatable experiences that the elderly all have. At the same time, I wanted to reinvent this therapy experience to integrate something more local, so as to allow the elderly in the nursing home to understand this process more easily.
An important feature in my project was the usage of familiarity. With audio-visuals like pouring tea and spreading kaya, I wanted to make use of objects the elderly know and are familiar with, and then incorporate the physical AROM therapy they do two times a week.
Having visual and audio cues coupled with physical exercise helps to guide the elderly through the process, creating a trigger point for them to share and recall. This provides them with a therapy that is not solely fixed on the physical, but also helps with mental stimulation."