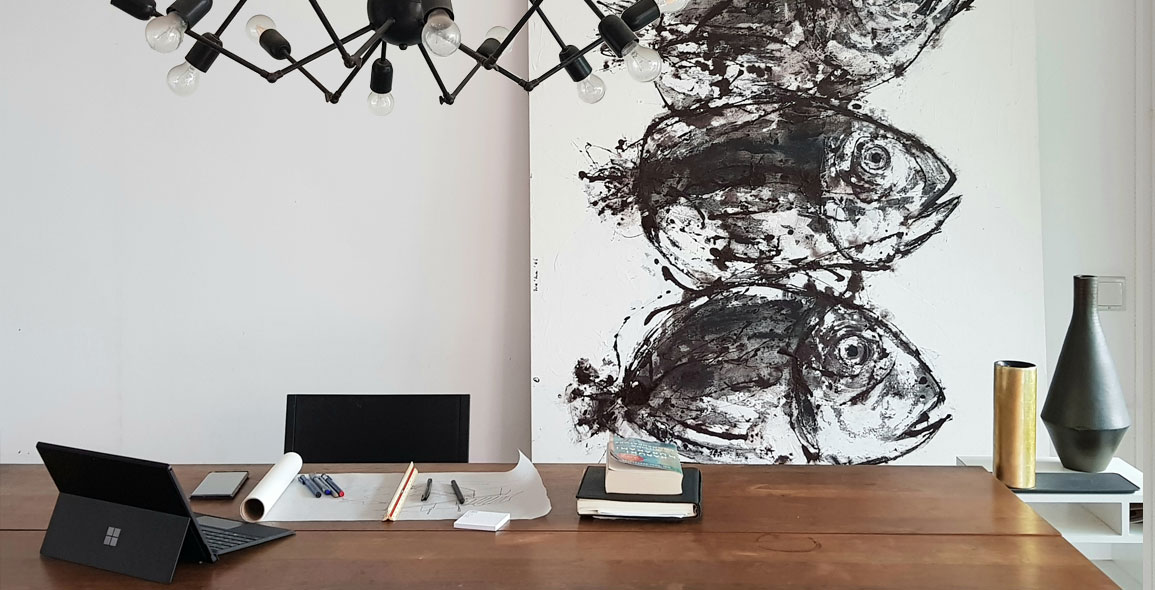 It has been three weeks since the circuit breaker (CB) has been implemented in Singapore to combat the spread of COVID-19 in the country.
Since then, we have had to pull out those business continuity plans (BCP) and made arrangements to work from home (WFH).
Yet, the architecture projects have not stopped and the work still needs to be done.
We virtually knock on the front doors of a few Singaporean architects to find out how they have been coping and peek at what their WFH setup looks like.
* * *
Seah Chee Huang, Deputy CEO, DP Architects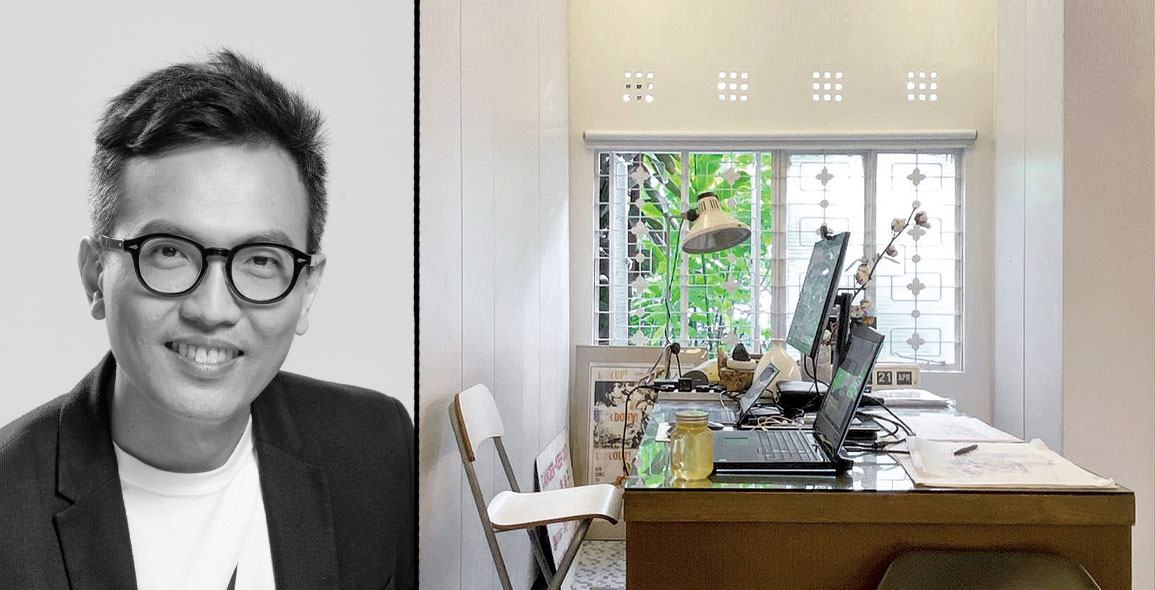 BUSINESS AS USUAL: DP Architects was stepping up towards 100 percent WFH arrangement weeks before the CB kicked in. Half of our Singapore team of 700 were already working from home by the middle of March. Many of our overseas offices located in cities under lock-down before Singapore's CB had successfully transitioned to WFH with IT support from our Singapore headquarters. Advancements in digital communication and video conferencing technology have allowed us to manage work and run our jobs remotely quite efficiently and effectively. Other than the closure of construction sites, it has been business-as-usual for us.
MORE MEETINGS NOW: We have not encountered any major challenges in managing team and work during this period. Our clients and team members are all digitally-savvy and able to navigate the latest online communication platforms with ease. With a robust IT infrastructure in place, my team and I can continue to design and produce information remotely. Design workshops continue to be effective, thanks to powerful online platforms that facilitate remote team work and visual collaboration. There are also daily Zoom meetings among team members, consultants and clients, so workflow is smooth. By making sure that our people are connecting regularly with one another, it also helps manage any feeling of uncertainty or isolation among staff and, most importantly, keep morale up. Various teams even organise games and online activities to brighten everyone's day while working from home. In fact, there seem to be more back-to-back meetings online now that everyone is grounded and we don't have to spend time travelling!
REFOCUS ON THE ESSENTIALS: Personally, what I treasure most is the simple pleasure of having daily meals with my wife and children. The situation has certainly helped to reinforce essential things in life, like the importance of health, our family and homes as safe havens. Like many, I feel fortunate that I am living in Singapore at a time like this. This pandemic also teaches us to appreciate the value of human touch and the creature comforts that we take for granted. The prevalent WFH situation around the world also helps to de-stigmatise telecommuting and change attitude towards the preconceived ineffectiveness of remote work. The leap in digital literacy and enhanced connectivity will help to transform work and learning.
KEEP BUILDING RESILIENCE: I hope the COVID-19 crisis will enhance our collective environmental consciousness. The lockdown of cities due to the pandemic has cast an interesting spotlight on how animals have reclaimed the empty streets, how nature is healing the land with air pollution drastically reducing worldwide, and the proliferation of single-use plastics. It is a stark reminder for us to purposefully step up efforts to build resilience for our city and environment to withstand the impact of future crises. Moreover, it has also made us more conscious of our own behaviour as a society, to be more responsible about the impact of human excesses.
HOW WE RESPOND MATTERS: Crisis, from its Greek root word, connotes a major decision point. In the face of this health crisis, we may not be able to control the impact of the outbreak, nor the damages and pain it is inflicting on economies and communities. However, we can certainly choose how we respond to it, that is to face the post COVID-19 future with courage, optimism and imagination. To begin, we can use this downtime wisely to greatly enhance our skillset, knowledge and development as architects. We can take the lead in contributing to the post-pandemic world with purposeful urban and architectural designs that are not only more resilient and adaptable, but are centred on creating wellness and sustainability that enhance the well-being of the environment and our people.
Chioh-Hui Goh, Founding Partner, Studio GoTo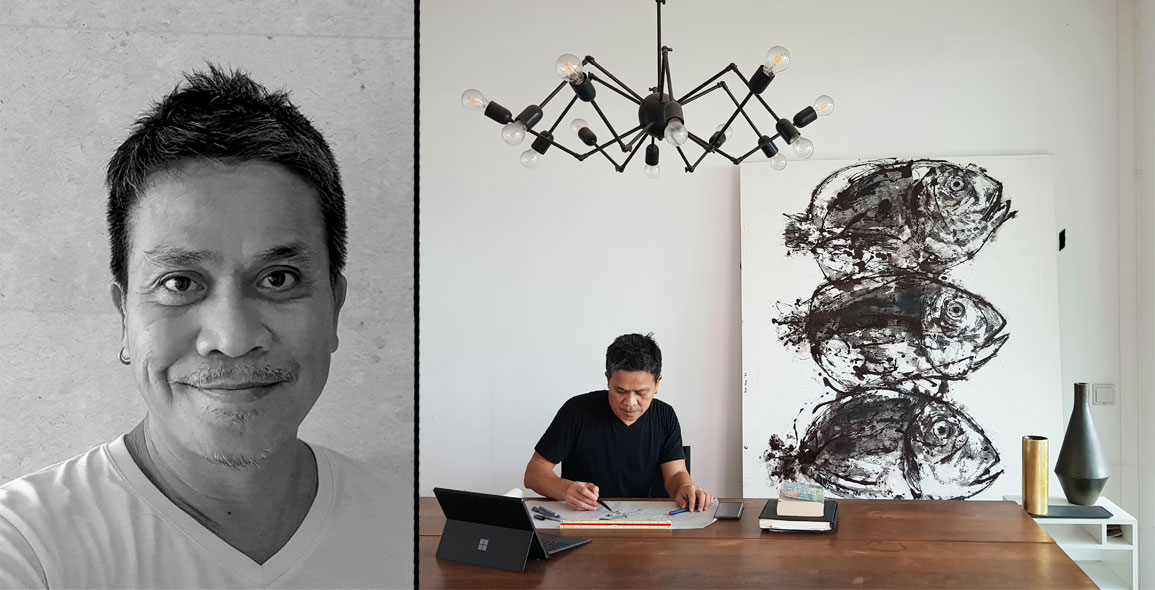 How challenging has it been to run projects in this CB period?
It was pretty daunting in the beginning to be physically working in isolation. We are so used to face-to-face interactions with our colleagues and suddenly, it is no longer possible. Besides, our kind of work is heavily graphical, so it was tough to illustrate ideas by merely speaking over the phone. Common conference platforms such as Zoom and Google Hangouts helped in team coordination, but you can only focus on the major issues. However, it is getting better over time.
How challenging has it been to manage your team and clients in this CB period?
The first week was pretty challenging with us trying to settle into a rhythm where everyone could find an ideal way to remotely communicate. That included dealing with the clients as well. One thing I noticed though, the younger clients are technologically-savvy, hence it was not much of an issue for them; the older clients still depend on the standard phone and WhatsApp communication platforms, so trying to illustrate graphical images was quite challenging and took several rounds to get certain points through. As a team, we have had to define certain roles within projects quite clearly, before we split up on the first day of the CB. This helped reduce the amount of additional coordination needed in the coming weeks, and so far, that seems to help a fair bit in working independently.
How have you overcome these challenges?
The aim is to reduce the amount of sometimes unnecessary communication by focusing only on the major issues at hand; to allow our colleagues to pursue the smaller issues independently and remotely. By limiting the need to pick up the phone to speak so frequently, we actually forced ourselves to be more focused on the tasks, to be clearer in our direction. Towards the end of the first week of the CB, we had a Zoom session just to discuss the emotional wellbeing of each other during this period. Emotional support is important when working in isolation, to make one feel that team spirit is always there.
In your opinion, what is the silver lining in these challenging times we've been living in?
We will probably come out of this stronger, more independent and more clear in how we want to operate our businesses. Personally, I am quite convinced that work levels need not drop while working independently; and that it also forces people to manage their time better. If that makes us more efficient, and allows us time to pursue other interests, then it is a very good thing.
What is a useful tip you can share with other architects about how you continue to run your practice while working from home?
When this is all over, we may want to evaluate our way of working. We do have non-local staff who travel home frequently, so maybe there is a chance to be more flexible in our working arrangements. Having said this, it does take a lot of focus and discipline in completing the tasks well and on time. In the beginning, I set a routine for myself. Work hours are set out in two main blocks, interspersed with chores and errands. That way, I do feel mentally accomplished when I complete the tasks I set out to do.
Lee Chee Li, Director, Morrow Architects & Planners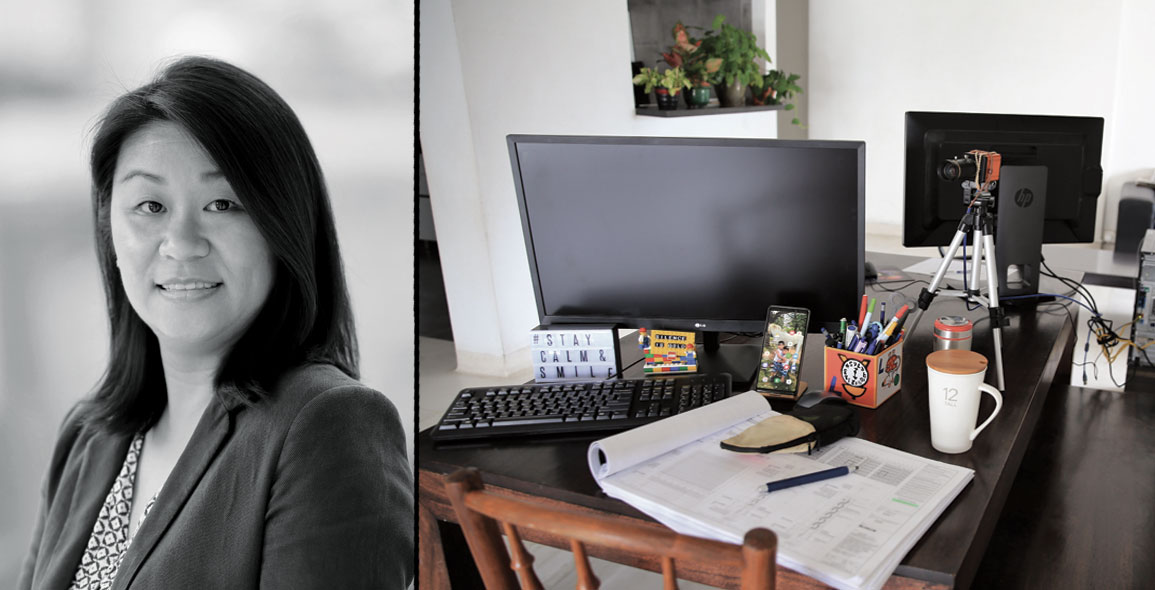 JUGGLING WORK AND FAMILY: The most challenging period was the preparation and implementation of the BCP before the CB. Once we HAD all the systems in place, besides not being able to conduct site-related activities, the running of other aspects of the projects were smooth, as most of us were already used to video conferencing by the time CB kicked in. However, it can get challenging when you have to juggle the "distractions" at home during working hours. The mornings are usually great, as my two children are doing Home-Based Learning. The afternoons can be chaotic when patience run out.
COOPERATION ON ALL FRONTS: Surprisingly, it has been manageable to manage my team and clients. Patience works wonders. It is about adjusting our own mindset. Everyone is very understanding of the situation and one another's predicament. Everyone chips in to do that extra bit to make things more hassle-free for others. I also find that clients, contractors and colleagues are generally much more prompt in responding to emails and messages during the CB, including the authorities.
NORMAL IS NOW ABNORMAL: With the certainty that most construction works are delayed and the industry is badly hit, I can feel that everyone, including the younger architects, have learnt that normalcy is not to be taken for granted. When we are all in the same boat and fighting the same cause together, I feel that people actually develop greater connections, even without physical interaction. Ironic, isn't it?
DISCIPLINE, DISCIPLINE, DISCIPLINE: There is no one formula that works across firms or households. It is a new norm and we have to embrace it in a way that works best for us. Through my conversations with other close female architect friends, the word "discipline" pops up often. It is apparent that architects always overwork, So here is my tip: Be discipline enough to sleep in, to take breaks and try not to work late into the nights.
Han Loke Kwang, Principal Architect, HYLA Architects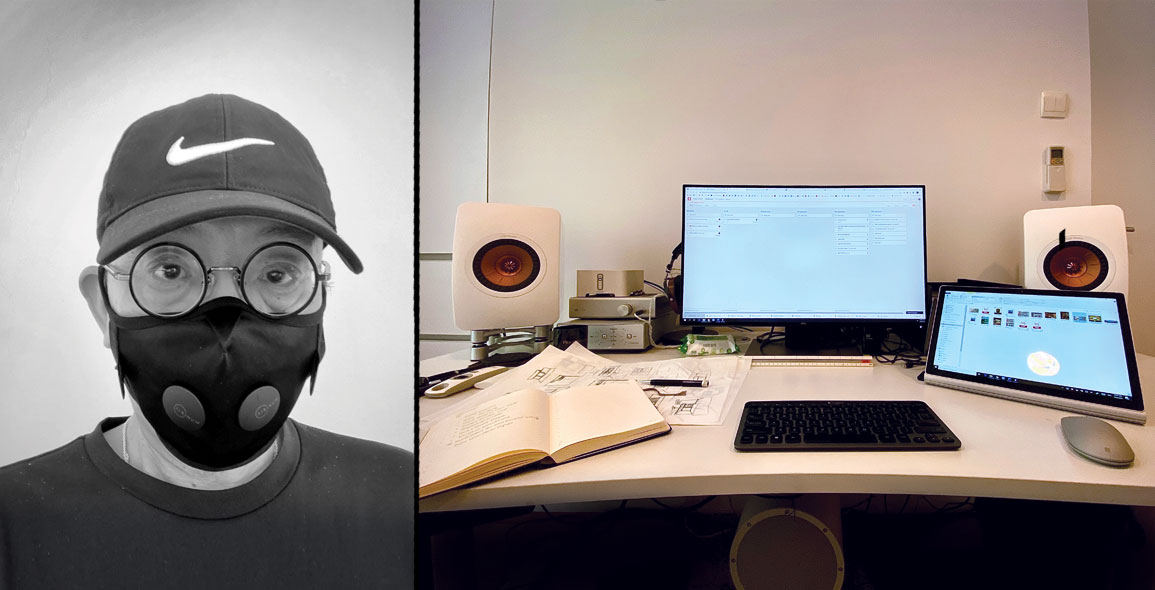 How challenging has it been to run projects in this CB period?
The construction industry is not known for working remotely. It is a very direct, hands-on, face-to-face activity with presence on site a major factor. Since all job sites are closed, we are forced to learn how to work remotely and use virtual communication tools to communicate and interact. I think it is a good challenge for the industry to become more efficient and effective by forcing us to catch up with the rest of the technological world.
How challenging has it been to manage your team and clients in this CB period?
My team has mostly taken it in their stride. We are lucky in that we started working from home two weeks before the CB, so we had some time to practise and iron out the kinks. Also, we had already been using an online project management system, so this has come in very handy. All our data had been moved to a cloud, so the technical transition has been less painful. I think the main thing my team misses is the big printer!
In your opinion, what is the silver lining in these challenging times we've been living in?
That there are a lot less interruptions every day.
What is a useful tip you can share with other architects about how you continue to run your practice while working from home?
Enjoy it while it lasts.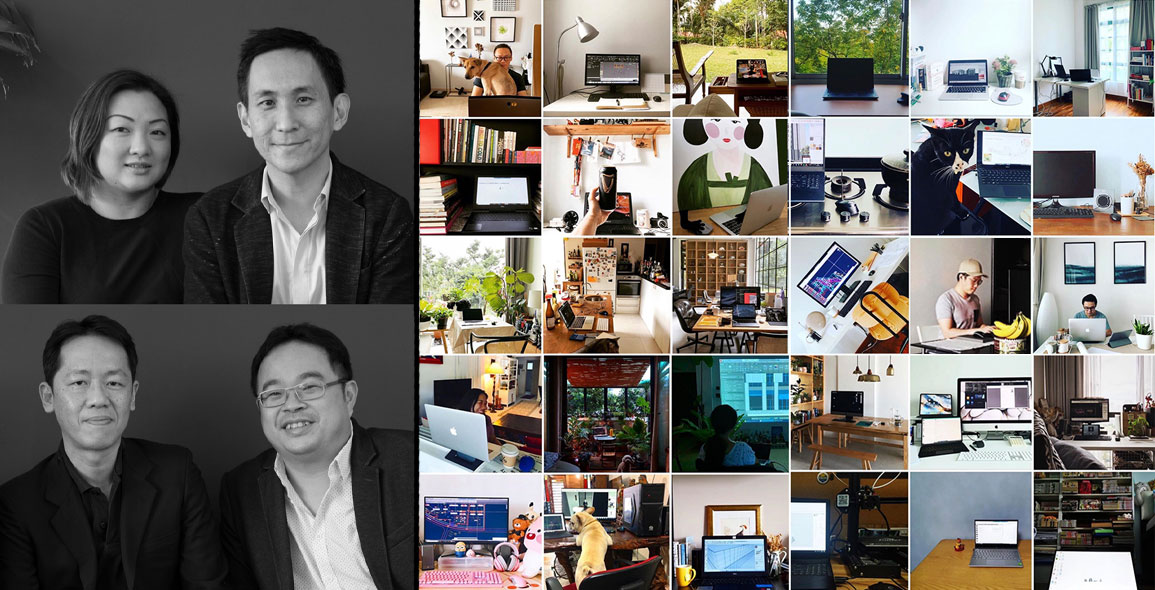 GETTING A HEADSTART: All construction site works have come to a standstill locally, so there are not much problems there, except with the complications that will arise with the contract administration works resulting from the halt. We have a significant presence in China. As our Chinese clients were the first to be affected, we have instituted new ways of working and communicating and were forced to make things happen earlier this year before the situation worsened in Singapore. Our team is definitely better prepared for the CB in Singapore and the region, with our experience of working things out earlier on.
ADEPT AT DIGITAL COMMS: As a design collective, we collaborate closely between studios and across design disciplines for projects. The CB has presented a new set of challenges to engage design works internally but we've been relying heavily on video meetings and messaging platforms to continue our creative processes remotely. Clients can still be engaged through phone calls, video calls and messaging platforms. We have a large number of foreign projects, so we've been fairly used to communicating remotely with Client and even Consultants.
COMMITMENT FROM ALL: The office had invested and established the necessary IT infrastructure before the CB was officially implemented to facilitate secure remote working and telecommuting, while protecting the main office servers from external vulnerabilities that come along with remote working. Various WFH measures were implemented weeks before the official implementation of the CB, as a test run to identify any potential issues that might arise during a longer WFH period such as the CB. The early implementation and testing provided us time to manage any IT or equipment lapses, so that there are no major hiccups during the CB period. It also takes commitment from everyone in the office to follow the protocols set up for remote working and communication.
EXPLORING NEW WAYS OF WORKING: COVID-19 has accelerated a new norm of working both internally and externally with our clients. The drivers of change are plenty – reduction in corporate travel, telecommuting, social distancing, etc. In many ways, it was a blessing in disguise. While it has been challenging to change the way we work, we view this as a great opportunity to investigate alternative ways of working. With the new WFH infrastructure and communication channels established, this opens up doors for exploring flexible working hours and design collaboration models that we may implement in the near future. It also forced us to establish the necessary infrastructural investments that may never have happened otherwise.
COMMUNICATION IS KEY: Architects are creative beings – we trust that the community is able to discover or invent innovative ways to survive this change and continue to stay creative. Communication is key. The top priorities for us are the welfare, health and well-being of our people. Besides ensuring a seamless WFH experience with the right hardware solutions, it is important to us that we also ensure the constant communication of new work processes (internal and external with the client). Without physical co-location, communication is of utmost importance. We ensured communication is clear, honest and transparent, with the interest of the people and firm at heart. Beyond projects, communication between staff is vital to keep up the team morale, to encourage each other during these trying times.