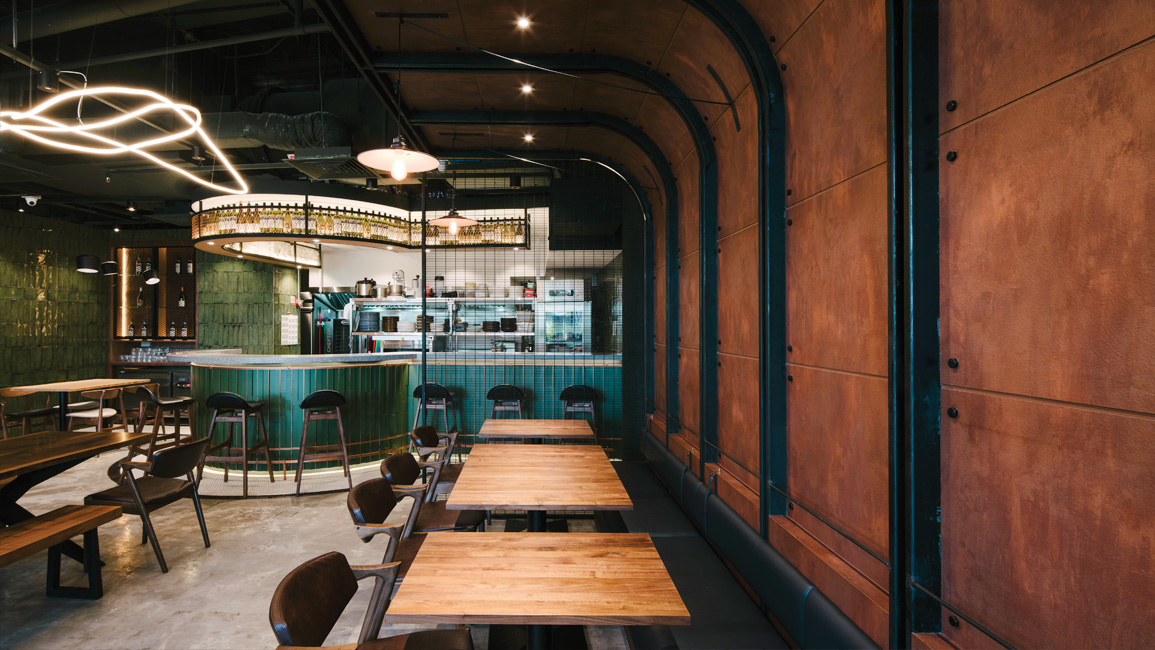 With a name like Meating Place, it takes very little imagination to realise what this restaurant in Duo Galleria serves up.
From slabs of steak to free-roam chicken and even pork collar, meats take centrestage here. However, its chef-owner Jerome Lim also takes equal pride in his vegetables, declaring them to be a flavourful component of the dishes he creates.
The responsibility fell upon design firm LAANK to translate the restaurant's concept into its interiors – something which it did both with subtlety and flair.
"Marble grains, a green bar counter and hammered metal represent the ingredients of red meat, greens and fish. Oxidised metal, burnt wood and a mesh grill represent the cooking methods," says LAANK's founder Cherin Tan.
Food aside, Meating Place is somewhere Lim wants people to come and gather in a cosy and warm setting, free from pretension.
A sense of openness is immediately apparent when you step into the restaurant.
Just inside the doors is the coffee bar that emanates the welcoming scent of the beverage. Behind it is the dining space and a clear view straight to the unobscured kitchen.
"The resultant space is honest and welcoming, one that naturally invokes a sense of belonging in the diners as they embark on a journey towards understanding the brand story," explains Tan.
There are four types of seating, with the most prominent being the central communal table and its complementary benches. The entire set is made from the same piece of live edge wood.
Above it hangs an attractive, organically-shaped LED tube light that defines the section as a congregation point. Its abstract shape is made by bending and twisting it to the desired form. Visible also from the outside, Tan hopes it evokes curiosity from passers-by luring them to come into the restaurant and dine.
"The light is also like my personality: free-spirited, energetic, carefree, happy and unbounded by rules," shares Lim.
At the back of the restaurant, shiny green tiles dominate the walls, chosen for being unique, not over-powering and easy to maintain.
To read the full story, purchase and download a digital copy of d+a's Issue 106 (October/November 2018) from Magzter.