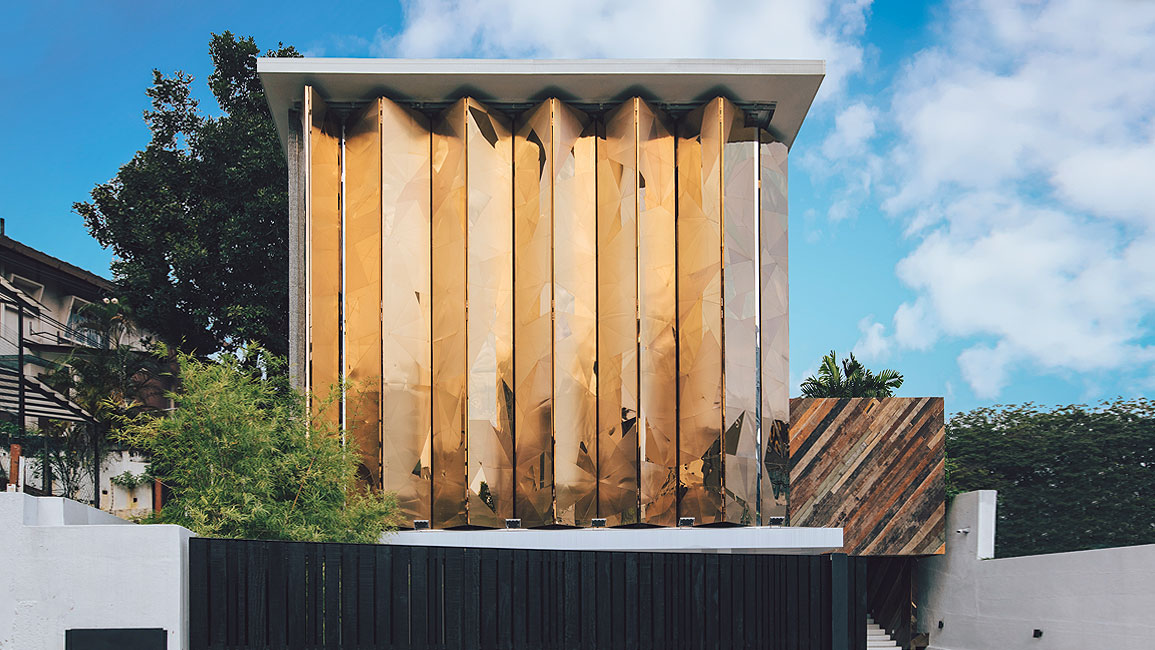 The recently-completed headquarters of property developers Mantab Group, a five-minute walk from Bangsar's trendy Telawi area in Kuala Lumpur, Malaysia, is anything but ordinary.
For starters, it isn't your typical multi-storey glass box, nor is it a run-of-the-mill open-plan office.
What it is, is a HQ tailored for the hosting and entertaining of clients – one designed by international firm S/LAB 10 – that is 100 percent pure spectacle.
Gilded Lustre
Jason Sim, director and lead architect of the award-winning practice, elaborates on the design premise.
"There are three directors, each in charge of their own subsidiaries, and they need to entertain their guests who would come at the same time," he explains.
"They required different spaces so that they'd be able to socialise in different groups that otherwise remain segregated."
The project pretext was an existing 414m2 three-storey building in need of extensive upgrade.
Accommodating the unorthodox brief, however, while attempting to retain most of the building's shell and structure (and without overstepping setbacks) posed a unique challenge.
Rather than conform to parameters, S/LAB 10 opted for an architecture of statement that was as bold as it was unambiguous.
A façade of 900mm-wide metal panels in gold patina delivers the knockout punch. Mounted to a new steel structure, the 7m-high panels are in plan zigzagged a la concertina, drawing their inspiration from the folding shutter doors of colonial-era shophouses. Likewise operable, the panels can be swung open to bring daylight into the interior.
A gold-copper alloy on stainless steel sheeting creates the façade's trademark lustre, the faceted pieces of varying sizes and finishes factory-assembled to form a pattern of crystalline geometry.
Says Sim, "The client explained to us that Mantab meant unbreakable, something tough and strong, and wanted us to represent that. So, I came up with an association to a diamond and its facets, but consciously avoided a literal interpretation. The result is a design spread over the panels in a very artistic manner, where no two facets are exactly alike."
To read the full story, purchase and download a digital copy of d+a's Issue 110 (June/July 2019) from Magzter.
Photography:
Heartpatrick