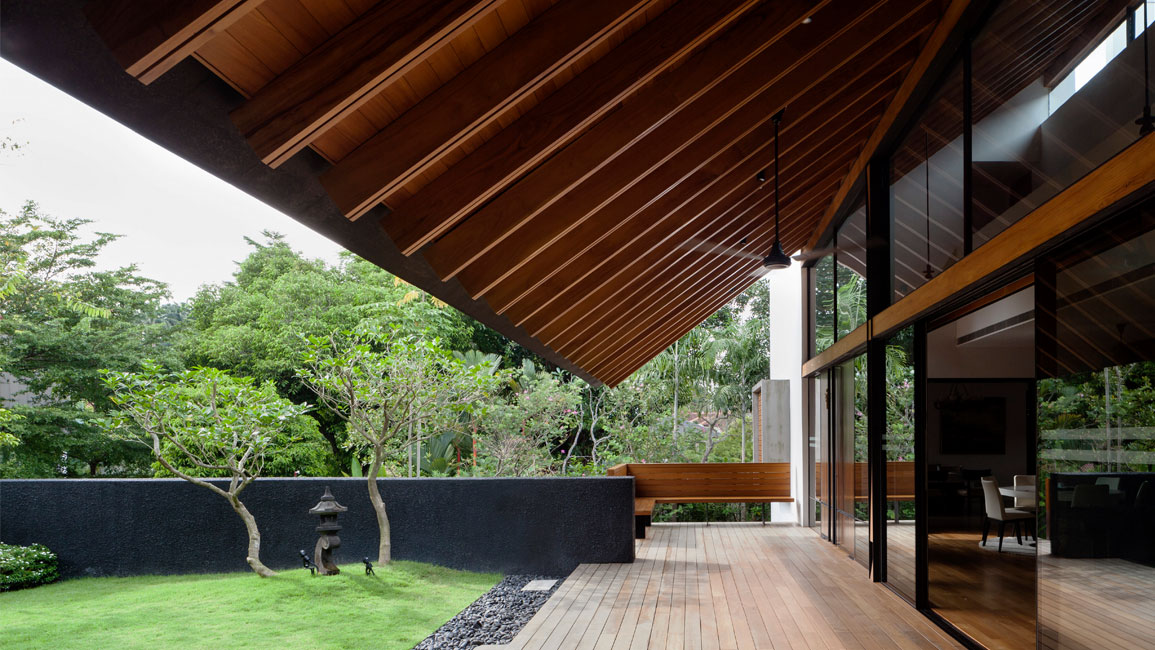 From the main gate, all that is visible of this house is its sizable pitched roof. The edge almost touches the boundary wall, like a sleepy eyelid on the brink of a nap, concealing everything that is underneath it.
It is fair to wonder what this bungalow is hiding from but speak to its architects Formwerkz and the short answer is "the weather". Eschewing complicated architectural gestures and opting for a modest composition that borrows an enduring idea of long eaves, it chose to down this route to achieve a house that works in tandem with the tropical climate.
Its previous iteration had been built for a family that had stayed in the same plot for the past decade, and wished for a change away from poorly connected spaces and interiors suffering from excessive heat gain and glare.
The latter was because of compliance to site coverage and setback controls in this Good Class Bungalow (GCB) area that resulted in a massing with the longest frontage slightly facing the western sun.
As its moniker suggests, the Eaves House is defined by a low-hanging roof along the house's length that resolves several issues in one fell swoop. It caps the double-volume living spaces lining up along the long frontage on the first storey, overlooked by the corridor leading to the bedrooms on the second floor.
From traditional Balinese huts and attap-roof Malay houses, to the more ornate forms capping religious buildings, the pitched roof is a defining architectural element in many tropical Asian cultures.
It is time-tested example of form meeting function, where the sloped profile drains water effectively and provides shade from the equatorial region's harsh sunlight and heavy rains, allowing a house to work effectively without added effort.
"The sloping roof [also] unifies the key spaces at different floors and the outdoors. The line of the roof eave becomes a visual reference for the interior spaces, as well as a line that frames the exterior views like a picture window," describes Alan Tay, who is the project's lead architect and one of Formwerkz's four partners.
Formwerkz Architects has not only modernised the pitched roof in the Eaves House, but also celebrated it

The large roof not only defines the exterior but also the interior of the house by uniting the relationship between the garden, first storey and second storey.
To read the full story, purchase and download a digital copy of d+a's Issue 103 (April/May 2018) from Magzter.