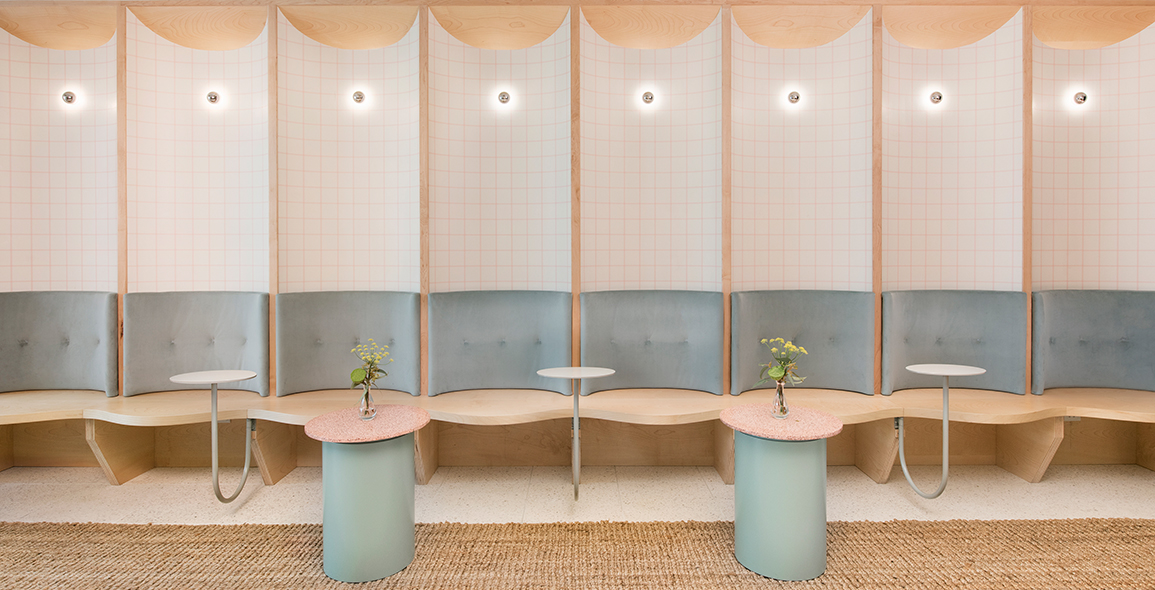 In the heart of Singapore's historical Kampong Glam district has arisen an alluring oasis in the form of Looksee Looksee. Part of hospitality company The Lo & Behold Group's new office, the reading-cum-tearoom is an inviting space that provides the ambling public respite from the cacophony of bustling traffic and the blasé sterility of surrounding glass-and-steel towers.
Looksee Looksee is one of three lifestyle concepts – the other two being tenants design shop Supermama and modern oriental furniture brand Scene Shang – that takes up the first storey of three adjoining shophouses. The Lo & Behold Group's office is spread across the second storey of all three shophouses.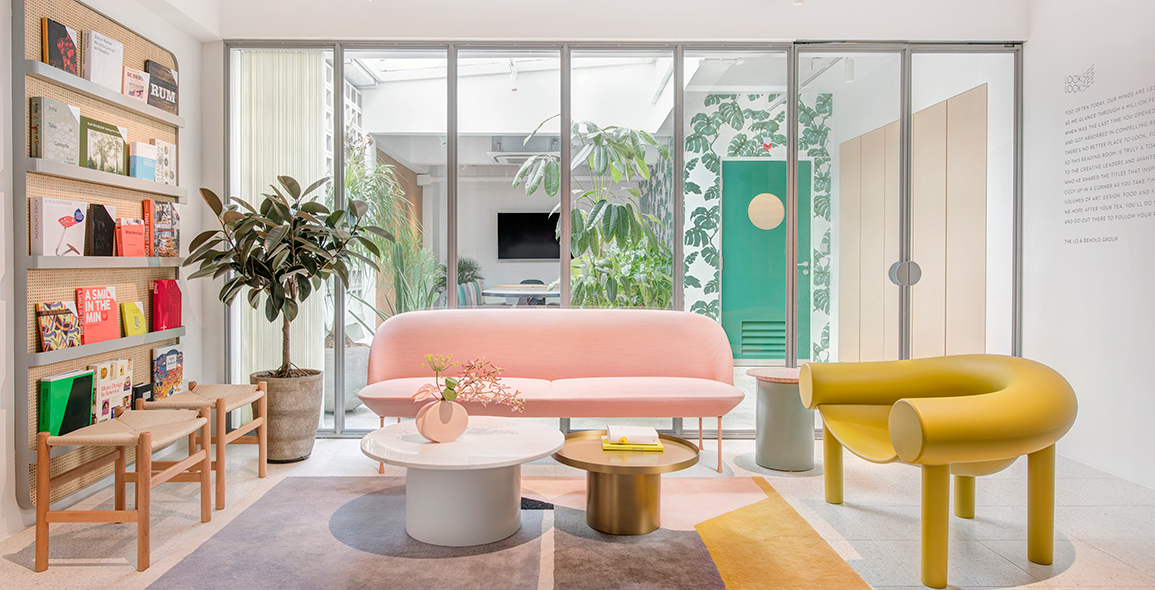 Candy Coloured Charm
One enters Looksee Looksee through a textured, domed portal – a most tactile threshold that hints at the captivating world within. Inside, custom-designed bookshelves along one wall and scalloped banquette seating along the other reinforce the shophouse's characteristic longitudinal space. The latter is also a clever design that works as either communal benches or subtly enveloping alcoves for the lone visitor.
"Looksee Looksee forms an intentional interface between the Group and the public – a mixing chamber meant to foster curiosity and discussion," says interior designer John Lim, who designed the space together with OWMF Architecture. Lim had previously worked at Buro Ole Scheeren before coming out on his own. The main conference room's location next to Looksee Looksee at the back of the shophouse, separated by just a glass panel and optional blinds, further augments this idea of open communication.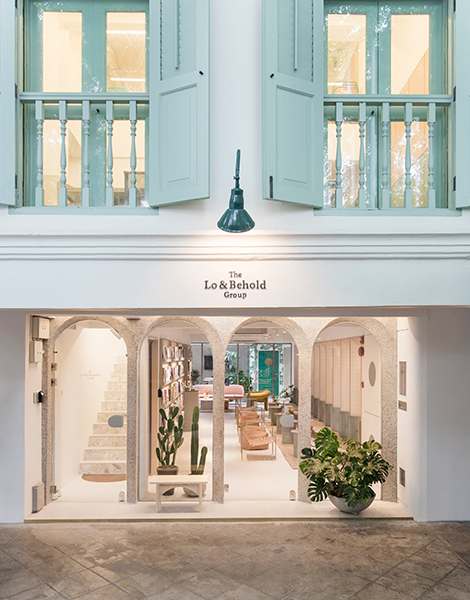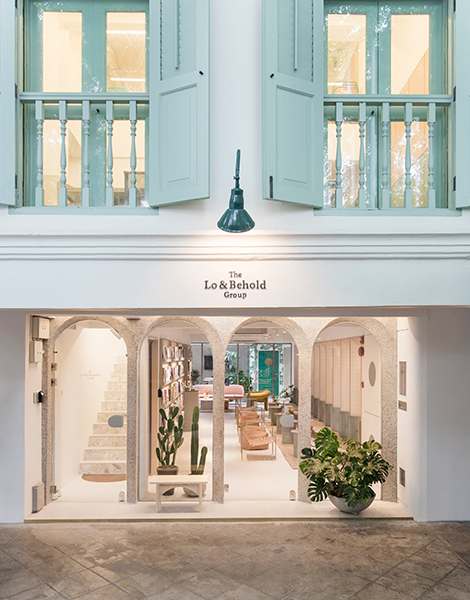 Looksee Looksee also functions as the Group's reception space. Designed as such, it is a sort of informal living room that breaks down the formal stiffness usually associated with office foyers. This comes as no surprise as The Lo & Behold Group's founder Wee Teng Wen is a maverick in Singapore's hospitality and F&B scene. His design-led hospitality concepts, which include The White Rabbit restaurant housed in an old chapel, the offbeat Loof rooftop bar, and the upcoming Warehouse Hotel housed in a trio of historic godowns, are as original as they are idiosyncratic. Looksee Looksee adds to this interesting portfolio.
The 25-seater Looksee Looksee features books curated by local design and F&B icons, such as Chris Lee of multidisciplinary design studio Asylum and fashion designer Priscilla Shunmugam, whose ong shunmugam label mixes eastern and western influences. Local speciality tea company A.muse Projects serves up a rotating menu of teas and titbits for visitors.
Lim has created a relaxing mood to serve this purpose. An ambience of softness and warmth is created with the choice of colours – a gentle, candy-coloured rainbow of taupe, greys, soft pinks, sand and teals – as well as the rounded corners in the joinery and furnishing selection. Distinctive pieces, such as the dainty Oslo sofa from Muuto and anthropomorphic Sam Son armchair from Magis, were chosen "specially for their generous, rounded forms." They add a dash of whimsy and congeniality to the backdrop of natural materials like compressed marble, terrazzo, wood, rattan and leather.
The dreamy elements of this tableau are reminiscent of the 1980s kitschy Memphis Movement started by Italian designer EttoreSottsass. Lim confirms this reference. "We began the project in the midst of a revival of interest in the work of Memphis. At Looksee Looksee, the furniture carries some of the formal sensibilities of that movement, albeit in a less graphic way," says Lim.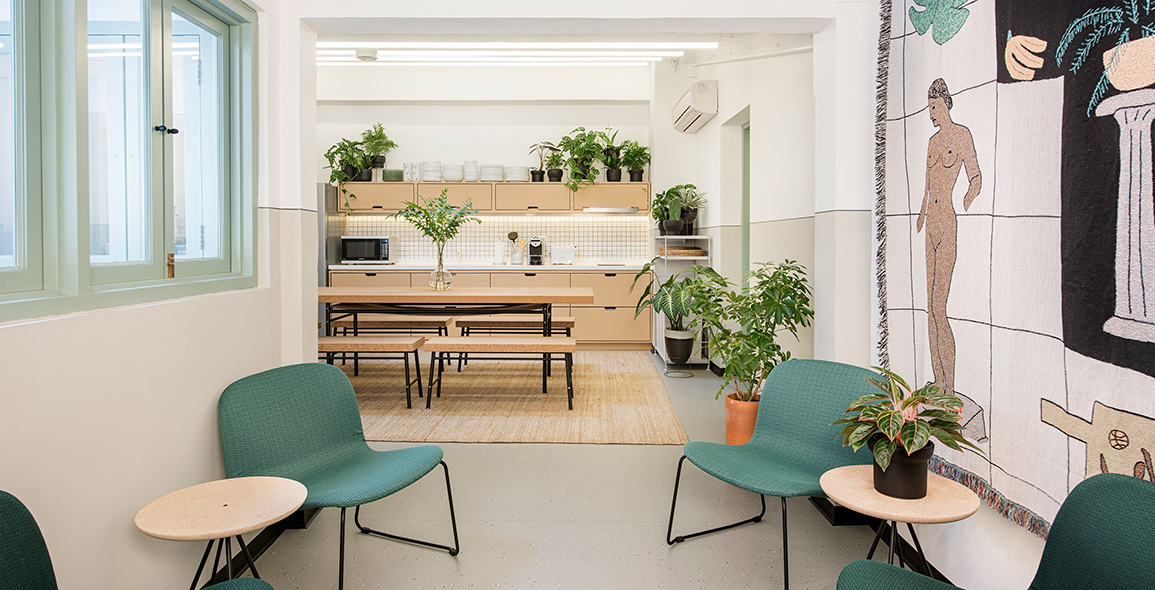 Open Space
In architectural context, OWMF Architecture opened up the bones of the original 1820s shophouse structure.
"Most of the windows, jack roofs and air wells were closed off and interior partitions were added, resulting in a fragmented, dark interior space," describes Yong Sy Lyng, founder and architect-in-charge at OWMF Architecture.
Natural light was reintroduced into the office's high ceiling space through skylights where allowed by the conservation guidelines, and a mezzanine added. The obstructive interior partitions were removed and the openings in the party walls between the three units enlarged as far as possible. Other than that, all other original features were maintained.
This opening up of the floor plan is a boon for the office space. Both the abundance of natural light and the physical porosity create a conducive work environment, together with the soothing interior palette of coral and sand colours, and natural cork, hemp and cardboard-tone laminate and linoleum. It is the perfect foil for accents, such as the digital print of LA-based artist Lilian Martinez's rug for BFGF, which, hung on the wall, injects the airy space with a graphic point of focus. Potted plants and tropical prints are also utilised to create the feeling of working in a garden.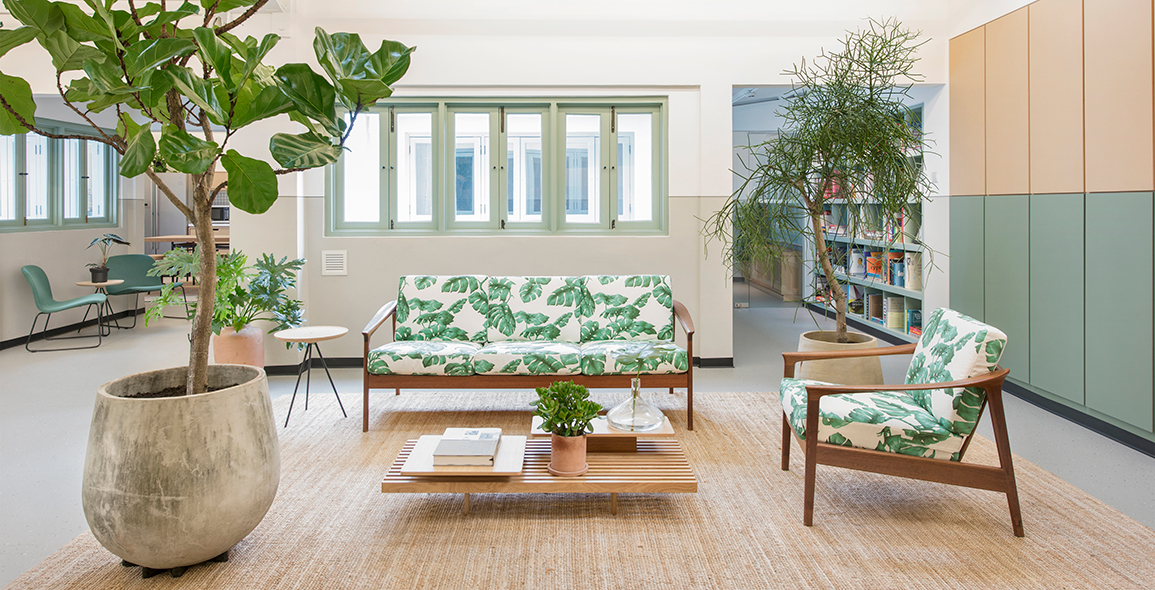 When it comes to office functionality, Lim has created an arrangement that fosters open communication. Over half of the office is given to collaborative spaces. "We tried to codify each space differently, with different levels of formality," Lim further explains, pointing out the variety of unique meeting spaces created, such as the roof mezzanine for intimate discussions and a meeting room located in the back annexe for utmost privacy.
Be it for staff or visitors, this project is a delightful one for its refined balance between openness and intimacy, neutrality and engagement. Most importantly, it is a perfect showcase for The Lo & Behold Group's ethos of originality and engagement. Located within an elegant historic shell, old and new blend seamlessly into a delicious potpourri of sensations fed with light, texture and delight.
A print version of this article was originally published in d+a issue 96.