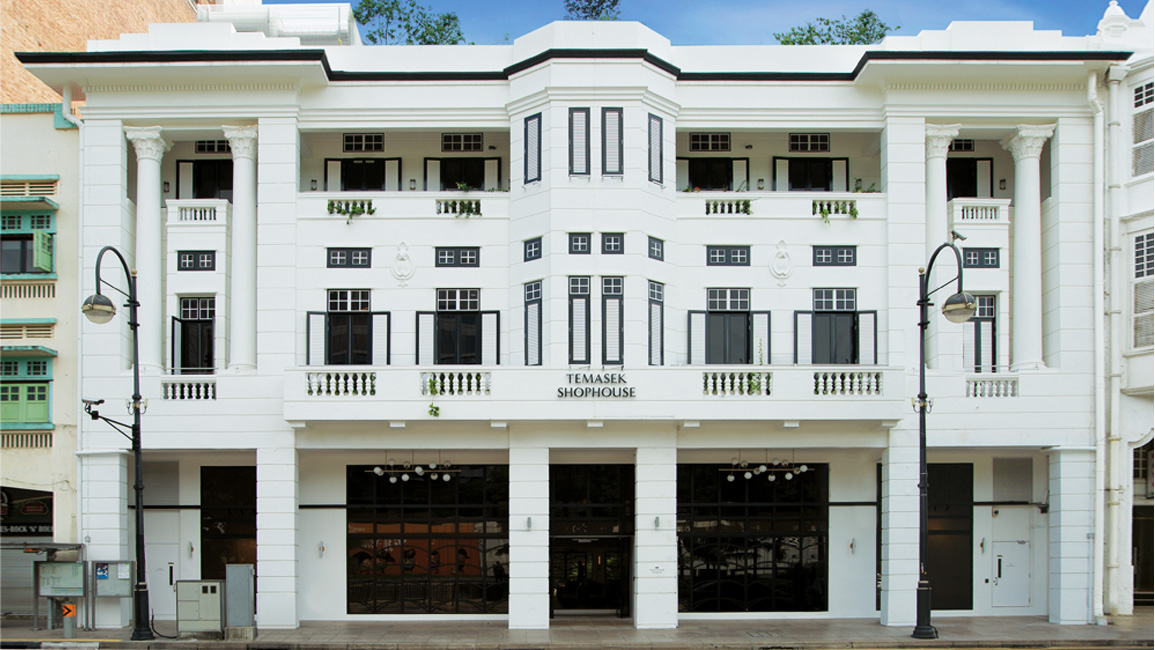 The recently-opened Temasek Shophouse at 28 Orchard Road in Singapore occupies five three-storey conservation shophouses near Dhoby Ghaut MRT Station that date back to 1928.
Their refurbishment was led by Surbana Jurong Consultants, with interiors conceptualised by Asylum, and landscaping by Greenology.
The property is occupied by all of Temasek's philanthropic entities (Temasek is an investment company owned by the Singapore government), as well as co-working partners like Foreword Coffee and the Charities Unit of the Ministry of Culture, Community and Youth.
Office space aside, Temasek envisions the Shophouse to be "a cradle for social impact" with its carefully-curated tenants and a multi-purpose venue for exhibitions, workshops, talks and other community events.
Ivy Koh, Senior Principal Architect at Surbana Jurong Consultants, shares her experience refurbishing the interiors of the project.
Interior design concept: Given this unique site, the interior design of The Temasek Shophouse was largely influenced by the building's own distinctive Art Deco architectural style. The team took such elements, which reflected its heritage and roots, and reimagined them through a modern lens. We aimed to bring across a design that was true to the building's original design, while still projecting a spirit of optimism for the space.
Upon entering the Shophouse, you are greeted by an open atrium that links the first storey, mezzanine and second storey. As its heart, this open atrium (which also houses a cafe on the ground floor) allows staff and users to feel united by a spirit of community and come together through the activities that happen in this voluminous event space. This same spirit is carried through the offices, meeting rooms and lounge spaces, which were all designed for flexible usage.
Anchoring the atrium are the key features of an art-deco inspired screen spanning three storeys. Integrated with a lush green wall, it aims to bring staff and visitors closer to nature. A distinctive and unmissable art-deco-inspired, custom-made light feature is also suspended above the atrium.
Pockets of greenery were also included throughout the Shophouse to provide encounters with nature on every level. A bright palette was selected to complement the natural light filling the space. The design team also applied Art Deco design in a more streamlined aesthetic to smaller details, such as signage. Meaningful art pieces and a collection of furniture made from recycled waste materials were also introduced in selected spaces to also reflect Temasek Foundation's values and beliefs.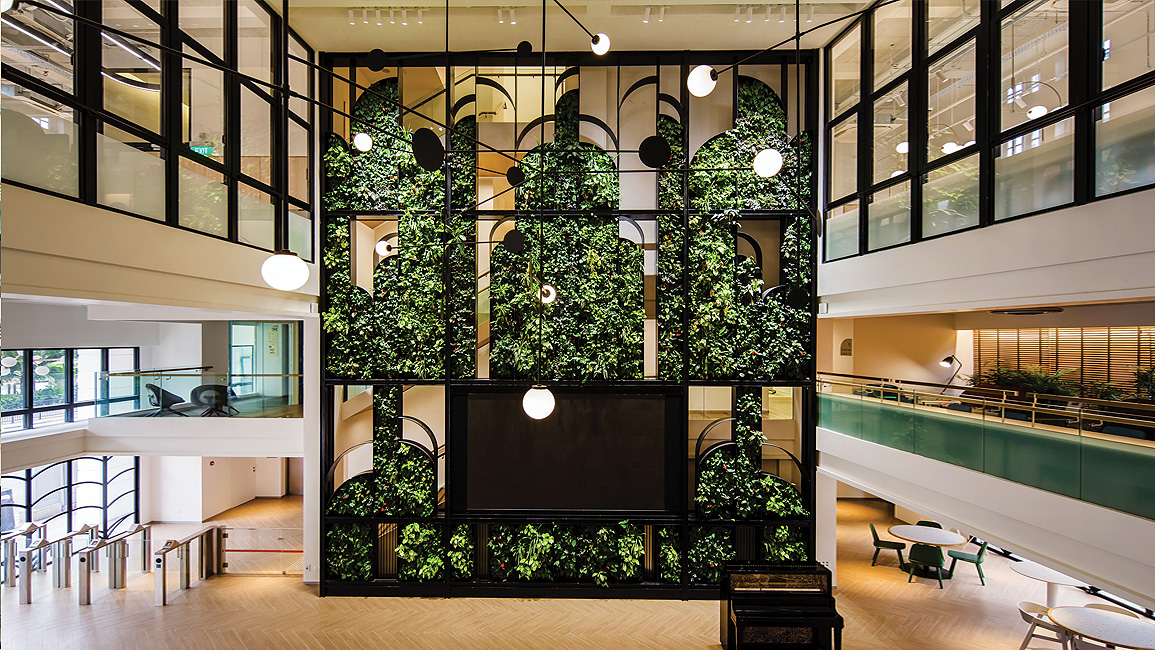 Carving out the spaces: Designing the first floor and the mezzanine came naturally based on how we saw the space being used. Similarly, removing the roof on the rear yard and demolishing the previous mezzanine level along Orchard Road was required as part of realising our vision of creating a more open and connected space. We also wanted to create spaces for public use and for nature. One of the key areas we focused efforts in was to bring biodiversity to the Shophouse.
As such, the final design had multiple functional spaces in a variety of shapes and sizes. These were all designed to be flexible and accommodate different types of uses. The circulation space on most levels was organised around the void area if it was visible, allowing them to act as viewing decks should events be ongoing on the first floor.
All rooftop spaces were also designed to be as close to nature as possible. Toilets were treated with stone-like finishes and green planters, and the rooftop meeting room has a folding-sliding glass door. When opened, it integrates it with the roof terrace and garden.
Amplifying the socially-conscious messaging: The wheelchair accessible entrance enables tenants to engage people with different physical abilities. The openness of the space also creates a more easy-to-navigate and welcoming area for community engagement. The flexible configuration of interior spaces further enables each tenant to engage people on different levels, and lets them conduct cross-disciplinary workshops.
Working with Greenology: We had several workshops to decide how to realise our vision of integrating nature into this building. Our conclusion was that all green features should not be decorative, but rather should serve ecological and educational purposes. Architecturally, we integrated greenery as much as possible in the building's external envelope as well as its interior. For the external green spaces, Greenology curated a selection of local plants that would attract birds, butterflies and bees. The large green wall is inspired by Southeast Asian biomes, and consists of regional flowering plants which will bloom at different seasons.
Challenges: It was definitely a challenge to work with a conservation building, as many parts of its structure and space were quite fixed. However, this challenge was overcome with thoughtful planning and consideration when it comes to space usage, and by utilising more customised and flexible design solutions. The green wall centrepiece also went through a rigorous design process which involved close coordination with the architect, structural professionals, landscape consultants and the builders. This ensured that design integrity was maintained, while requirements from all other parties were also satisfied.
Temasek Shophouse has been awarded the 2019 Award for Restoration at the annual URA Architectural Heritage Awards that recognises exemplary restoration of gazetted heritage buildings.
Read about the architecture of Temasek Shophouse in d+a's Issue 112 (October/November 2019), available for sale on Magzter and in major bookstores in Singapore and Malaysia.
Photography:
Surbana Jurong Consultants, Kenny Pek, Stillusion Photography