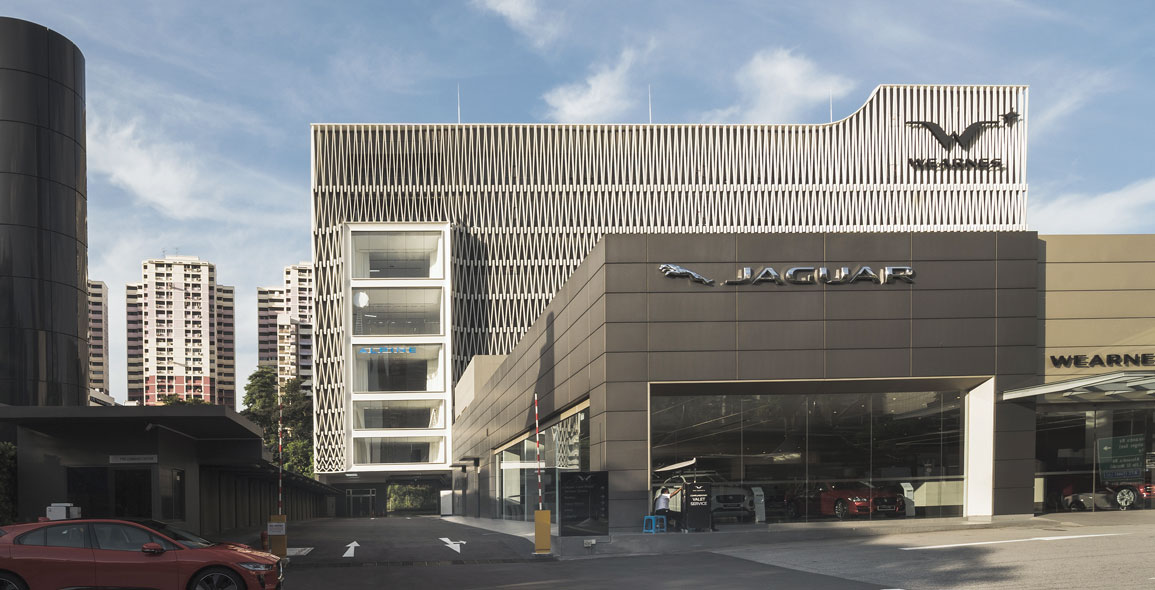 The biggest irony of A Simple Headquarters is that while the lead designer Pencil Office intended for it to be a building that stands in the background, its design is so outstanding that it does exactly the opposite.
The corporate office of car dealership Wearnes Automotive, it is nine storeys tall and is wrapped with a distinctive exterior veil made up of modules of a W-shaped motif, subtly alluding to the company's first initial.
Multi-functional Envelope
Beyond its aesthetic quality, the veil acts as a shield against the sun thanks to its angled fins. It also conceals a series of mechanical system outlets.
Made up of custom-extruded aluminium for its durability and easy maintenance, it also has a porosity that allows for more than three-quarters of the building to be naturally ventilated.
Pencil Office's lead designer Erik L'Heureux explains how when he first started on the project, the façade "was a mess of complicated and contradicting factors".
"We quickly realised that the best way to control this was to have two facades: an exterior one that operates as a screen and camouflage minimising heat gain to the building proper, and an internal facade that would resolve all of the performance requirements," L'Heureux says.
"Because of these complicated factors, we developed a W-shape for the exterior veil that moves vertically and horizontally across the building. I have been working with ideas of veils for some time now, and I reached into my previous research and adapted that for this building."
Another standout feature on the façade is a five-storey car display case. This was part of the original massing of the architect TEAM Design Architect's approach, but L'Heureux decided to shift it to the side and increase its visibility by extending its protrusion.
"We worked the veil to pucker at the display case to give it more prominence and to allow the cars to be celebrated as pieces of art and design. The display case frames each car, and alludes to a high-quality museum collection," he points out.
This technique of puckering and pulling at the envelope repeats itself at the link bridge circulating to one of the car showrooms and other facilities within the project.
To read the rest of the story, purchase and download a digital copy of d+a's Issue 114: February/March 2020 from Magzter.
Photography:
Khoo Guo Jie