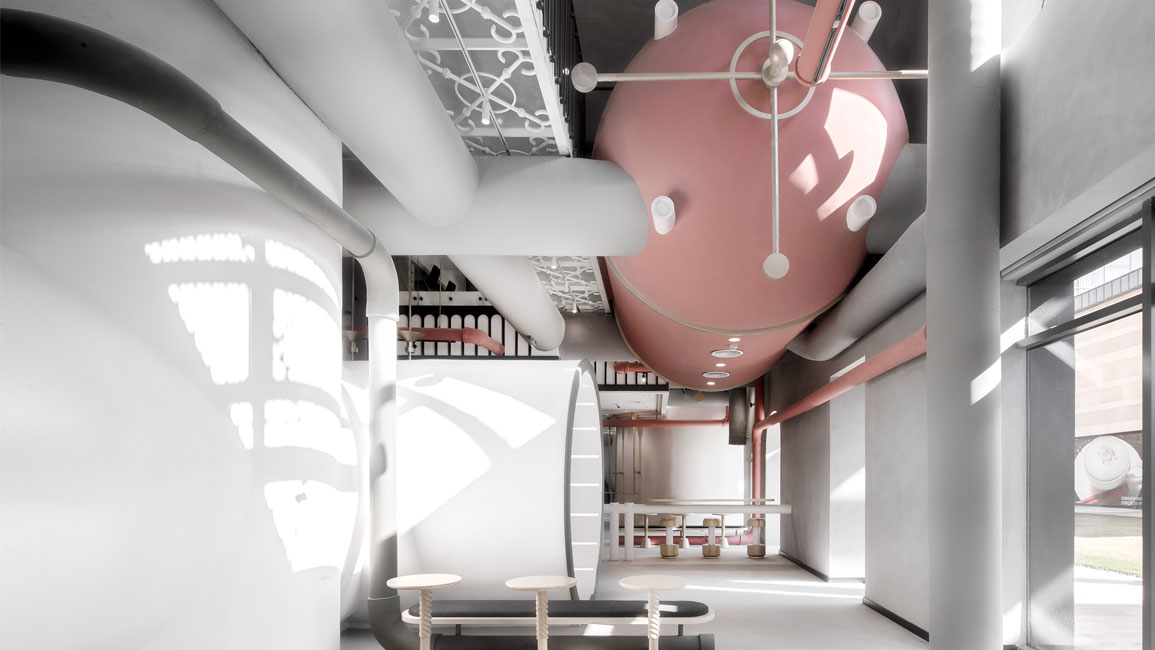 Chinese firm Powerlong Group recently opened Ideas Lab – a shopping, research, office and exhibition space in Shanghai, where their customers can come to experience the future of unmanned electronic retail.
The Group, whose business interests include real estate, industry, information, hospitality, culture, and the arts, hired renowned architect Li Xiang and her team at X+Living to create a bold, mixed-use hub that would better connect the company with the public, while serving as a metaphor for the Age of Technology.
Housed within Powerlong Commercial Centre – a roughcast, standalone, commercial building in Shanghai's Minhang district – the 1,100m2 space was developed into a two-level hub for both the company's employees, and the public.
Powerlong researchers and office staff work, interact, and share ideas with each other on the upper level, while visitors can walk around the lower level to experience a purely electronic retail environment.
According to Li, the design for the Lab was informed by themes from the Industrial Revolution and the Information Age.
A pink spiral staircase accents an otherwise white-and-grey palette, leading up from the public area on the first level to the work spaces on the upper level.

Arched thresholds add a softness to the industrial style interiors.

Arched thresholds add a softness to the industrial style interiors.
The goal was to physically manifest the zeitgeist of our IT age, and to provide an incubator and community hub where people can exchange ideas and experience first-hand the future of IT.
On the first floor is a café, meeting spaces and six "reaction tanks" or "experience buckets" – semi-enclosed shop spaces that Powerlong leases to different vendors. Each functions as a retail space where visitors can view and purchase the vendor's products and services.
Here, rather than paying with cash or credit cards, visitors scan a QR code and pay using only their mobile phones.
The curved outlines of the reaction tanks are repeated throughout the Lab in the form of arched thresholds and windows, spiral staircases and circular seats, creating a futuristic atmosphere that brings to mind sets from sci-fi movies such as Fritz Lang's Metropolis or Gattaca.
To read the full story, purchase and download a digital copy of d+a's Issue 105 (August/September 2018) from Magzter.