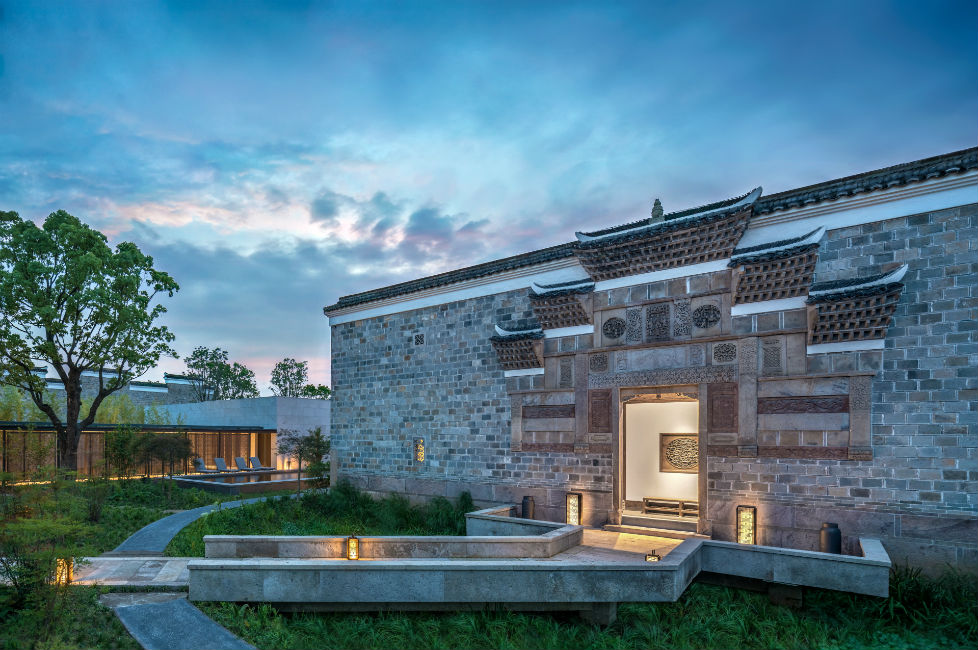 When a hotel opens, the focus is typically on the accommodation and facilities. At Amanyangyun in Shanghai, China though, things are a little different.
On its 10-hectare plot can be found 10,000 camphor trees, including the crown jewel that is the Emperor, rising 17m tall and living for more than 1,000 years. The catch is these florae were not originally from these parts.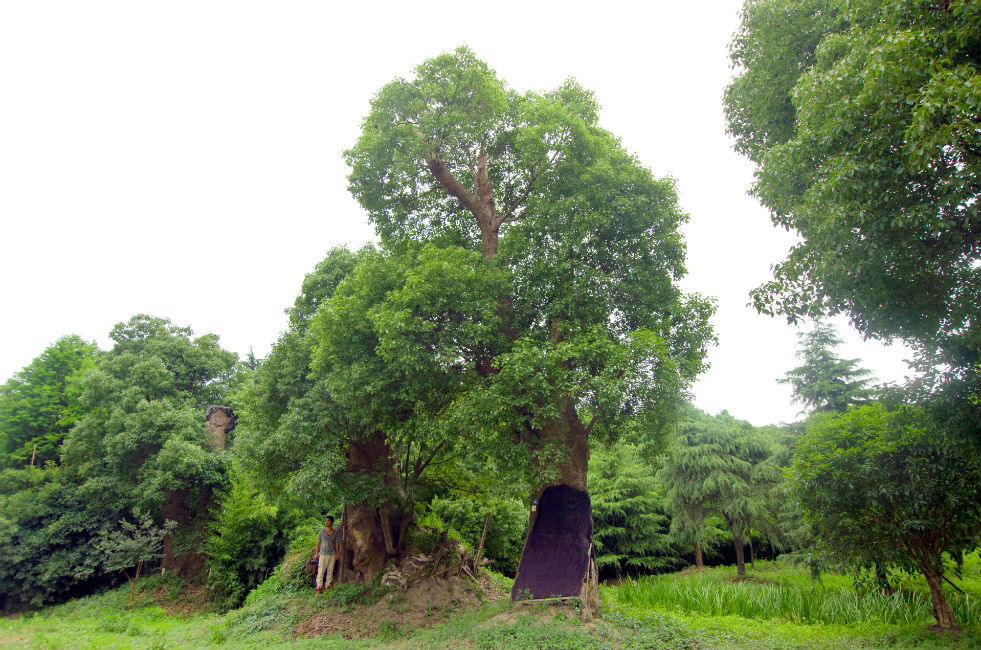 Camphor tree forest
Instead, they were transported and replanted here – some 27km southwest of Shanghai – after enduring a 700km journey from Fuzhou in the province of Jiangxi. The man behind this ambitious project is entrepreneur Ma Dadong, who hails from the city.
When he saw how a new reservoir was going to threaten the existence of those camphor trees and dozens of homes dating back to the Ming and Qing Dynasties, he knew he could not sit there and watch their destruction.
Ma worked with Aman to uproot the trees and move them to their new home in Amanyangyun, which opened in January this year. He also had 50 heritage homes disassembled stone by stone, and then used them to build 26 villas for the hotel. The result is a property anchored in nature and culture, providing a contrast against the metropolis of neighbouring Shanghai.
Living History: Responsible for the architecture of this iconic project is Kerry Hill Architects. Each of the 26 Antique Villas have been designed to contain modern-day necessities while retaining elements of their past. The latter is represented by ornate stone carvings and inscriptions that depict family hopes and histories. Half of them are four-bedroom structures (800-1,00m2 in size) complete with private pool, Jacuzzi and courtyard, a feature common to buildings from those Dynasties.
Antique Villa living room
Complementing the Antique Villas are 24 contemporary Ming Courtyard Suites. As its name suggests, each is composed by two classic Chinese courtyards, as well as expansive bedrooms and living areas marked by Aman's signature Asian-inflected minimalist design style.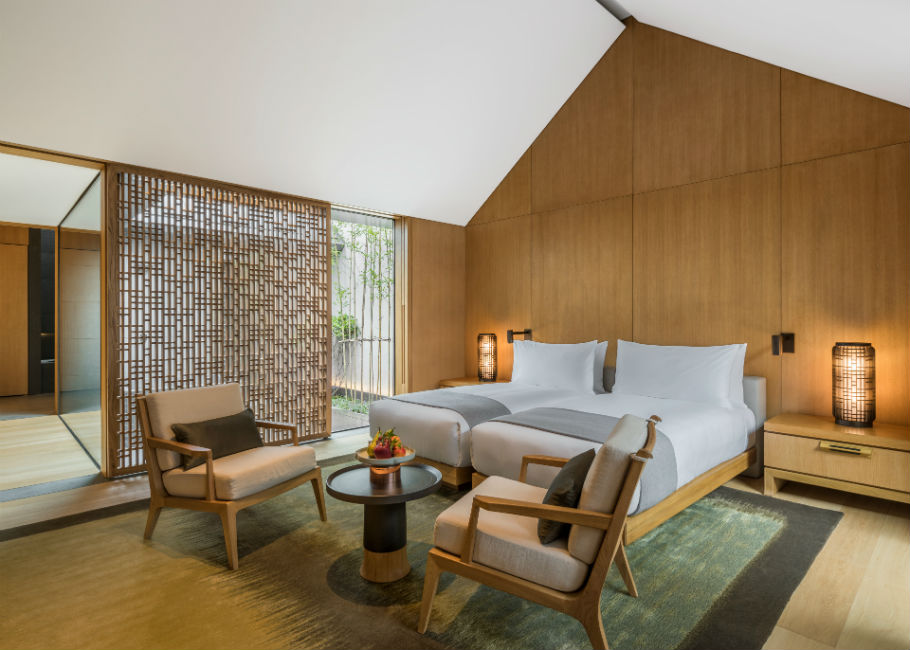 Ming Courtyard Suite bedroom
Spiritual Heart: Apart from the accommodations, the cultural complex aptly named Nan Shu Fang – after the royal reading pavilion in the Forbidden City – is the most impressive building constructed from the materials used to build the heritage homes in Fuzhou. Designed in the style of the scholars' studios of China's 17th century literati, the pavilion is classic on the outside and contemporary on the inside, enhanced with Ming style furniture made from namu wood.
Dining In Style: F&B options are varied (five in total) and served up in well-positioned locations throughout the camphor forest. Arva is the Italian restaurant by the scenic lakeside, while the Banqueting Room that can fit 200 is found in a bamboo grove, and comes with floor-to-ceiling windows that allow guests to admire the nature.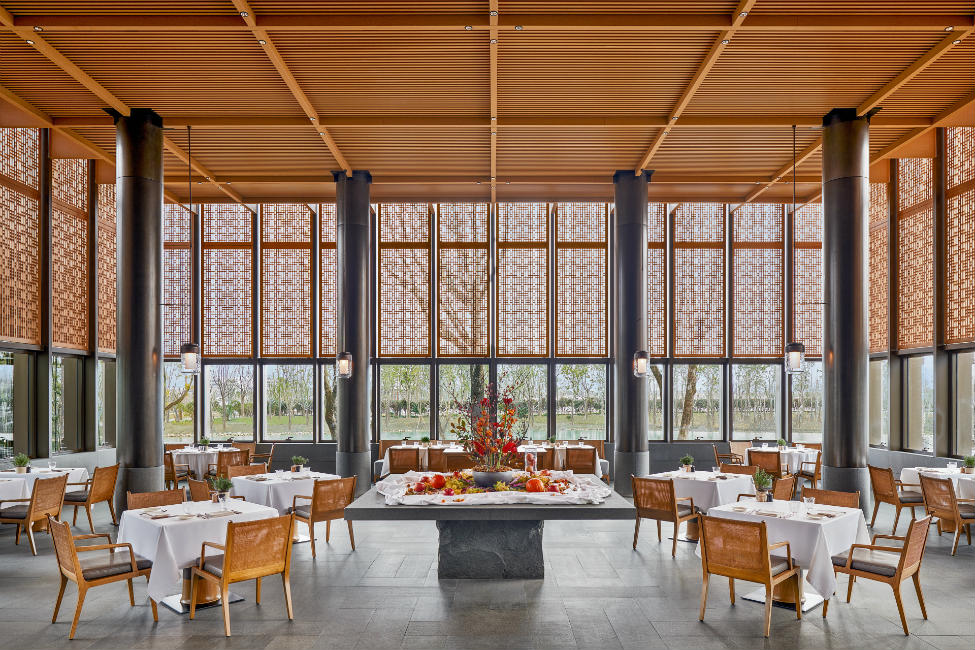 Italian restaurant Arva
Wonderful Wellness: Clustered around an impressive central courtyard is the 2,840m2 Aman Spa. Floor-to-ceiling glass lines the corridor, looking out to the garden, forest and lake. Inside, a minimalist style dominates with clean lines and a soothing palette. Among the facilities include eight treatment rooms, a Russian banya, Turkish hammam and Pilates and yoga studio.