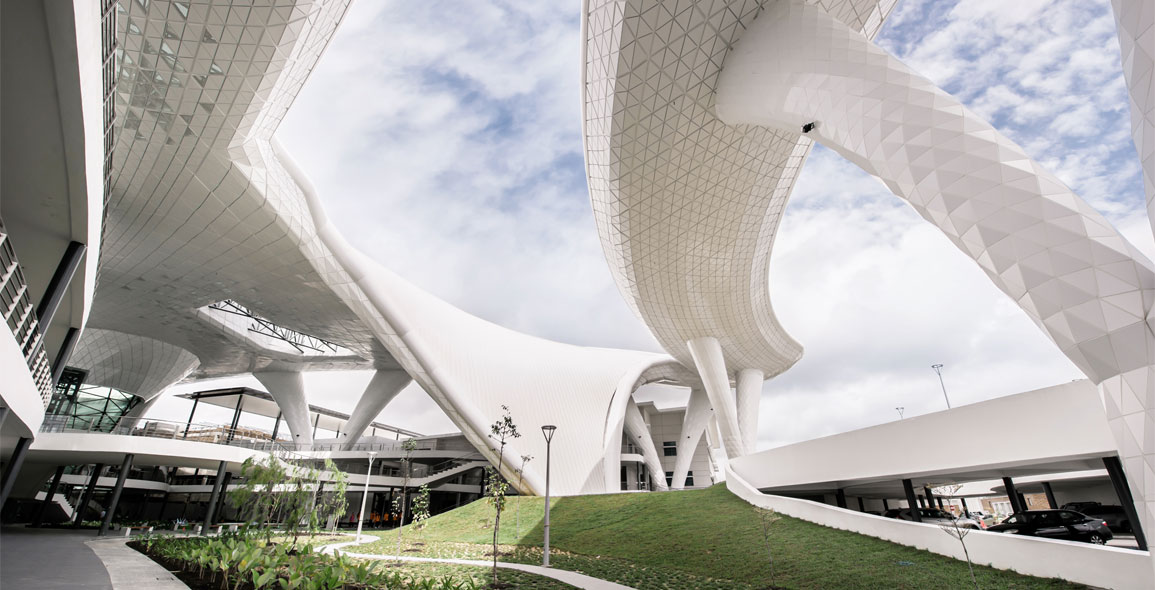 The business of tertiary education has, since the turn of the century, been a booming one.
With an annual student diaspora that stretches from Kuala Lumpur to Kenya, Malaysian private institutions continue to receive a plenitude of admissions through best-in-class, overseas-accredited programmes.
And in a sector rife with competition, some are turning to architecture for that winning edge.
Best Of British
The University of Reading Malaysia is one of two British varsities leaving their mark in the education building scene.
The 27,000 ft2 campus by VERITAS Design Group and Scott Brownrigg is a highlight in Johor's EduCity development, featuring a majestic trapezoidal roof spanning two blocks connected by criss-crossing bridges.
The diagonals inform a latticed ETFE system integrated into the roof, its breadth and transparency bringing daylight to a semi-external "heartspace" of landscaped plaza that blurs the edges of formal and informal teaching.
Enclosing the scheme is a matrix of striating panels, the patterned and permeable screen overlaid onto the facilities' glazed façades.
Hijjas Architects and Planners' Heriot-Watt University Malaysia, situated in the administrative capital of Putrajaya, similarly employs the roof device for dramatic effect.
Peeling from the ground, the 300m-long, 30m-wide grass-covered structure arches over blocks of lecture halls, labs and other programme, expanding the green network or "continuum" of building, surrounding parkland and lakefront spaces.
The grass moreover acts as a natural buffer against solar insolation, altogether increasing the roof's lifespan and reducing the building's heat island effect.
At the building edges, freestanding columns span from grade to soffit, emphasising the project's scale as well as the volumetric qualities of its stepped entrance plaza.
Curvilinear Compositions
A 15-minute drive away, the University of Cyberjaya is a more recent 2018 addition to the tertiary architecture line-up.
The joint effort of firms CSM Architects and HMSK Architecture manifests a weave of sweeping contours, the arising nine-storey office mid-rise and an adjoining five-storey academic block accommodating a 3,000-strong student population.
Projecting from each floor, these slender slab extensions flow around each building mass to generate fluid terrain-like forms and functional spaces.
Framed against black-tinted inter-storey glazing, they cascade from above to delineate a sky bridge element and common circulation, and to softly frame communal environments of learning and activity.
The 2019 UOW Malaysia KDU Penang University College conversely showcases more vertical curvilinear expressions.
A BH Yew Architect-CPG Consultants collaboration, the 400,000 ft2 Batu Kawan campus' frontal blocks present an intriguing play of elevation; starting from ground level, bands of standing seam metal cladding bend and wrap upwards onto east- and west-facing façades to eventually round into horizontal roof parapets.
Complemented by punctuations of vibrant colour, the serpentine silhouettes are equally irregular in footprint, making the campus overall a dynamic and striking entity in Penang's university metropolis development.
Rainforest Canopy
In the University of Technology Sarawak (UTS), high design breaks from its traditional private sector domain.
Designed by Kuching-based firm Aki Media, the state-owned public institution of 97 acres is ambitious – part grand masterplan, part exploratory architecture – and ostensibly futuristic in outlook.
Communicating the initial UTS experience is a thrusting entrance canopy, followed by administrative offices and faculty blocks, which have 60-degree slanted façades that optimally capture daylight while shading the interior.
The project's pièce de résistance comes into view just beyond; above a wide landscaped courtyard, a towering amorphous roof rises and dips to the earth, supported by giant pilotis that extend from the expansive soffit.
Conceived as a rainforest canopy, the super shell is a tessellation of myriad geometries, embodying permeability of air and light, simultaneously offering respite in inclement clime.
It is the scheme's visual crux, the backbone to the faculty buildings, and a nucleus facilitating the communion of students, staff and members of the community.
In its final construction phase this year, UTS approaches the end of its decade-long journey.
As education hub and Sibu landmark, the university projects a future-forward vision in this part of East Malaysia, yet also promotes the restoration of greenery and environmental values evidenced by its GBI Platinum certification.
Beyond Needs
Where a building at its most basic is in service to function, architecture at its core serves a greater calling.
The need to delight, to inspire and leave positive impact lies par with the needs to occupy and use.
Savvy educators are leveraging on powerful design to create learning environments that are as stimulating as the education itself.
Architecture, considered or colourful, does play a vital role in college life.
With an abundance of studies and award-winning campuses to choose from, there is no better time to be a student than the present.
And perhaps no better place to study than in Malaysia.
This story first appeared in Issue 123: March 2022.