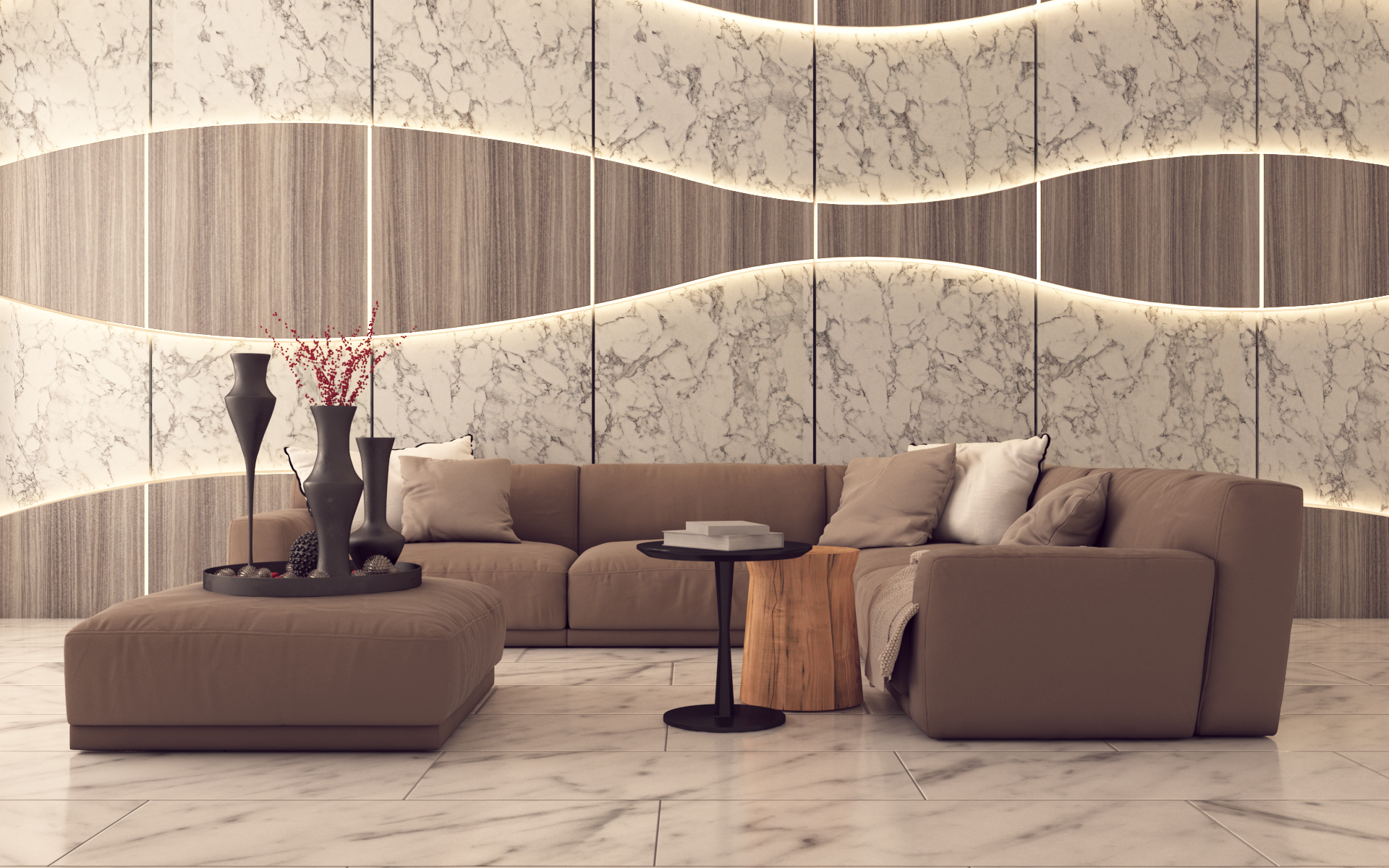 Having quickly become a staple in local households, Arova's high-pressure laminates are very much the product of one family's efforts. Arova was originally founded in 2012 by Eric Lim's father, who brought more than 30 years of experience in the laminates industry to the table. Nowadays, Eric and his partner Meldric are handling the business—and they are certainly going strong, having expanded it to Malaysia, Thailand, Indonesia, Cambodia and Dubai.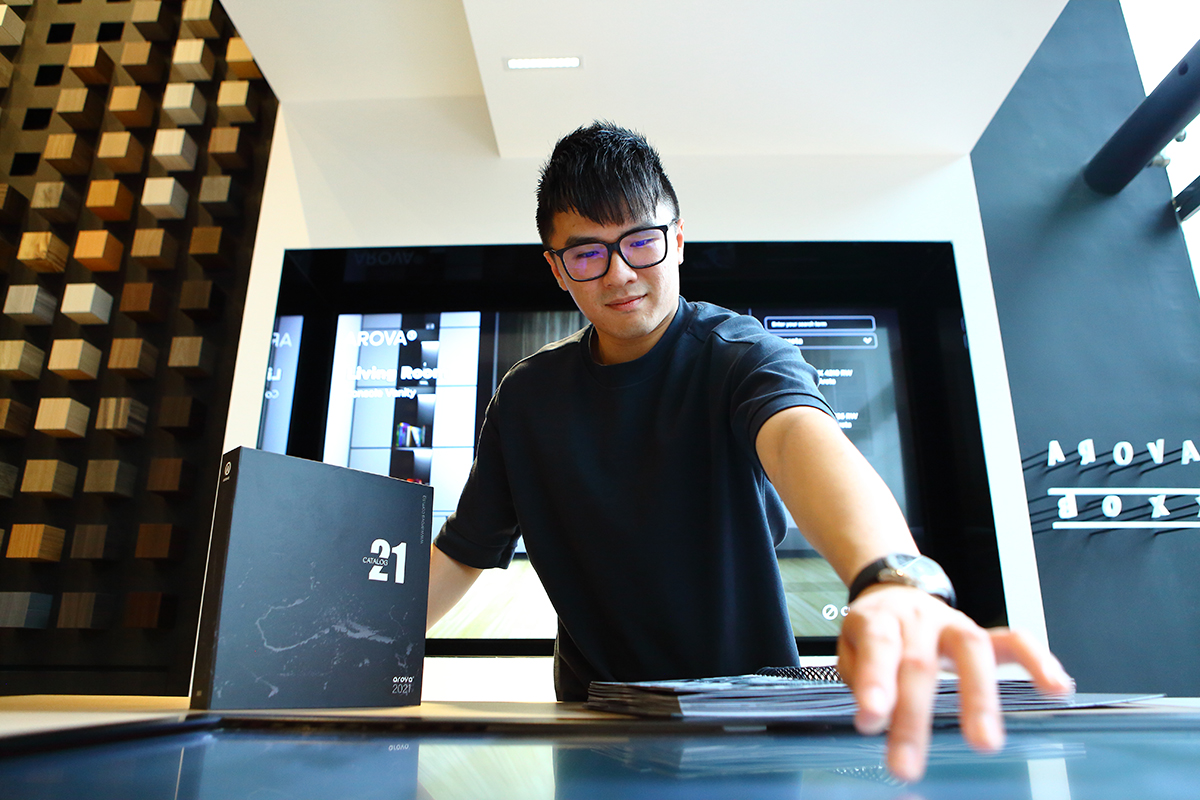 Eric Lim, Director
The reason they love laminates? The endless design possibilities, be it for residential or commercial projects. "Laminates are durable and easy to maintain," Eric shares. "They come in countless designs and colours to select from."
In fact, Arova shines in the realm of aesthetics. "Our selection has more than 450 designs," Eric tells us proudly. "I would say we focus a lot on quality while aiming for competitive pricing. We improve on our selection of designs every year and ensure that it suits each market's palette." Of course, they also keep an eye on trends. "Warm-weathered shades like olive, grey, Atlantic blue and yellow are some of the incoming colour trends. Super-matte and debossed textures are also quite popular in our catalogue."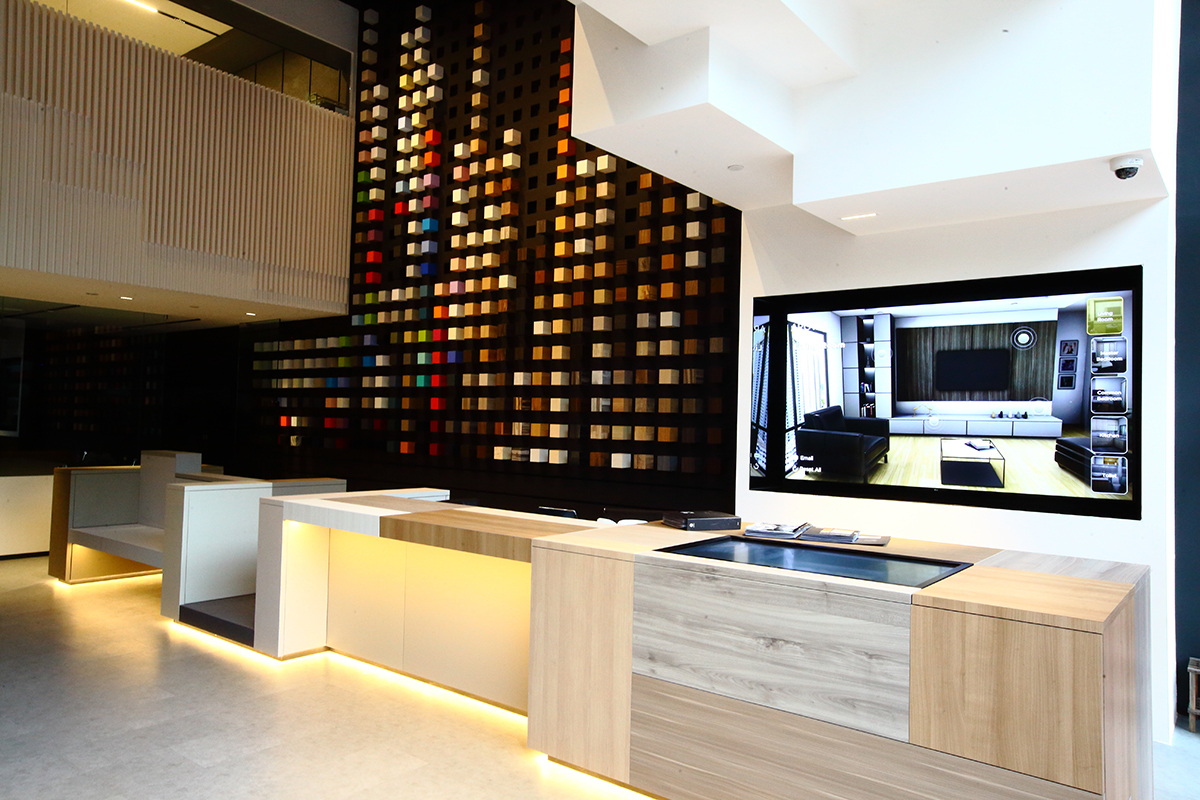 A large wall displays Arova's wide array of colours and textures for up-close exploration at the showroom.
In terms of the quality of the laminates, you can rest assured that Arova's panels are made to last. They are manufactured exclusively in South Korea, using a combination of cutting-edge technology and innovative design. This makes for affordable laminates that are yet seven times more resistant to heavy wear and tear than standard-grade laminates, providing lasting quality without the hefty price tag.
As more than 80% of Arova's collection is certified anti-microbial, the brand's laminates are a safe, hygienic and hard-wearing choice for countertops, cabinets, shelves, feature walls, wardrobes and even bathroom vanities. But it doesn't end there. "I have a mission to influence the younger generation of homeowners and designers to make use of laminates in non-traditional ways," Eric shares. "Laminates can be done up as art pieces and sculptures, in any shape and size based on your limitless imagination."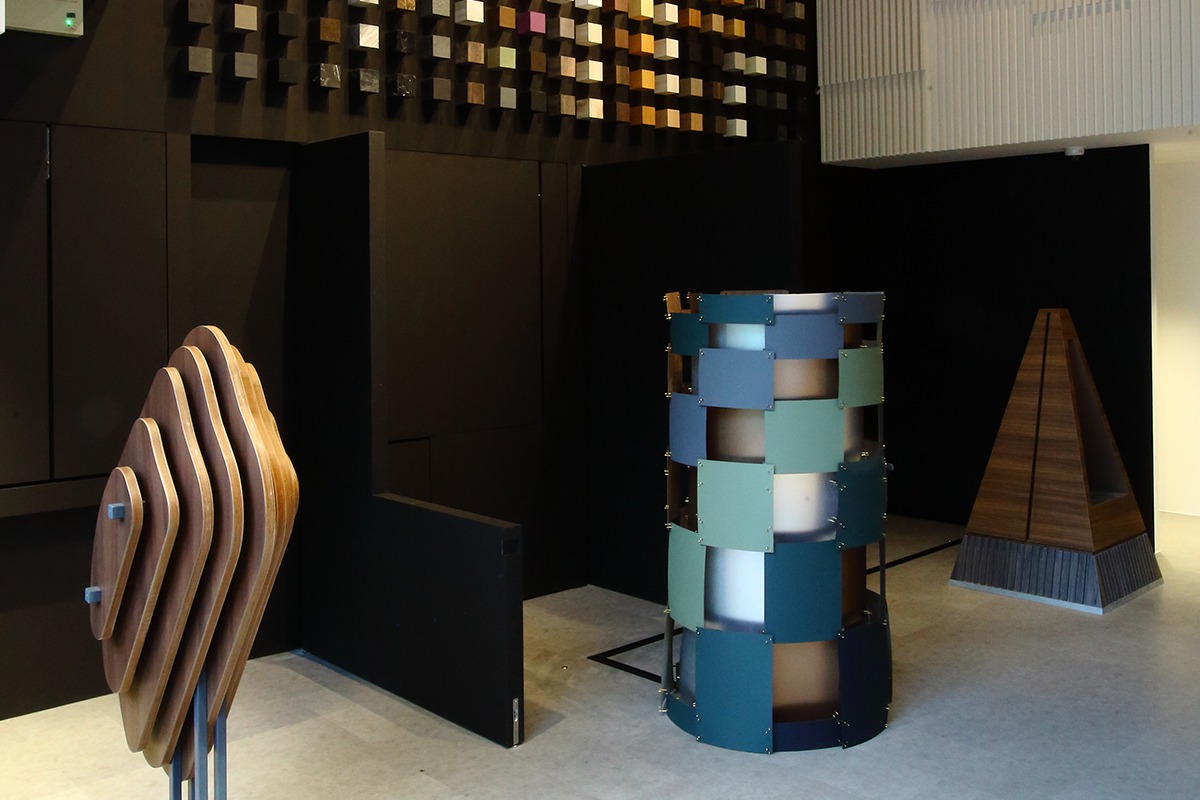 Stepping out of the ordinary, Arova arranged its laminates in the form of an art exhibition. Sculptures by Archluxe, Sujonohun and Quod Architects.
With this vision, Arova ventures into other areas of the home too, looking beyond the surface with their Boxx furniture fittings. These include innovative hardware, kitchen lift systems and revolving shoe racks for creative, boundless space solutions that make for a fuss-free home.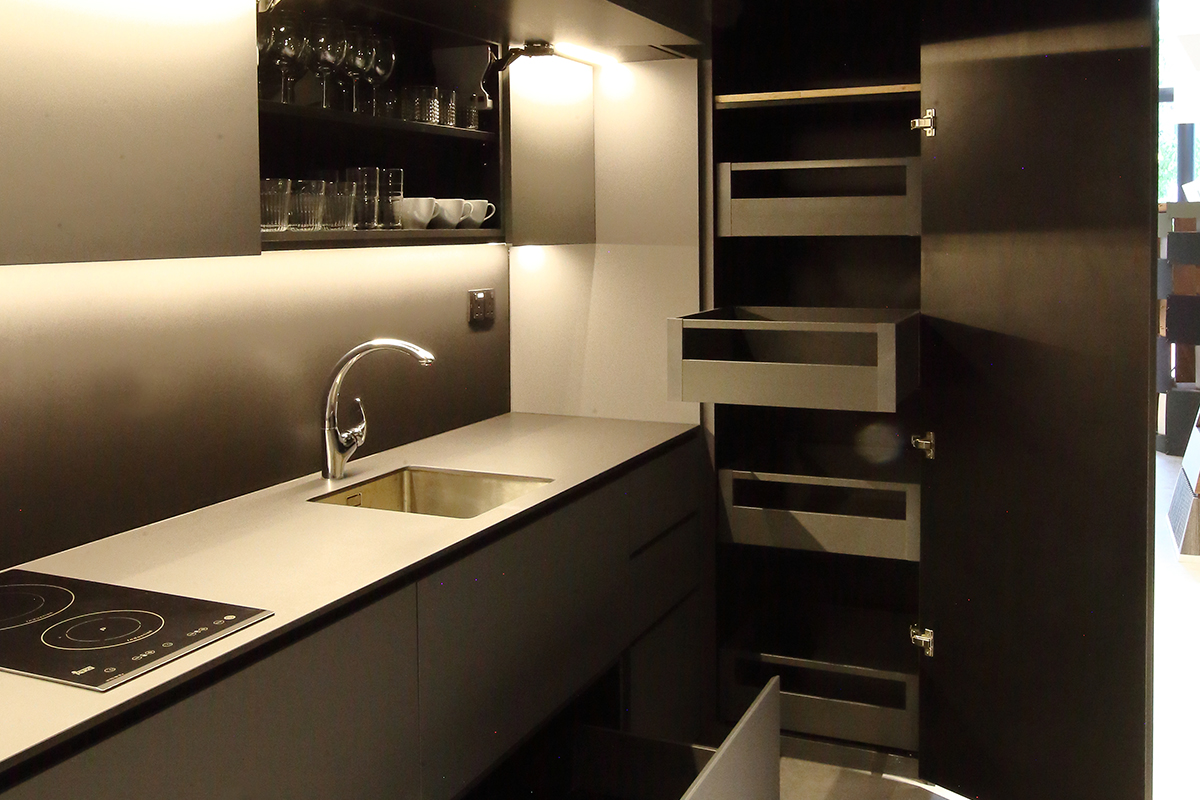 And of course, all of this can be seen and explored up-close at Arova's new showroom. Located on Ubi Avenue 3, its design is influenced by art museums and galleries, making it stand out from traditional showroom spaces. "When homeowners and designers walk into the showroom, their first impression is that of a city gallery instead of a showroom. We didn't put up any full-sized pull-out laminates. Instead, we formed a cube design using all of our laminates and displayed them on both sides of a feature wall for that cityscape concept." The showroom also boasts a handy simulation software, which homeowners and designers can use to visualise the laminates in a classic BTO setting.
Arova Singapore Pte Ltd
OFFICE
7 Mandai Link
Mandai Connection #04-03/04/05
Singapore 728653
SHOWROOM
33 Ubi Avenue 3,
Vertex Tower A #01-25
Singapore 408868
tel: 6363 1661
arova.com.sg
This post was brought to you by Arova.