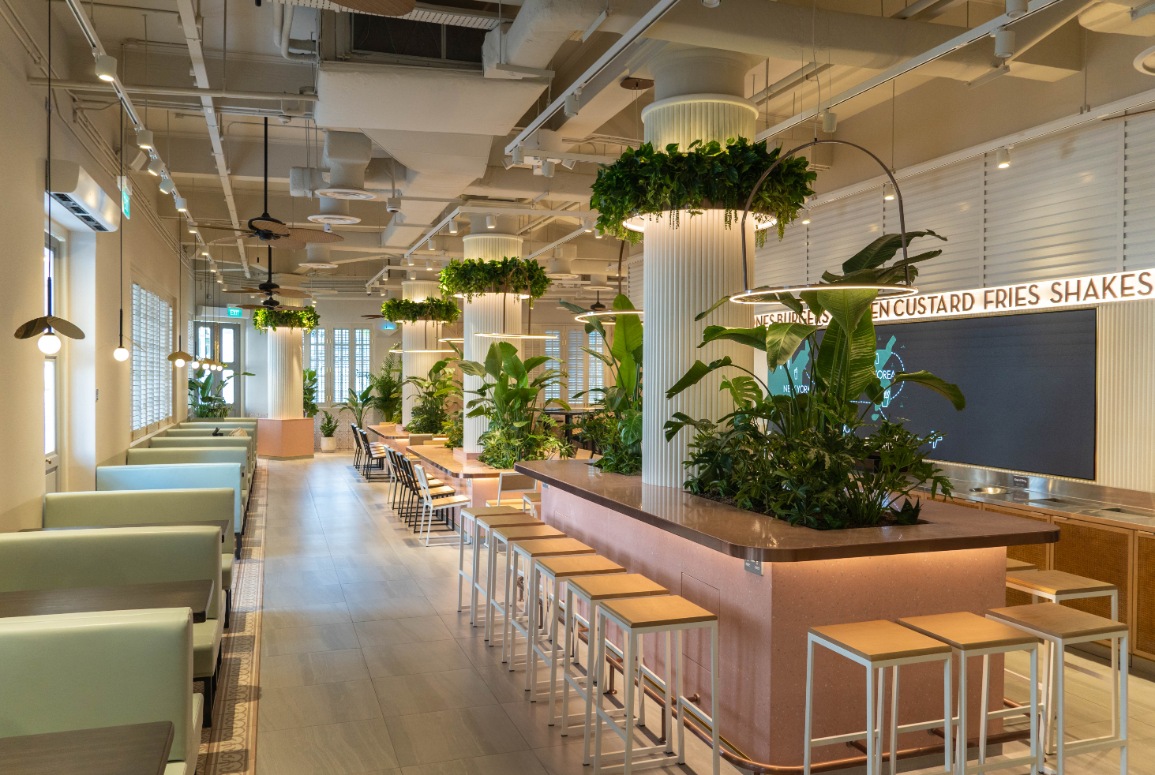 Its burgers and beverages are queue-worthy but it is also heartening to know that Shake Shack is championing design and heritage too.
The self-professed "modern day roadside burger stand" opened a second outlet in Singapore last month at 89 Neil Road.
Located at the junction of Neil and Craig Road, the building it is in was built in 1924 and has a storied history.
It was once home to Eng Aun Tong factory, responsible for producing the famed Singapore-branded Tiger Balm ointment.
As a result, it has been granted URA's Voluntary Conservation Scheme in 1992, ensuring its original neoclassical bones are well-preserved.
Across its three storeys are strong geometric lines, arches and columns. On the wall facing The Pinnacle@Duxton is a colourful mural designed by Singaporean artist Sam Lo.
It ties in with Shake Shack's support of the arts and aspiration to work with local purveyors and artists to create a lively gathering place in the city.
Lo sought inspiration from the East and West – much like the melting pot that is Singapore – incorporating elements such as glazed ceramic tiles, traditional Peranakan cultural patterns, the Lucky Bat, Qilin and rising sun from local culture.
Step into the 138-seat Shake Shack and the immediate sense is of contemporary café chic, courtesy of interior design partners Zebra.
The palette is blush pink and mint green, taking its cue from the neighbouring Peranakan-style shophouses.
Liberally spread throughout the interiors are fittings like plantation shutters, colonial-style rattan fixtures, mosaic tiling and arched wooden panelling.
These establish a connection to the agriculture-focused history of the neighbourhood the outlet is located in.
"89 Neil is thoughtfully designed to mirror Singapore's distinct Chinatown neighbourhood and honour the rich heritage of the building," says Lee Roberts, creative director at Zebra.
At the same time, Roberts and his team also infused the space with signature Shake Shack elements, balanced out with modern details.
There is park bench seating, metal cladding, I-beam signage and lush greenery, referencing the original Madison Square Park location in New York City.
Some design details were also updated, including rose gold accents, white menu boards and blush terrazzo.
"We collaborated with Shake Shack to create warm community gathering places," says Roberts, of the design intention.
Our favourite part of this second outlet though, is somewhat less tangible: Shake Shack has adopted Very Special Arts Singapore as a design charity partner.
Five percent of sales go to the non-profit that provides opportunities for the disabled through the arts – a move that makes dining there even more palatable.