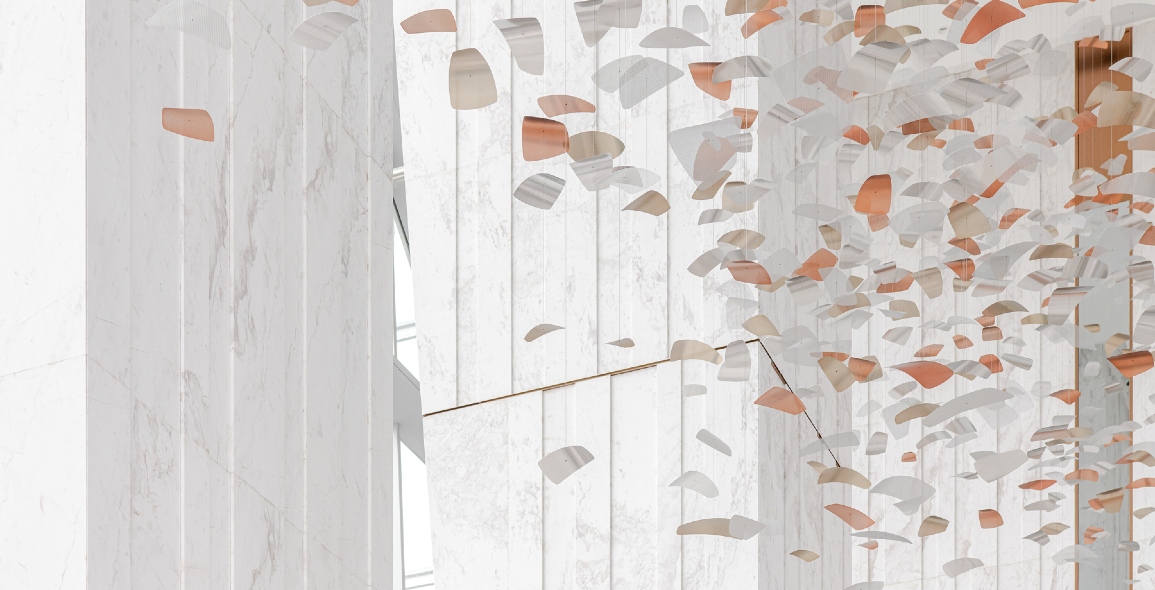 How do you unify a 65-year-old conglomerate with 1,000 team members across more than a dozen departments?
This was the challenge YTL Corporation posed to Ministry of Design (MOD) when the Malaysian infrastructure firm commissioned it to design the public areas of its new headquarters in Kuala Lumpur.
It encompassed the ground floor lobby and three upper floors (levels 8 to 10) of a building conceptualised by architecture firm Kohn Pedersen Fox Associates.
To this end, MOD created "a series of choreographed spatial experiences which aim to balance YTL's legacy of corporate professionalism with a future-forward attitude that embraces change".
Enter the building and what immediately unfolds is a soaring, seven-storey-high lobby that had the potential to intimidate and dwarf the average Asian.
Under MOD's hand though, it has become a study in proportion, light control and a disciplined use of materials.
The walls are clad in white bugatsa marble with vertical striations that become increasingly wide set as they climb to the top, giving the impression of ascending lightness.
Horizontal incisions were made as well as ridges included, all coloured with bronze accents to break the ascent.
Dangling down from the ceiling is a glittering art installation by studio Sawada Design, featuring cloud-like metal silver, white and bronze organic shapes hung with steel cables.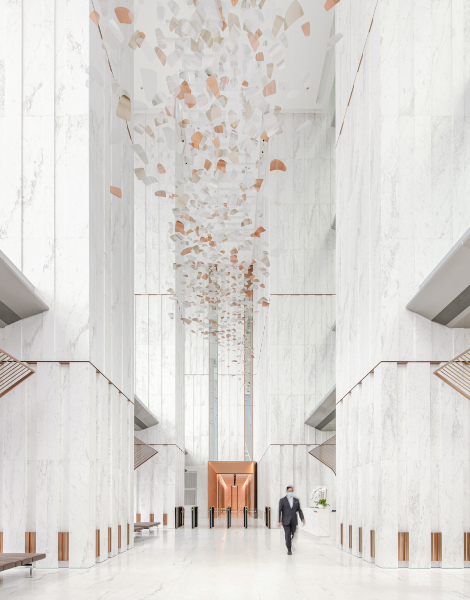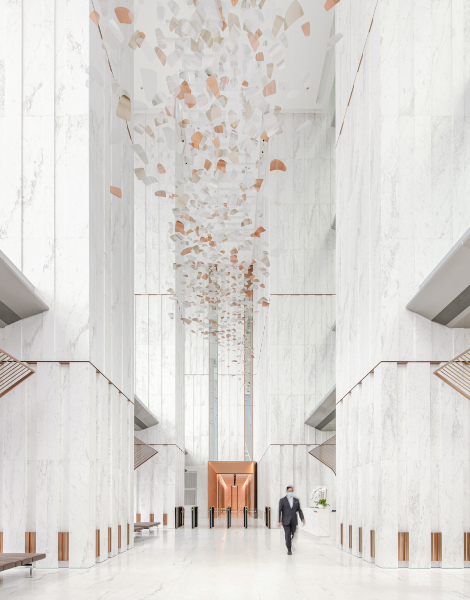 Seating is carved out in a series of architectural pavilion niches made from bronze bead blast metal trims and outfitted with the iconic Barcelona Couch from Knoll.
Not only do they provide a space for visitors to sit and admire the majesty of the lobby, but also double up as waiting areas.
It is impossible to miss the entrance to the lift lobby, framed by a matt bronze cladding; beyond it, the same disciplined material palette continues.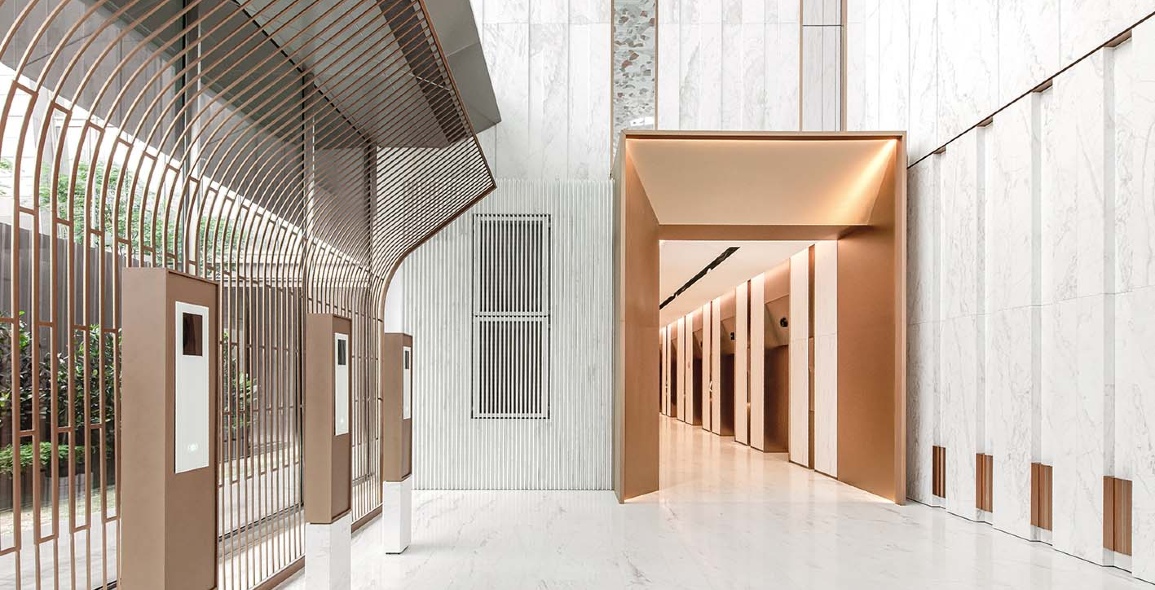 Levels 8 to 10 are made up of a café, open and closed meeting zones and a 122-persons function room.
The focal point is undoubtedly the curved, grey granite café counter, its heft a counterpoint to the bronze shelves and oak-covered ceiling and walls.
A rough-edged split-face granite greets those in search of espressos and baked confections, served across a smooth, black sesame-polished granite on the counter.
Off to the side is an elegant feature spiral staircase connecting up to levels 9 and 10, its cage-like appearance made with vertical rods of powder-coated bronze sitting on a bed of black gravel and topped with a leather handrail.
All three levels have meeting spaces of various sizes and configurations, from communal tables to banquette seating, semi-enclosed meeting rooms and a VIP room.
Unifying them is a warm and soothing palette composed of warm oak on the walls and ceiling, silver mink marble flooring and black powder-coated metal trims for lighting fixtures.
MOD used fabric from German brand Saum & Viebahn to cover the seating in the cafe, banquettes and booths, chosen for its easy maintenance and high-usage quality.
The tables have either black Nero Marquina marble or white Calacatta marble.
To demarcate them, the floors of the enclosed meeting rooms are lain with carpet tiles from Interface's Net Effect Collection.
It remains to be seen if MOD's design is able to unify YTL's staff but from the look of things, it seems to be headed in the right direction.
Photography:
David Yeow Photography