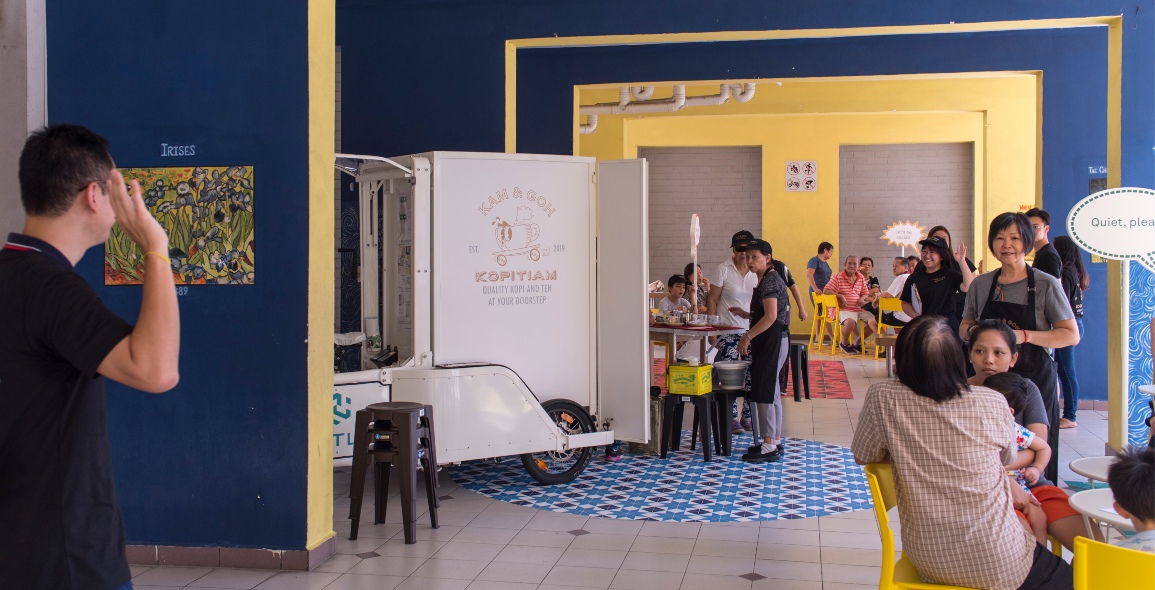 Editor's note: Placemaking has become an increasingly common term in the design vernacular. Its relevance has been further heightened by the COVID-19 pandemic, where it is regarded as a means to strengthen community bonds. This is part of a series of stories that examines its different facets.
"Our neighbourhoods and the people who live in each of them are very diverse, including our seniors," says Dr Belinda Yuen.
This seems like an obvious insight. But unpack it and it has significant implications on how we plan and design our neighbourhoods for the future.
Dr Yuen is the Research Director and Programme Lead of the Lee Li Ming Programme in Ageing Urbanism at the Lee Kuan Yew Centre for Innovative Cities, Singapore University Technology and Design (SUTD).
From 2017 to 2019, she led a seminal study that brought together researchers, architects and policy makers from the health, planning and design fields to delve deeper into understanding the influence and impact of the built environment on seniors' social, physical and mental health, especially those who are aged 55 and above.
What was unique about the study was its use of mixed methodologies, that included research, prototyping of design interventions and evaluation.
This provided more evidence-based insights and considerations in shaping age-friendly neighbourhoods now and for the future.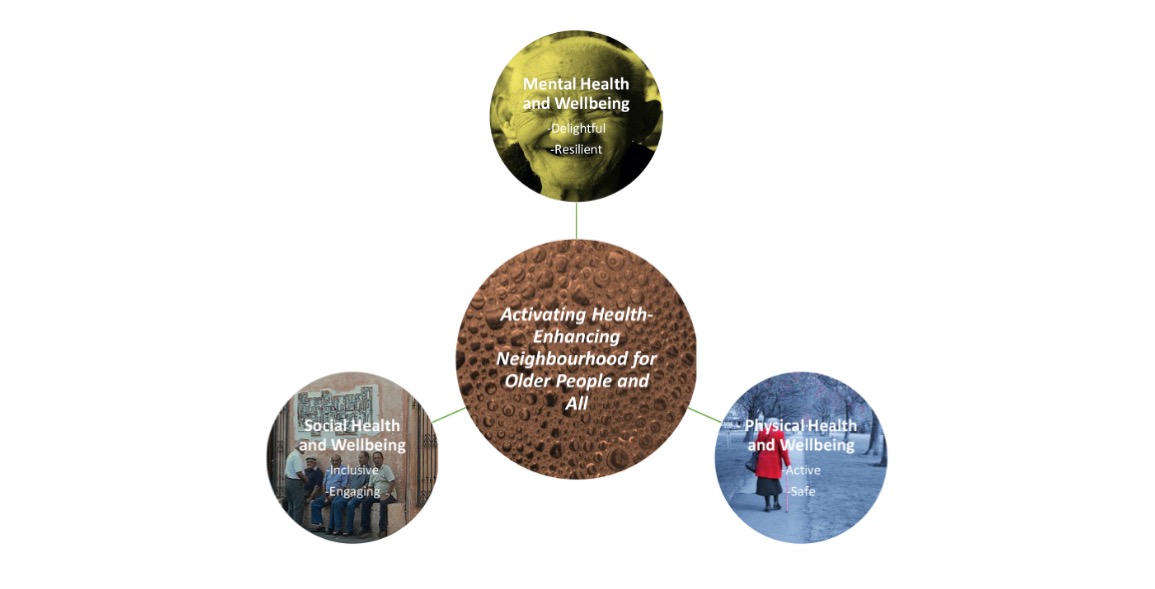 All the dimensions of seniors' health and wellbeing that the study's planning and design guidelines sought to enhance for age-friendly neighbourhoods. Image credit: Innovative Planning & Design of Age-Friendly Neighbourhoods in Singapore.
Designing For Diversity
"The study reaffirmed our understanding that the senior population is not homogenous. In fact, they are a heterogenous group in terms of their age, sociocultural characteristics, physical and cognitive abilities.
"Neighbourhoods also vary in their infrastructures, types of physical environments and amenities.
"This is an important reminder for us. We need to be more sensitive in considering such diversities in greater detail, which will help us better adapt neighbourhood plans and designs.
"It means we must take the time to understand our seniors' different needs, their motivations, their specific challenges and preferences in accessing and experiencing their neighbourhoods and engage them actively when planning and shaping neighbourhood spaces," says Dr Yuen.
As part of the study, three architectural firms built upon the research and developed design strategies for three different neighbourhoods respectively – Hong Kah North, MacPherson and Toa Payoh West – each with many different communities and spaces.
Temporary design interventions were tested and tailored for each to see how they could improve the seniors' well-being and health.
They were proposed based on carrying out in-depth studies of the neighbourhoods' attributes and spaces and engaging the senior residents to understand their challenges and needs.
Walking Around Confidently
For Hong Kah North, one of the concerns raised was the seniors' fear of falling, as highlighted through a survey and focus group discussions.
"In spite of this fear, we noticed many preferred taking a less safe route along the main road as compared to through the flats.
"This was because the pathways along the void deck spaces looked monotonous to them. After a while, they may not be sure of where they were," shares Cerina Niken Rani Anggraini, Vice President from CPG Consultants (CPG), who focused on this neighbourhood with her team.
CPG worked with the Town Council to create temporary distinct motifs along the pillars of the sheltered walkway and void deck spaces at Block 338, Bukit Batok Street 34.
"The motifs offered an added level of interest moving from point A to B, which was sheltered and connected.
"The senior residents who were visually impaired also found the motifs helpful in enabling them to walk along the paths more confidently," says CPG architect Doreen Koh.
"Being able to walk safely and with ease around the neighbourhood is critical for seniors as it gives them a greater sense of independence.
"This mobility is important in not just accessing nearby essential amenities but other spaces as well," Anggraini adds.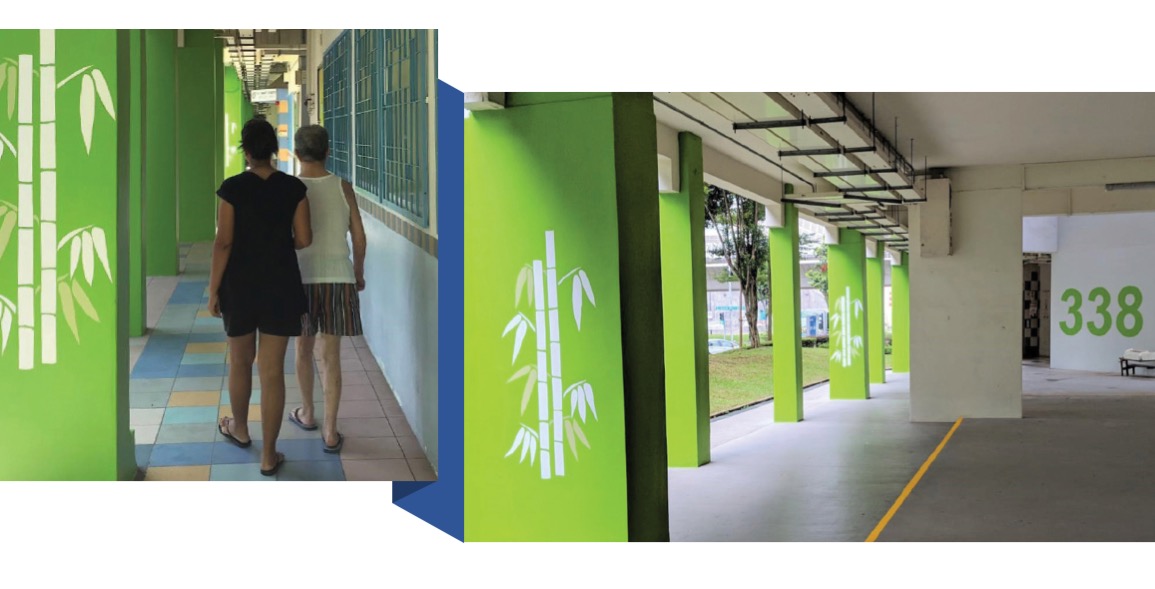 The temporary wayfinding prototype at Block 388, Bukit Batok Street 34 by CPG as part of the study. Image credit: Innovative Planning & Design of Age-Friendly Neighbourhoods in Singapore.
Coming Out To Play
On accessing a variety of spaces, Dr Yuen says, "Many of our public housing estates have done well in providing a range of open spaces, parks, gardens, offering opportunities for senior residents to engage in recreational activities.
"This encourages them to come out more often and can help to reduce their sense of isolation. If they walk more, it can also improve their health.
"There is the added opportunity to socially interact. So, there is the social health too."
In making the environment more engaging for seniors, Tierra Design Studio proposed for Toa Payoh West a series of simple exercises and activities that could be designed and encouraged along daily routes, to create more opportunities for seniors, children and everyone else to have fun and a sense of play.
Such exercises and activities are also helpful to keep minds and senses stimulated, especially for those with dementia and cognitive impairment, since Toa Payoh West has a higher percentage of older persons with these medical conditions.
In addition, Tierra identified a possible route between Braddell MRT station and the wet market.
Beyond improving the walkability of this route, the concept of creating destination points of interest along the way adds enjoyment for the neighbourhood's seniors.
En route, for example, a nearby park could potentially be turned into a new focal point for the community and serve as an additional fitness and exercise area.
Creating Unique Landmarks
Tierra also envisioned the addition of greenery to enhance the environment of the neighbourhood, such as through the planting of unique tree species.
This could further contribute to the neighbourhood's identity.
Contributing more insights is Ong Ker-Shing, co-founder of Lekker Architects, who believes that as neighbourhoods evolve, there should be a conscious effort to retain recognisable landmarks in neighbourhoods.
"They don't have to be architectural wonders. It could be just an old block that is always there and is tall enough that you can see it," she suggests.
Such landmarks that reflect old memories and the spirit of the place serve as not just identity markers but are likely cues that seniors may use in navigating spaces around them.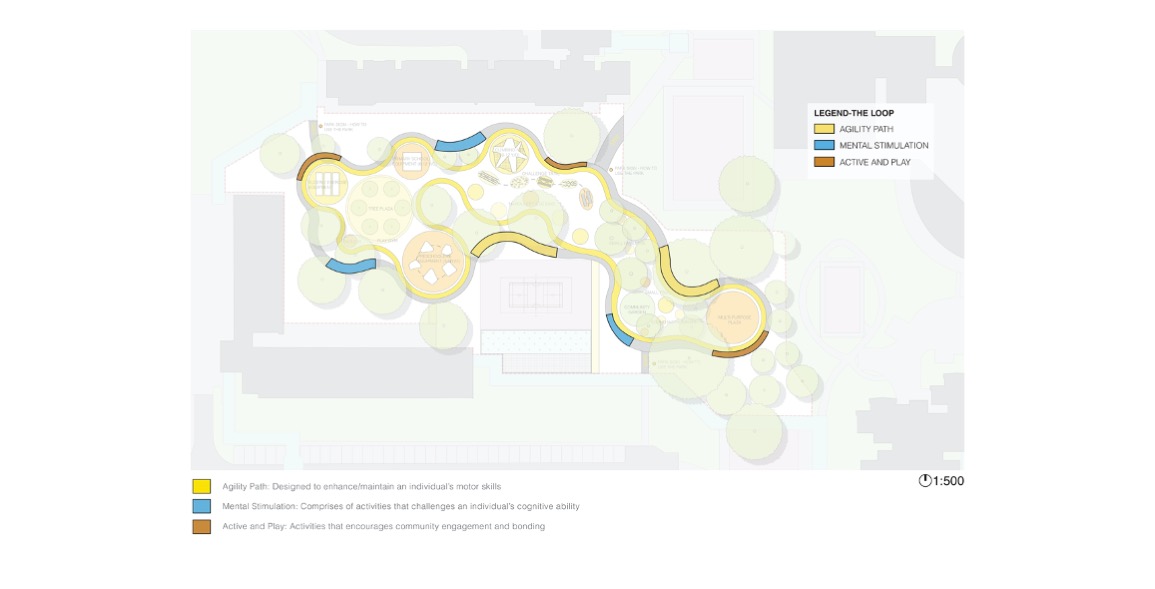 The various play opportunities and routes proposed for the Toa Payoh West neighbourhood by Tierra Design. Image credit: Tierra Design.
Fostering Social Interactions
For the MacPherson neighbourhood that Ong and her team focused on, they were interested in further understanding the more intangible aspect of physical spaces.
"What really came out quite strongly in our interactions with the senior residents was how they paid close attention to social cues, encounters and interactions when they accessed physical spaces," she says.
"They were conscious about how they interact with younger people and others in the neighbourhood. Something as simple as a seating arrangement could hinder or foster interactions.
"For example, some of the seniors shared with us that when they sat at a round table, they wondered if a younger person may feel comfortable sitting with them. They didn't want to feel like an imposition.
"Perhaps this perspective may be specific to this generation of older persons. Everyone interprets and respond to their social settings and physical spaces differently."
Given that Macpherson has a higher proportion of seniors living alone who can feel more isolated if they do not feel like they can interact comfortably within their estate, Lekker Architects created a mobile kopitiam to see if this could facilitate meaningful interactions.
They placed these at two locations for a few weekends. Volunteers and the community came forward to manage them.
"The kopitiam culture took over. The culture of sharing tables with strangers prevailed.
"If there was coffee or tea, an older person felt more comfortable sharing the table with a young family because there was something to do. It broke the ice," reveals Ong.
"More than just having a place to relax in or having [a drink] with others, the kopitiam offered something familiar but was also a bit unexpected. And it was mobile.
"If something was there every day, it would not be something to look forward to."
It's For Everyone
So, where do we go from here?
The study's proposed planning and design considerations and an environmental audit toolkit that was developed could be used to build on current efforts to further understand the diversity in our neighbourhoods and prioritise potential areas for improvements.
Since the completion of the study, there has already been interest from Town Councils and others to use the toolkit to understand their neighbourhoods.
Dr Yuen emphasises that the guidelines were not meant to be prescriptive, as these cannot cater for every possible situation.
"What we want to do is to create an awareness of the diversities in neighbourhoods.
"We provide the guiding principles and toolkit for anyone, from architect to community, to use these to understand the contexts of their neighbourhoods and people, to develop suitable solutions."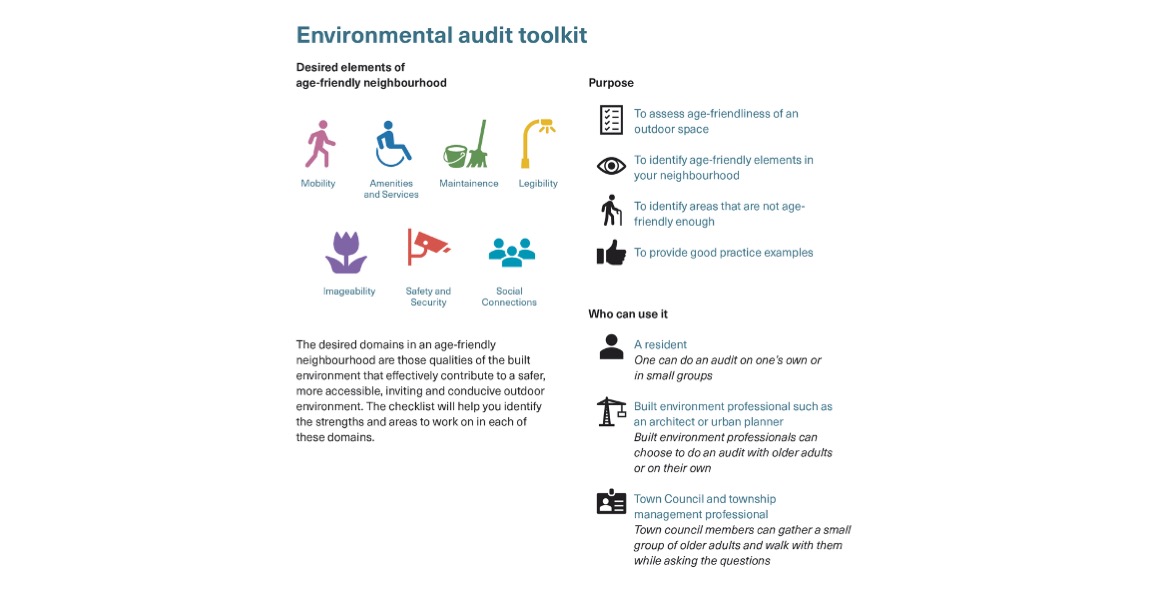 A brief overview of the environmental audit toolkit proposed by the study. Image credit: Innovative Planning & Design of Age-Friendly Neighbourhoods in Singapore.
The study's insights and considerations were also not just catered for the senior population.
"What works for older people also works for the younger people and children.
"At some point or other, we may suffer physical limitations. You may sprain your ankle, for example.
"So, when we talk about age-friendly neighbourhoods, it is not just for older persons, it is for everybody," Dr Yuen adds.
Connecting People And Spaces
In shaping such neighbourhoods now and in the future, one conclusion from the study stands out: it is important to understand and reflect the voice and needs of seniors and others in the community.
"We need to put in the time and effort to listen to the seniors and other stakeholders' concerns, to really get to understand the rationale and source of their preferences or frustrations so that solutions can really address their needs," says CPG's Koh.
For Ong, she saw the value of community buy-in and participation, "The community leaders and volunteers who helped to manage the kopitiam really made a difference in creating the right atmosphere and connecting people.
"Some of them already knew the seniors and could greet them by their names."
It is important to understand and reflect the voice and needs of seniors and others in the community.
Going further on how more can embrace and "own" spaces in our neighbourhoods, Ong adds, "We like to label spaces. This is an exercise corner. That is a playground. Kids will be in the playground for two minutes and then they would go to the exercise corner.
"People don't necessarily respond to labelled spaces. It is a mindset thing. It is about allowing people to use things [the way they want to] versus how we think they should use [them].
"It is about designing for a certain amount of 'misuse', to allow for different interpretations."
Franklin Po, co-founder of Tierra points out, "It's not about introducing fancy, shiny new things.
"We need to find more opportunities to curate and design spaces that are already highly accessible.
"Those that are along daily routes for example. We need to think about how to connect people to spaces and vice versa.
"In Toa Payoh West, we saw many little gardens that were adopted by people.
"Some of them put up handwritten signs that say, 'Please don't steal my plants.' This is what I truly enjoy about neighbourhoods.
"As designers, we need to remember these little things and find ways to create spaces that can be spontaneously adopted by the community."
Continuing The Efforts: Other recent related efforts are dementia-friendly guidelines for neighbourhoods developed by Dr Yuen and colleagues with the Agency for Integrated Care. Lekker Architects, Lien Foundation and Lanzavecchia + Wai Design Studio have published an IKEA-inspired manual, Hack Care, to create dementia-friendly homes. CPG Consultants and Tierra Design Studio are also involved in developing senior-friendly and ageing-in-place masterplans and designs for local neighbourhoods and those abroad.
This story is contributed by the Urban Redevelopment Authority's magazine Skyline (Issue 14).