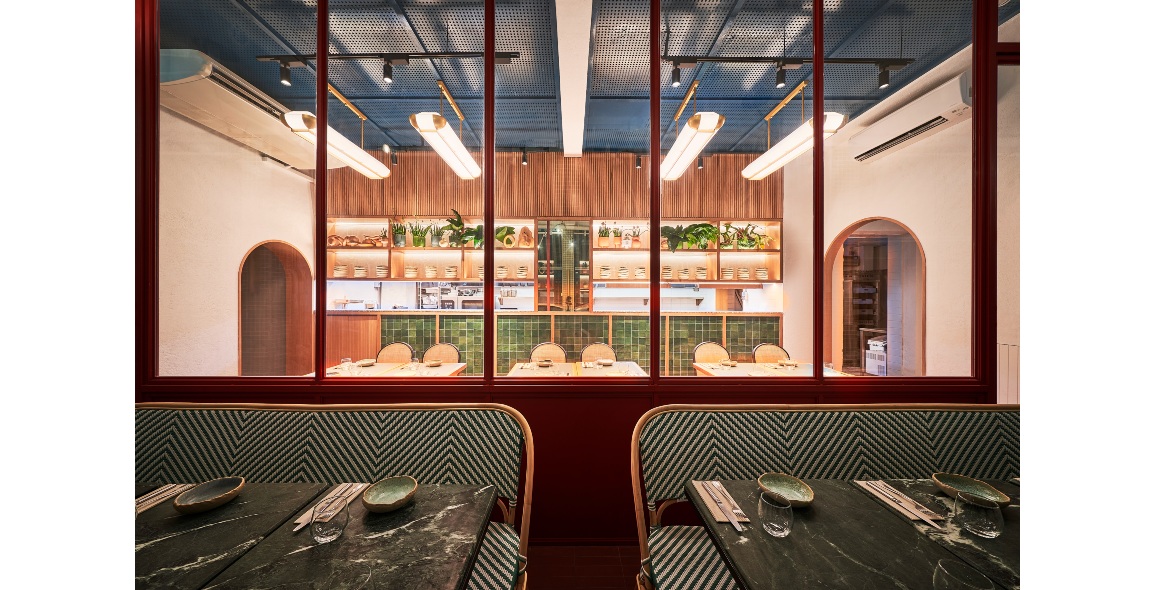 I remember slurping down an order from Song Kee Fishball Noodle, housed in a coffeeshop at 128 Tembeling Road, days before it shuttered.
For two years after, each time I passed it, the unit was tightly hoarded up, offering no clue to what was happening within.
Then three weeks ago, the veil was lifted.
It turns out The Cicheti Group had taken over and opened a new Italian-inspired trattoria named Forma, in collaboration with the popular handmade pasta, private dining concept Ben Fatto.
If you are a foodie, you will know the hype surrounding it is mind-blowing – I was whispered to that email requests for reservations numbered 1,500 even before they were open.
It is not our place to talk about the food, so I am glad that The Cicheti Group has given thought to Forma's interior design and commissioned Takenouchi Webb to bring it to life.
Given the location of the restaurant in the Peranakan enclave of Joo Chiat and the artisanal slant of the menu, it is no surprise that the renowned studio opted to focus on two elements in its design: craft and heritage.
This is immediately apparent from how its frontage is not a dining space but the pasta production kitchen, completely visible from the street and inside the restaurant, thanks to half-height windows.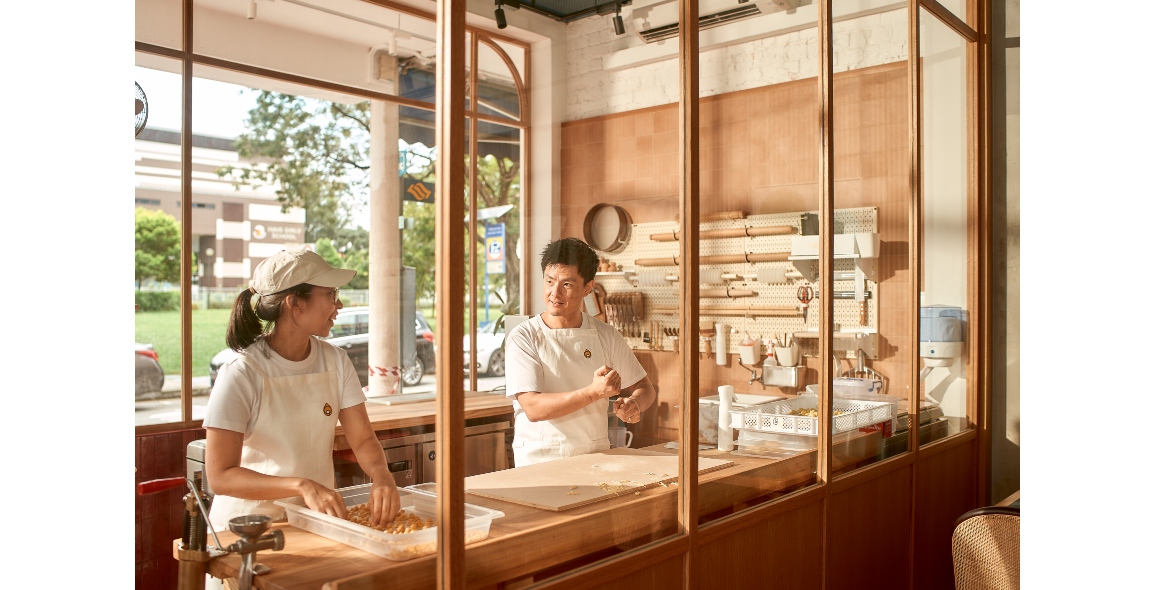 In doing so, it pays tribute to its previous tenants that were local heritage culinary institutions – apart from Song Kee, the same coffeeshop was also home to Hong Mao Wanton Noodles – and mirrors Ah Yee's Soon Kueh flanking the other side of the street.
All three place immense pride and value on serving dishes with recipes passed through generations and centred on craftsmanship.
"We wanted to create not just an establishment, but an experience for the residents who walk by every day, and a landmark that will survive beyond its years as part of Joo Chiat's rich, cultural fabric," explains Liling Ong, the Group's restaurateur.
It goes without saying then that the best seat in the house is the table by the pasta kitchen, just inside the main door.
Busy at work within it are Yum Hwa Lee, who is behind Ben Fatto and a self-professed pasta artisan, and his right-hand, Denise Tsi.
Against a backdrop of timber surfaces lightly dusted with flour, and an impressive wall of tools, he rolls, kneads and does fancy finger work to create the different types of pasta.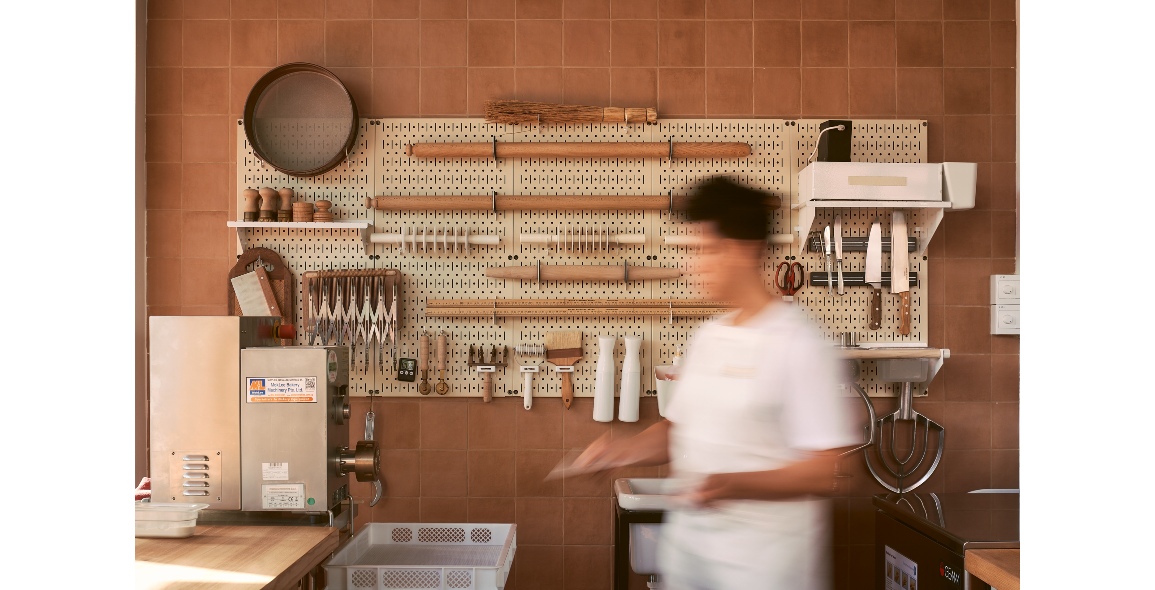 I ask Lee if it feels like he is living in a fishbowl, after several passers-by stopped to gawk and even take photos of the action.
"I'm used to it," he says, with a laugh.
The rest of Forma is somewhat layered, like a lasagna, split into two dining sections, a bar and the main kitchen for the indoors, and charming al fresco area within the five-foot way, illuminated by fairy lights.
Arched doorways cut into dividing walls guide foot traffic between the interiors.
Takenouchi Webb opted for a base palette of light timber walls, terracotta flooring and gorgeous green-coloured hand-made tiles and marble surfaces to reinforce the sense of craft and consistency.
A wall just on the right of the main door retains the connection to the original heritage of the space by being kept exposed and plastered over with a coat of white paint.
Another link is found in the bathroom: a concrete spiral staircase retained from the shophouse's old structure sits by the WC.
Ong promises it has been sealed off at the top so no one would come down it at the most inconvenient of moments.
Rattan and cane furniture are used liberally too, in another nod to the heritage of the neighbourhood.
Special mention has to go to the artwork that is made up of a series of mixed media on canvas paintings by Malaysian artist Fauzul Yusri.
To the untrained eye, they recall dollops of dough waiting to be formed into pasta shapes and are in fact compositions of oil paints, pumice and industrial texture paste, layered over scarred surfaces.
128 Tembeling Road has certainly undergone a dramatic reincarnation from its previous life as a coffeeshop but it is commendable how despite that, Takenouchi Webb has gently paid tribute to it, even as it breathed new life into the space to create Forma.