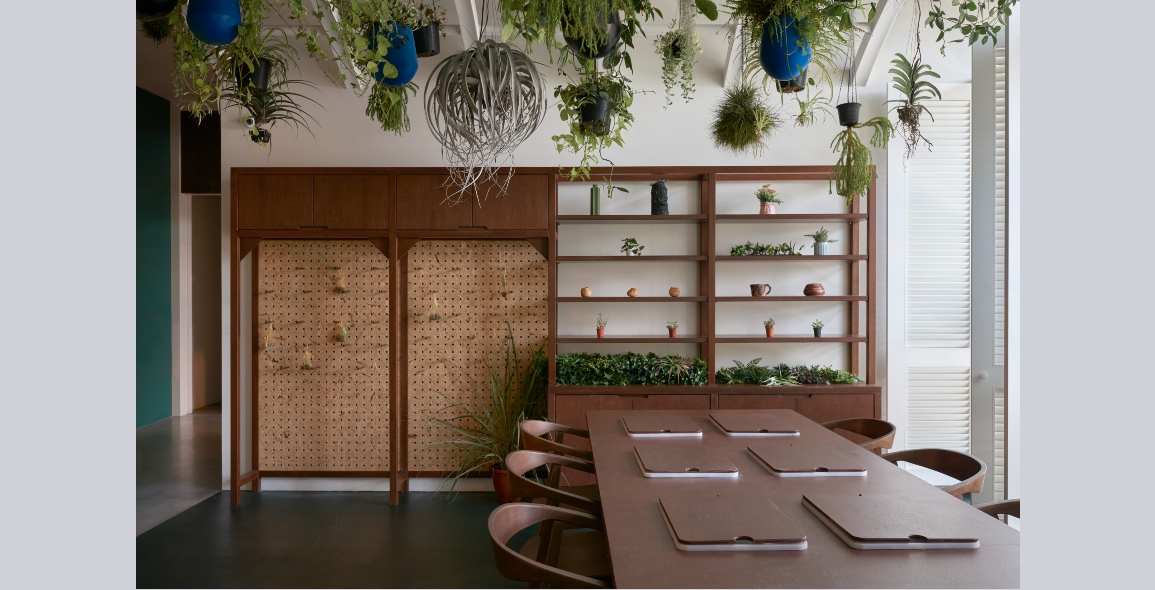 An open bar, a "spalon" for manicures and massages, a movie room and community-led programmes.
These are some of the amenities and facilities at Oasis@Outram, a first-of-its-kind day hospice that has opened within the new Outram Community Hospital.
Designed by Lekker Architects and The Care Lab, it is managed by HCA Hospice Care and established on the back of a gift of $2.47 million from the Lien Foundation.
Here are five ways the project is ground-breaking.
1. A caregiving framework anchored on dignity, diversity and development
The individual is recognised and respected. Each patient has the autonomy to choose from a wide range of activities and programmes to fill their days. Although they are facing the end of their lives, development and growth is encouraged to reflect and find meaning.
2. An aesthetically-pleasing design
Conceptualised by Lekker Architects, the day hospice features a soothing palette and natural materials to evoke a sense of nostalgia and warmth. Natural light streams in through the windows and the focus is clearly on heartware. This is unlike conventional healthcare facilities that tend towards the sterile and utilitarian.
Ong Ker-Shing, Director of Lekker Architects, says, "Concepts like joy, beauty and dignity are not mutually exclusive to the provision of care; they are important aspects of life that everyone should be able to enjoy even at the end of life."
3. Service rituals integrated into the patient experience
Oasis@Outram has collaborated with international design studio The Care Lab to come up with a suite of key service rituals to reimagine care. A service journey was specially created in consideration of the patient experience from start to finish. For instance, there is the Day Wall that lists the activities ongoing at the hospice, from horticultural sessions to a manicure or even bubble bath in a Jacuzzi for young patients.
"Our overall intention with Oasis is to design a service that offers beneficiaries the opportunity to learn and grow even in this final stage of life; to come to terms with their situation, reflect on their lives and focus on doing the things that matter to them and bring them joy," says Lekshmy Parameswaran, Co-Founder of The Care Lab.
"We hope they are able to find closure with family and friends, celebrate the experiences they've lived through and ultimately leave the world in peace. Beyond Singapore, we also hope the story of Oasis inspires other systems and care teams internationally, ultimately driving a positive impact to more families around the world."
4. Encouraging conversations
Given the challenging nature of discussions around end-of-life, The Care Lab has also designed a series of service rituals to mitigate this. Wheel of Life is an icebreaker toolkit for patients to reflect on the satisfaction levels of their lives at the moment and make goals to improve them.
Bit Size Future Kit features an afternoon tea session where a snack is paired with a card that contains a question on choices for the patient. Some of them include "Are you afraid of being a burden to your family and others?" and "Where do you want to die?". Also present to be part of the conversation are loved ones and a trained staff member. Playful but also simple and direct, it aims to foster trust between the patient and everyone around him/her.
5. Community participation
Volunteers, family members and caregivers are welcomed to join in the different activities with the patients. This helps to reframe end-of-life care experiences and fosters a greater sense of community. For the patients, it positively changes the perception of end-of-life care and death to one that is focused on cherishing relationships.
Purchase and download a digital copy of Issue 119: March 2021 to read about the architecture of Outram Community Hospital.