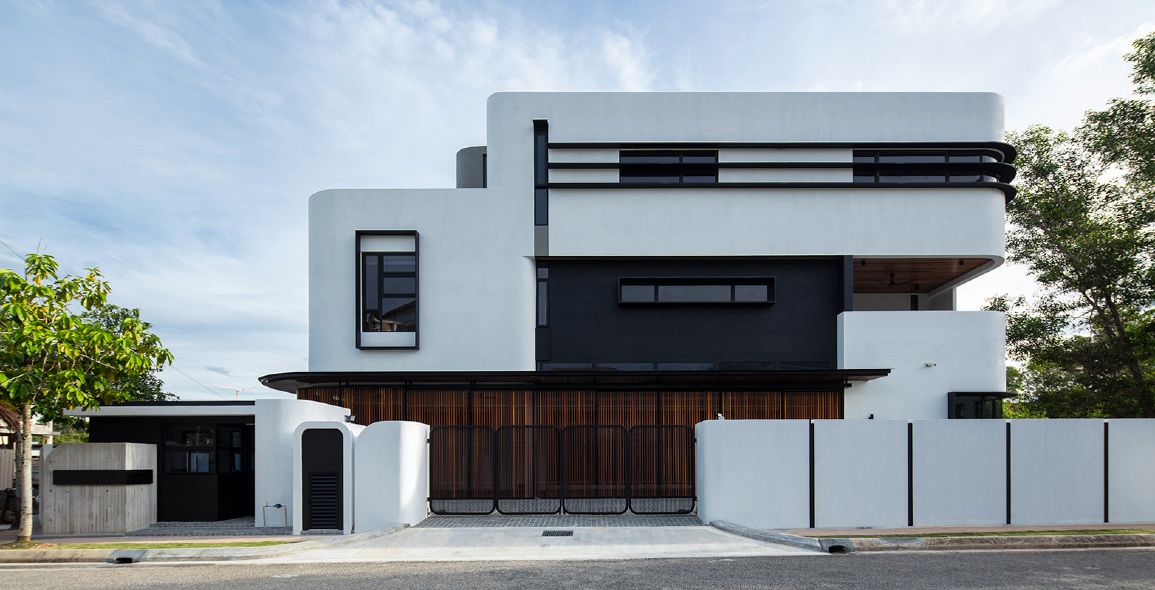 There is something inherently soothing about rounded edges in a building.
It makes you think of a chubby auntie who bakes your favourite nyonya kueh whenever you visit, ever bubbly and cheerful.
Fillet House, designed by KeeYen Architect, is evocative of this exact image.
Its name literally means a rounded joint that connects two parts at an angle, giving the house in Kuala Lumpur, Malaysia its resultant shape.
Sited on a corner, the plot was conducive for Lim Kee Yen to start first by introducing a cuboidal mass.
He then went on to soften its four corners to help it achieve "a wholeness and streamlining the building form".
Next step: configure the massing in response to the tropics, the neighbourhood and the client's brief to accommodate six bedrooms and a dance studio across three storeys.
Volumes were selectively subtracted to accommodate open terraces and voids for daylight to penetrate and cross-ventilation.
Because the left side of the house faces the northwest, minimal openings were incorporate into that façade.
Likewise, the front of the house, with its southwest facing, has horizontally placed aluminium fins as a sun-shading device.
On the ground floor, a sliding timber screen protects against the sun, while also doubling as a garage door.
If need be, it can be opened up and converted into a veranda for family activities.
The roof reinterprets the typical pitch roof found in houses in the tropics.
Viewed aerially, it appears to cosy up with an enlarged concrete gutter at its edge, instead of a long overhang, to complete the filleted geometry and also capture water runoff.
Overall, the palette is consistently composed of white, black and grey, accented with dabs of timber and panes of glass.
The latter gives a glimpse into the inside of the house, which has two highlights.
The first is the sculptural spiral staircase on the right of the house, which climbs three storeys.
Its crafted metal plate railing represents the continuation of the filleted corners on the façade.
Because it is set before large picture windows, going up and down is a soothing experience as the eye is drawn to the green outside.
Its northeast facing also means in the morning, shadow play occurs, giving it a poetic feel
The second highlight is the void connecting the first and second floor.
It rises above the living room and intersects the dance studio; pendant lights hang down to fill the space.
To minimise the need for long corridors, the architect chose to cluster all the communal areas in the core of the house, and have the bedrooms around them.
Even on the inside, rounded edges persist.
Really, all that is missing is that chubby auntie and the aroma of nyonya kueh baking in the kitchen.
Photography:
Lawrence Choo