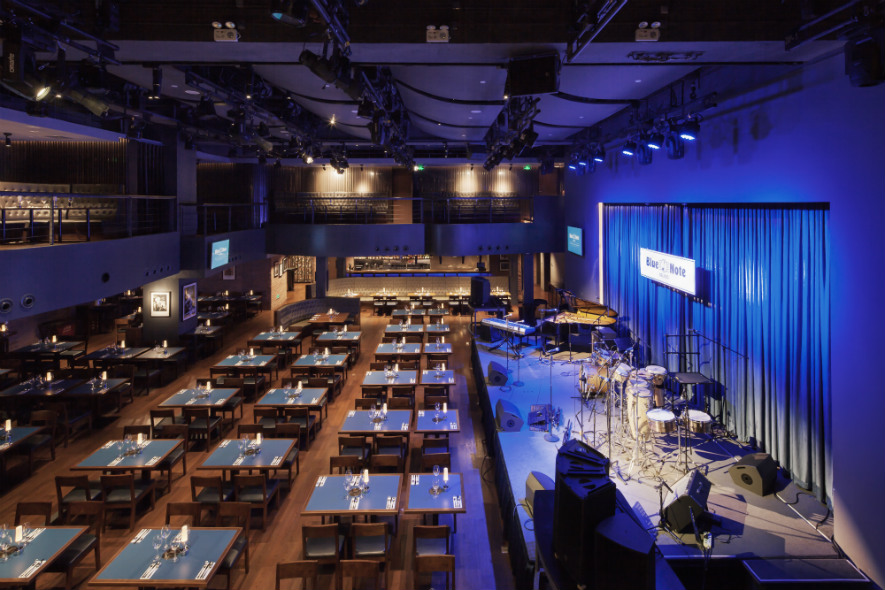 Mention the Blue Note Jazz Club and fans of the music genre are bound to know about this music institution in New York City.
Two years ago, the club opened its first Chinese outpost in Beijing, in the former American Consulate to the Qing Dynasty, mere minutes away from the Forbidden City.
The task befell upon Chiasmus Partners, led by its design principle James Wei Ke, to create a design that would bridge the two cultures, as well as provide a connection between the Jazz Club and the building.
The main stage is located in the underground courtyard of the complex, accessible via a grand staircase followed by a pathway through spaces that have a rhythm inspired as much by jazz, as the hutongs in the city – think long corridors, twist and turns, and a play between different volumes.
Along the way, they encounter a boutique, café and corridor displaying the timeline of the development of jazz. At the end sits the grand lobby, some 5m down from street level.
Here, it is as much a gathering place as a hub that branches out into the VIP area, box office, office and restrooms.
A quiet invitation to descend further is extended by a blue staircase, leading to the main performance space that suddenly opens up and impresses with its volume.
Eschewing the traditional shoe-box layout, the stage set-up is wider than it is deep, achieving an effect of surrounding the audience, and minimising the distance between them and the musicians.
Some 240 seats are available, which can be moved around to accommodate different configurations. On the upper level are seven box seats with open railings.
Chiasmus chose a simple material palette for this project: black metal, pressed-concrete boards and perforated metal panels with acoustic treatment as wall surfaces, wood flooring, leather furniture and acoustic-treated ceilings.
As is expected of a performance venue, the lighting is mostly turned down low to spotlight the stage and performers. Blue accents are used, in line with the branding.
Behind the scenes, there is a full kitchen that can prepare food for an audience of 300, as well as a well-stocked bar.
Even the musicians are not forgotten. They have a large rest area, and ample changing rooms. A sizable practice room is also available, which is fully sound proof.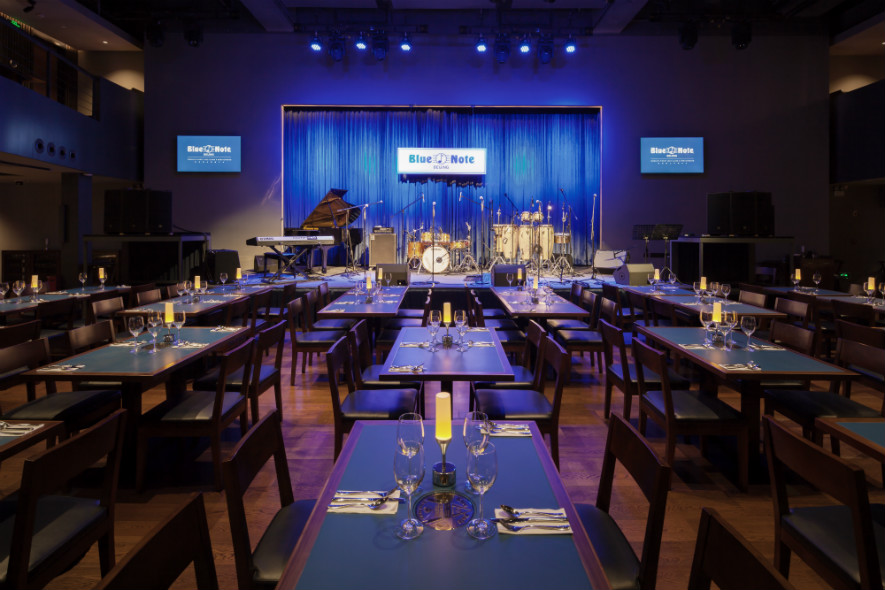 At 2,680m2, this is the largest Blue Note Jazz Club in the world. The audience has comfortable seats and large tables well-spaced apart from each other.
This is both in nod to the culture of privacy that is so precious to Beijingers, and considerate towards the nearby Forbidden City. In doing so, Chiasmus successfully integrates the Club into the social fabric and ensures the curtain will never come down.