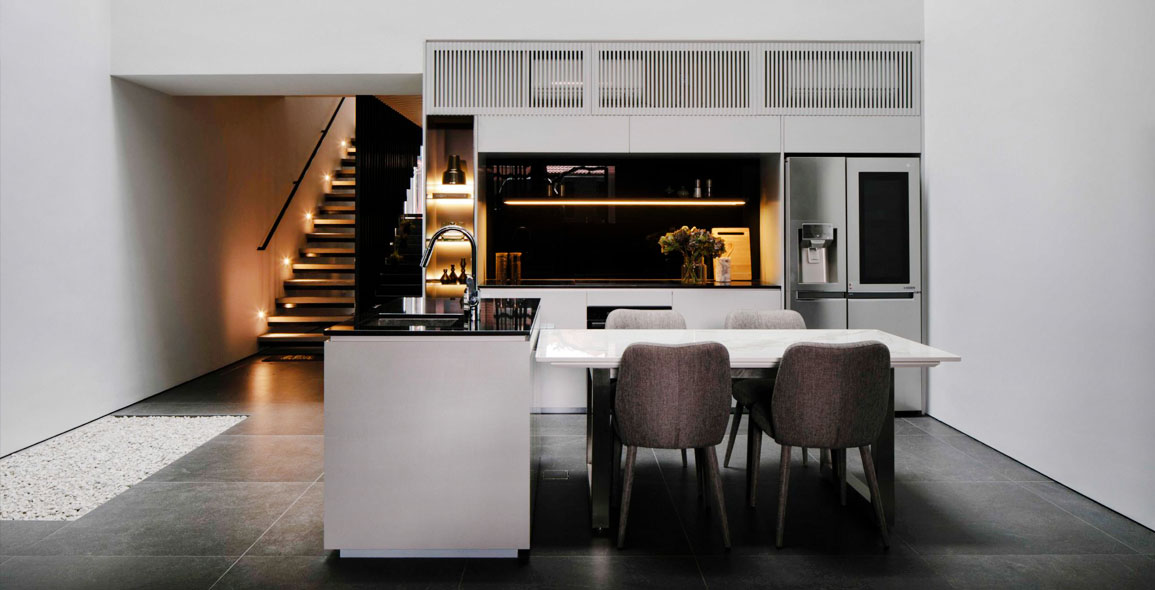 The narrow width of this intermediate terrace in Singapore belies the fact that it actually stands three-and-a-half storeys tall.
Lived in by a large, multi-generation family of six, it was designed by Ming Architects who faced the primary challenge of creating sufficient space, but also achieving privacy for the different family members.
"In a highly-dense, built-up country like Singapore, creation of space within tight limits is a necessity for successful architecture," says founder Tan Cher Ming.
His solution: Creating a sunken ground floor to allow the insertion of another extra storey, and designing self-contained spaces in two parts of the house.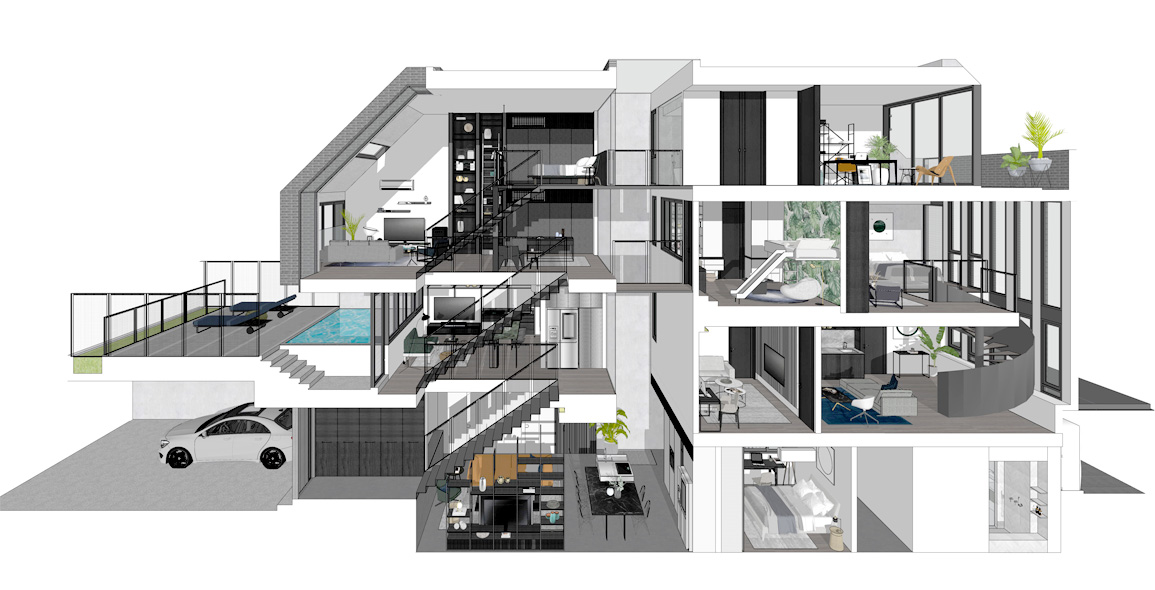 The first is the loft-style master bedroom done in a modern industrial style.
It has a living area on the main floor, and the bedroom on the mezzanine, thanks to a 6m double-height ceiling.
This is connected to a bathroom clad in white marble, with a matching standalone bathtub.
To permit views to the swimming pool on the second storey, a rectangular hole was cast into the floor slab and netting suspended over a layer of safety glass.
"We wanted to provide a playful sensory experience for the young children in the family," explains Tan.
"Such visual connections strengthen the relationships between various spaces in the house and allow the occupants to experience the house in different ways."
The second self-contained space is a duplex unit at the back of the house, where the living area is on level two and level three is accessed through its own spiral staircase.
A secondary challenge was the lack of daylight – since the house has shared party walls on both sides.
In response, Tan carved out an internal air-well bisecting the middle of the house, topping it off with a glass skylight.
The result is that bedrooms, living spaces and even the master bathroom is flooded by natural light in the day.
Additionally, ventilation slots are sliced into the skylight, allowing hot air to escape through the chimney stack effect. Cool air enters from windows on the ground floor.
To further mitigate the lack of daylight, the treads of a steel feature staircase are perforated and skylights are also cut into the roofing, creating shadow patterns on the walls and floors throughout the day.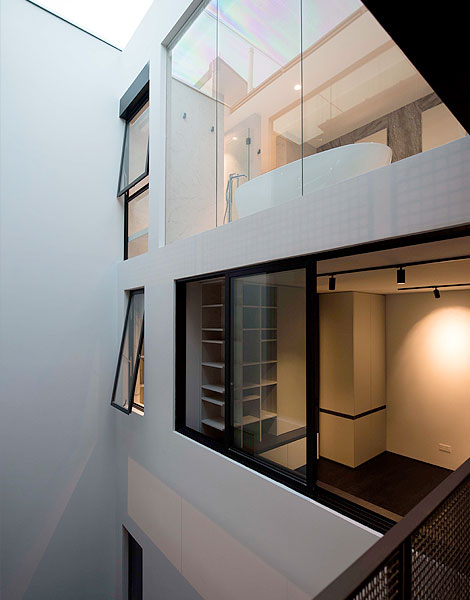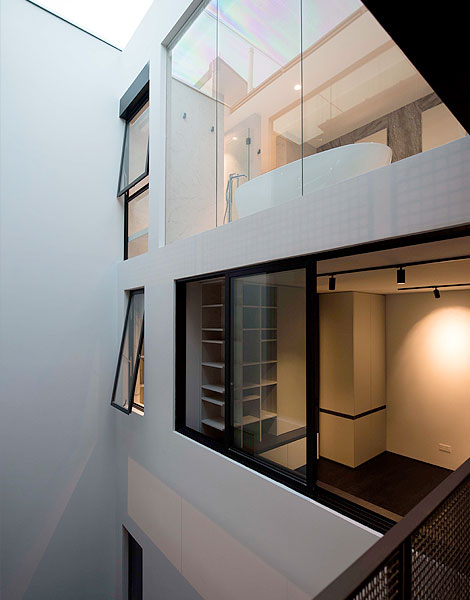 Back at the front of the house, materials like cut-to-size granite bricks and black, spray-painted steel-mesh doors clad the façade.
The former also acts as thermal insulation against the heat, especially from the harsh afternoon sun.
Pebble wash with an exposed, aggregate finish is used on the carporch to match the grey tones of the granite.
Combined, their modern industrial style hints at what lies behind yet, at the same time, accord the owners the privacy that they seek.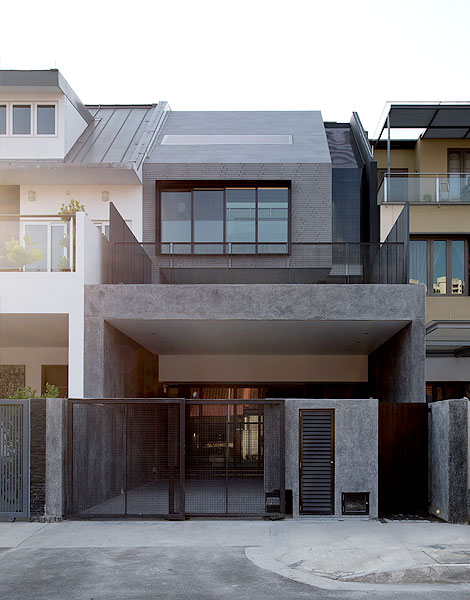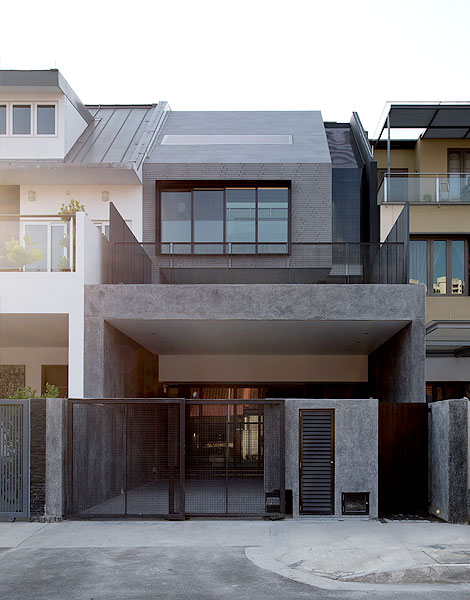 Photography:
Studio Periphery & Ming Architects