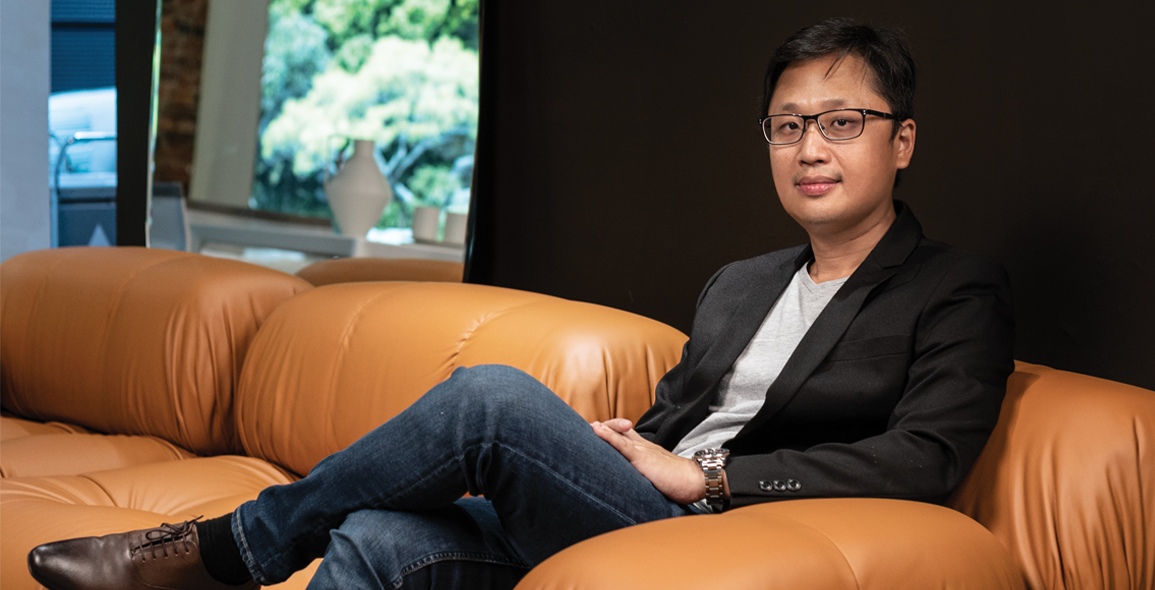 Why did you decide to become an architect?
It was a decision I made in secondary school. I knew my choice of profession had to be design-related, as I loved drawing and sketching from an early age. My first love was actually car design – as a boy, I would draw and keep scrapbooks of all types of cars. As I grew older, this gravitated more to architecture as there were limited options for studying or working in automotive design locally. By the time I entered junior college, I was certain of my intention to pursue architecture, where creativity and design are a major part of the job.
What is your design philosophy?
My specialisation is in private landed housing. To date, our projects have a consistent theme running through them of contextual design and privacy. We introduce elements such as natural daylight and screening, cross-ventilation, high ceilings and framed views of landscaping. At the same time, we blur the boundaries between the indoor and out. I have a fascination with daylight and how it hits the exterior and filters through to the interior surfaces of houses. I believe that allowing all these to penetrate and percolate the building through the use of courtyards, atriums, double volume spaces or verandas/terraces not only introduces a level of well-being and allurement, but also improves the architectural quality of the space.
Where do you draw your inspiration from?
Early on in my career, I observed and learned from the outstanding local architects who had designed fantastic houses built over the last few decades. Currently, I am inspired by Australian contemporary architecture, but also by other architects globally, such as Pitsou Kedem from Israel, Saota from South Africa and Faulkner Architects & Bates Masi Architects from the US. There are so many architects who excel in their place of work and I find it fascinating to appreciate their designs and take inspiration from a diverse field.
"Thought and care have to be taken to develop each of our houses, ensuring they are well suited to living today in our local context of urban Singapore.
How does your style differ from other architects?
At this point in my career, I am interested in developing our own style. In Singapore, a large part of the architecture, specifically for the larger houses built in the last few decades, are categorised as tropical modern architecture. We are not interested in being defined by this term, as it can be limiting and runs the risk of us adopting a single, homogenous style for all our projects.
I would classify our architecture as contemporary and exploratory, yet infused with modernist principles, but always suited to the context of the Singapore urban landscape and lifestyle of our clients. Smart-home technology and sustainability are also important features of contemporary architecture and a common theme, together with the use of new and renewable/recycled materials. In addition, we have a strong focus on interior design, as I believe that holistic architecture should comprise all aspects of design within a building, with no boundaries between the external structure and its interior.
How has the pandemic changed what your clients expect of their homes now?
A key word is comfort. A sense of refuge, privacy, views, lighting and well-designed furniture are all subsets of this. This is even more so now as the pandemic has changed our clients' lifestyles such that they spend more time at home and less in their workplaces.
Why do you enjoy purchasing pieces from Space Furniture?
Space Furniture has been nothing short of exemplary in their service. It offers a wide product selection that matches the needs of our clients and fits well into the design aesthetics of our projects. The team provides excellent after-sales service and follow up as well, which is important to the client when purchasing large pieces. Among my favourite brands are B&B Italia, Poliform and Maxalto for furniture, and Flos, Foscarini and Bocci for lighting.
This story is produced in collaboration with Space Furniture. It first appeared in Issue 124: June 2022.